Shopping for other people is hard and gift-giving can be high pressure. But that doesn't mean science-fans need to settle for sad math pun T-shirts (acute angles, indeed) or beaker mugs. Here are some scientific gifts anyone would gratefully use, even after the politeness-mandated holiday stretch.
---
A Food Scale
Most of our everyday chemistry happens right in our kitchens, so it's time to acknowledge a hard truth: Measuring cups are garbage, you need a food scale. America's Test Kitchen likes this food scale from OXO, and it's a pretty good one, but honestly a system of weighted pulleys and rocks would work better than the measuring cups you're currently using. Get yourself a scale, bake something, and see what you've been missing out on all these years.
G/O Media may get a commission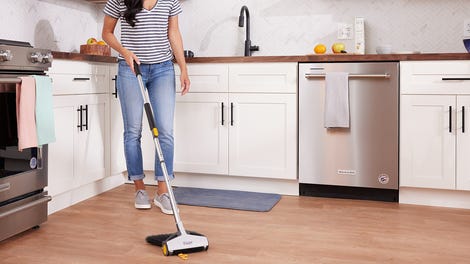 BOGO 50% Off
Flippr - BOGO 50% Off
---
Binoculars
This year, thousands of lucky amateur astronomers will be gifted lovely intro telescopes, many of which will still be safely in the box months later. Yes, telescopes are awesome—they are also fiddly to set up, heavy, and can be tricky to operate in the cold. Binoculars, though, can fit literally in the palm of your hand, require almost no set-up, and have image quality that rivals or betters many telescopes.
This 7X50 Mariner option from Oberwerk is a nice handheld option and reasonably priced at $159.99, but really there are tons of models out there (ranging in cost and size, from those that you can slip in your pocket to ones you need a tripod for) so you can find exactly the one the works for you.
---
A Synth Kit
Synths can be a crazy amount of fun to use, but first you need to get one—or, even better, make one. If you're not quite ready to go it alone, though, this synth kit from littleBits is great. Because it's modular you can even swap around the design quite a bit to create all the different kinds of sounds, and even hybrid instruments.
---
Arduino Starter Kit
Arduino has some suggested uses for its starter kit, if you're not quite sure where to begin—including a DIY theremin. But the real fun may be when you start figuring out how to link it to your other devices. It's available for $99.90 at the Arduino store.
---
Hubble Posters
The bad news is that these posters of images taken by the Hubble telescope will run you $2.5 billion. The good news? You already paid for it. We all did! Commemorate that money well spent by getting some of these gorgeous public domain, hi-res Hubble images printed off into posters (any local copy shop will do just fine), frame them, and get a little closer to the cosmos. And speaking of free, my desk, it's missing something, something important... Oh, that's right...
---
A 3D-Printed Scale Replica of the Curiosity Rover
Look, 3D printers have turned out to be (not quite) the replicators of our dreams. But, while we're not going to be switching over to 3D-printed dinners or tiny houses anytime soon, there is something that 3D printers do a great job of right now: scale models of really big, awesome stuff. Plenty of places have released—completely for free—the schematics you need to print from their collection, ranging from NASA's Curiosity above to a surprisingly complete array of items from the Smithsonian's permanent collection.
You can buy a 3D printer, if you want, I guess. Here's one from Formlabs for $3499, it looks fine. But, if you're not looking to print that regularly, you can also just as easily use enlist one of the many, many 3D-printing services out there to do your scientific bidding.