Is there anyway the movies of 2016 could live up to 2015? 2015 had Star Wars, Jurassic Park, Terminator and The Avengers. 2016 has Batman, Superman, Deadpool and even more Star Wars. But that's just the beginning of what's a super exciting year at the movies.
Below, here are 75 sci-fi and fantasy films coming out this year that you should look out for. Please remember that dates are subject to change, and there will be lots more released that don't yet have release dates.
JANUARY

The Forest (Jan 8)
Natalie Dormer (Game of Thrones) plays a woman who travels to Japan to find out what happened to her twin sister—and finds herself in the famous Aokigahara Forest, where people go to commit suicide. Soon she's lost in the woods and tormented by ghosts. This film was co-written by acclaimed novelists Nick Antosca and Sarah Cornwell, so fingers crossed.

The 5th Wave (Jan. 22)
We enjoyed Rick Yancey's young-adult novel about a young girl growing up in a world that's been devastated by an alien invasion. And now it's becoming a movie starring Chloe Grace Moretz. But meanwhile, the aliens are preparing their fifth and most devastating attack. Watch the trailer here.
G/O Media may get a commission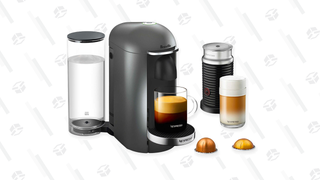 40% off
Nespresso by Breville VertuoPlus Deluxe Coffee and Espresso Maker Bundle

The Boy (Jan. 22)
Just when you were starting to get over your paralyzing fear of dolls... In this film, Greta (Lauren Cohan) gets hired to become a nanny in a small British village. But when she gets there, it turns out that instead of a real boy, she's taking care of a porcelain doll that the parents got to help them get over the death of their son. Except... maybe the doll isn't quite so inanimate.

Synchronicity (Jan. 22)
There are a handful of low-budget indie time travel movies coming up, and we like this trend. In this one, a physicist invents a device that is able to create small wormholes and bend spacetime. But then shit starts getting weird, including a random dahlia appearing out of nowhere. And a woman who may not be who she appears. You can watch the trailer! Writer-director Jacob Gentry helped make the underrated 2007 indie film The Signal (read our interview with him here.)

Kung Fu Panda 3 (Jan. 29)
The first new Kung Fu Panda film in five years—and yet, there's still no crossover with Jack Black's Nacho Grande franchise. This time around, Po gets reunited with his biological father (Bryan Cranston) and has to train a whole village full of clumsy pandas, to fight an evil spirit.


FEBRUARY

Pride and Prejudice and Zombies (Feb. 5)
Back in 2009, writer Seth Grahame-Smith had the idea to mash up Jane Austen's classic novel with a zombie story, creating a literary fad that is now all but forgotten. And now, they've made a movie of it. Why should you care? Well, the cast includes Lily James (Downton Abbey) and Matt Smith (Doctor Who) plus two Lannisters: Charles Dance and Lena Headey. Watch a trailer.
Deadpool (Feb. 12)
Speaking of movies that were in development hell for a long time... Deadpool is one of the weirdest offshoots of the X-Men comics, a scar-faced assassin with healing powers, who breaks the fourth wall and necks with equal vivacity. And Wade Wilson's journey to the big screen is one of the weirdest stories in superhero movies. Long story short: Ryan Reynolds played a botched version in the first Wolverine movie, and has been trying to make it right ever since. It looks pretty much spot-on.

Viral (Feb. 19)
A virus wipes out half the human race, and two girls find themselves quarantined inside their town—with their parents on the outside. At first, it's all fun and games, until it looks as though the virus has gotten inside the barricades. And then, one of the girls has to make some tough decisions about the other. This low-budget horror film was directed by Henry Joost and Ariel Schulman (Catfish, Paranormal Activity 3 and 4).

Gods of Egypt (Feb. 26)
In ancient Egypt, the evil god Set usurps the throne, and it's up to a thief named Bek to team up with the god Horus to set things right. Even in the face of Hollywood's long and shameful history of whitewashing, this seems like an egregious example—just let it sink in that Geoffrey Rush is playing Ra. Director Alex Proyas made Dark City, so we always hope for great things from him, but this looks like a guilty pleasure at best.

The Witch (Feb. 26)
This indie movie about a Puritan family dealing with the forces of darkness in early Colonial times won a directing award a Sundance and has been getting raves ever since. We saw it at Fantastic Fest and loved it. This is already one of the year's most anticipated films—but watch the trailer and see for yourself.

Crouching Tiger Hidden Dragon: Sword of Destiny (Feb. 26)
At first glance, a sequel to one of the most acclaimed martial arts films of all times might seem like a bad idea. But this one is closely based on another one of the books in Wang Dulu's famous wuxia novel series, the Crane-Iron Series. And it's directed by mastermind Yuen Wo-Ping. And the trailer looks utterly gorgeous.
MARCH
Zootopia (March 4)
Here's another wacky animated movie about an alternate world. This time, it's a world where all animals talk, and wear clothes, and live in a city togehter—and that city is called Zootopia. The good news is, it's co-directed and co-written by the creators of Wreck-It Ralph, so there's a high likelihood of awesomeness. The trailer looks pretty fun, and we learned a ton of cool details about the making of the film.

Valencia (March 11)
Here's an oddball, possibly post-apocalyptic film. Mary-Elizabeth Winstead plays a woman who wakes up in an underground cellar, where a man (John Goodman) tells her that there's been a chemical attack, and the outside world is uninhabitable. It's just the two of them. (They can make it if they try.) Director Dan Trachtenberg was at one point in line to direct the Y: The Last Man movie.

Brothers Grimsby (March 11)
Mark Strong is a top superspy with incredible gadgets (like a retinal camera and stuff), and Sacha Baron-Cohen is his dimwitted long-lost brother. After a mission is compromised, the two brothers have to team up to save the world. The trailer looked pretty dumb, but maybe the whole film is better.

Other Side of the Door (March 11)
After the death of her son, Maria (Sarah Wayne Callies) struggles to carry on—until she learns about a ritual that will let her communicate with her dead son one more time. Unfortunately, she opens the door between the living and the dead, and shit gets real. Writer-director Johannes Roberts previously made the underwhelming storage-facility monster movie Storage 24.

Allegiant (March 18)
Veronica Roth's book trilogy is probably the most famous example of the "sorting hat" genre, in which people are evaluated and sorted into different groups, except for one person who's a special snowflake. For the film series, they split the third book of the trilogy into two movies, which is one of those trends that is increasingly looking like a bad idea. But hey, the trailer looks pretty.

The Little Prince (March 18)
Why has it taken so long to get a film adaptation of the classic book by Antoine Saint-Exupéry? And actually, this isn't a straight-up adaptation. Instead, it's a quasi-sequel, in which the aviator from the book is now an old man, who befriends a young girl. And the little prince is all grown up, too. The trailer looks just stunning.

Midnight Special (March 18)
Michael Shannon plays a father who realizes that his son has special powers—and they have to go on the run to keep the boy out of the hands of a cult led by Sam Shepard. Plus a government operative, played by Adam Driver. Writer-director Jeff Nichols has said the film is inspired by classic John Carpenter movies like Starman, and it looks absolutely splendid.
Batman v Superman (March 25)
Warner Bros. is staking its whole superhero franchise on this one film, which has to establish an entire shared universe from scratch, while also knocking your socks off with cape-on-cape action. In this film, Batman (Ben Affleck!) hates Superman because of the destruction in his battle with Zod—which seems like a pretty on-the-nose meta comment on everyone's criticisms of Man of Steel. So they fight. And fight. And fight and fight and fight and fight. Except that Lex Luthor has plans of his own, and it vaguely looks like Wonder Woman is going to sort all this mess out. Hey, watch a trailer!
APRIL

Rings (April 1)
Remember The Ring? The beloved remake of the equally beloved Japanese horror film about a videotape that after you watch it, you have just seven days to live? They made a buttload of sequels, and now they're making one more. And this time Johnny Galecki from Big Bang Theory is in it, as a professor named Gabriel Lucifer.
Pandemic (April 1)
And here's another low-budget virus apocalypse movie. This one stars Rachel Nichols (Continuum) and Mekhi Phifer (Torchwood: Miracle Day) and takes place in a world where almost everybody is infected by a deadly virus. Our heroes wear containment suits with cameras in it, and apparently it's in the style of a first-person shooter. It's described as "a new model of action thriller for the video game generation."

Before I Wake (April 8)
What if Ursula K. Le Guin's The Lathe of Heaven was a horror movie? That seems to be the idea behind this movie about a child whose dreams alter reality, causing his parents to become somewhat flustered. They don't offer any tips for dealing with this situation in the parenting manuals.

Amityville: The Awakening (April 15)
A family moves into a house... but when strange things start happening, they realize that it's not just any house. It's THAT house. This movie has been on ice for a long time, which is sometimes but not always a bad sign. Watch the trailer that we posted back in mid-2014.
Jungle Book (April 15)
Confusingly, there are two Jungle Book movies in the pipeline. This one is directed by Jon Favreau (Iron Man) and has a pretty great voice cast, including Bill Murray, Idris Elba, Christopher Walken and Scarlett Johansson. But the trailer didn't exactly win us over.
Paradox (April 15)
Another low-budget time-travel film! A group of scientists are experimenting with time travel, and they manage to send one of their group ahead in time one hour. But when he comes back, he tells them that they'll all be dead within the next hour unless they shut the machine down. Starring stuntwoman Zoe Bell, plus Malik Yoba from Alphas.
The Huntsman: Winter's War (April 22)
Snow White and the Huntsman did well enough that they're making another one. Except without Snow White this time. Instead, the Huntsman (Chris Hemsworth) has to team up with a warrior named Sara (Jessica Chastain) to fight two evil queens (Emily Blunt and Charlize Theron). It looks totally ridiculous, but there's nothing wrong with watching Thor fight Furiosa for two hours.
Ratchet & Clank (April 29)
This video-game movie tells the origins of the famous duo, explaining how Ratchet the cute alien met Clank the robot. They have to team up to stop the evil Chairman Drek from destroying the Solana Galaxy. And Paul Giamatti is doing the voice of Chairman Drek! If this film can capture the zany humor of the games, then it should be a lot of fun.


MAY
Captain America: Civil War (May 6)
Just one year after Avengers: Age of Ultron, we're getting another huge Marvel crossover event. This time, Iron Man is going to war against Captain America over whether superheroes should be controlled by some kind of super-supervisory entity. And everybody is taking sides. This film has everybody in it, but is most notable for introducing two heroes to the Marvel movies: the awesome Black Panther, and some kid named Peter Parker. The trailers look pretty epic.

The Angry Birds Movie (May 20)
Remember Angry Birds? It was one of our favorite games in the "creatures that feel one particular emotion really strongly" genre. And now that the game has kind of dropped off the radar, they're finally putting out the movie version, starring Jason Sudekis, Maya Rudolph and Josh Gad. Do you actually want to see a full-length movie in which these birds have actual personalities? (Beyond anger?) Judge for yourself.

Alice Through the Looking Glass (May 27)
In the aftermath of Avatar making a bazillion dollars, other 3-D greenscreen projects were swept up in its wake, and one of these was Tim Burton's misguided Alice in Wonderland. But because Burton's Alice made a ton of money, there's a sequel, in which Alice has to stop the Queen of Hearts from getting back on the throne. Johnny Depp is back as the Mad Hatter, and Rhys Ifans is playing his father. At least the trailer looks pretty.
X-Men Apocalypse (May 27)
Oscar Isaac is playing the titular villain, an ancient mutant who spells doom for everybody. And he apparently teams up with a bunch of other mutants, including Magneto, in this latest X-movie. And this time, Sophie Turner (Game of Thrones) is Jean Grey. The X-Men franchise has been going since 2000, with an increasingly confusing continuity, but at least they keep finding ways to raise the stakes.
JUNE
Teenage Mutant Ninja Turtles: Out of the Shadows (June 3)
Michael Bay's Teenage Mutant Ninja Turtles film made enough money in 2014 that they've rushed out a sequel just two years later. And this time they've added more characters from the comics and cartoon, like Casey Jones, Bebop, Rocksteady and Krang. It looks very much like more of the same, but hopefully with more turtles and less of Will Arnett macking on Megan Fox.

Conjuring 2 (June 10)
The Conjuring was one of our favorite horror films of the last few years, in large part because of the real emotion in the story of real-life demon-hunting couple Ed and Lorraine Warren. The good news is, director James Wan is back for the sequel, in which the Warrens go to England to deal with a poltergeist (in a story based on a real-life case from the 1970s).

Now you See Me 2 (June 10)
The first movie, in which four magicians outwit everybody and steal from the rich, was an unexpected pleasure. In the sequel, it's a year later and they have to team up to defeat an evil tech magnate (Daniel Radcliffe), who's the son of Michael Caine's character.

Warcraft (June 10)
The epic game franchise is getting a huge film adaptation, directed by Duncan Jones (Moon). It's the war between humans and orcs over the future of Azeroth, with good and bad people on both sides of the conflict. Everything we've seen from this film so far looks just jaw-dropping, and we were excited to hear how many practical effects the film has. Fingers crossed that Jones can actually pull this off.

Finding Dory (June 17)
The long-awaited sequel to Finding Nemo, in which the amnesiac fish named Dory (Ellen DeGeneres) goes on a quest to find where she came from, accompanied by Nemo and Marlin. Andrew Stanton is back as writer and director, so fins crossed.

Independence Day: Resurgence (June 24)
And here's another sequel that's been a long time coming, although I'm not sure computer viruses have evolved enough to help take down a second, even more powerful alien invasion. It's years after the first alien attack, and Jeff Goldblum has been preparing us for a second assault. But when it comes, we're still not ready for the massiveness of the onslaught. Watch the trailer!

The Shallows (June 24)
It's sort of a new version of Jaws—in this one, Blake Lively is a surfer who gets stranded on a buoy when a shark is between her and the shore. If you're not opposed to the further demonization of sharks, whose numbers humans have already devastated over the past few decades, then this could be an exciting ride.
JULY
The BFG (July 1)

Steven Spielberg directs a fantasy from the mind of Roald Dahl. That alone is pretty incredible. But the fact this film, about a young girl who discovers a world of giants, is Spielberg's first Disney movie ever is even cooler. Mark Rylance, so great in Bridge of Spies, plays the title character with Bill Hader, Jemaine Clement, Rebecca Hall and others filling out the rest of the cast. Check out the trailer.
The Legend of Tarzan (July 1)
What if Tarzan got out of the jungle? How would the world treat him? That's the start of David Yates' new take on the iconic story with Alexander Skarsgard playing everyone's favorite vine-swinging human. Margot Robbie is Jane, Christoph Waltz is the villain who draws Tarzan back to the jungle and Samuel L. Jackson teams up on the side of good. The trailer shows promise, but this is the same studio that brought us Pan.
The Purge 3 (July 1)
Frank Grillo returns for the third Purge movie, which this time will explore his mysterious anti-hero from the second film and dive a bit deeper into this world. A world where for one night per year, all crime is legal. After the second movie upped the ante from the first movie, you've got to hope that a third movie will give fans even more of what they want: wanton mayhem.
The Secret Life of Pets (July 8)
Think Toy Story with pets. That simple, genius idea of what pets do when their owners go out is the basis for this animated film from the team behind Despicable Me. And if the premise doesn't grab you, the absolutely incredible voice cast should. They include Louis CK, Kevin Hart, Steve Coogan, Ellie Kemper, Lake Bell, Eric Stonestreet, Bobby Moynihan, Hannibal Burress and Albert Brooks. Wow. Here's the trailer.
Ghostbusters (July 15)
One of the year's most anticipated films reboots arguably the best sci-fi comedy ever made. Melissa McCarthy, Kristen Wiig, Leslie Jones and Kate McKinnon are four New York women who come together to fight the supernatural. Featuring tons of cameos from the original film and the amazing comedic eye of director Paul Feig, expectations could not be higher.
Ice Age: Collision Course (July 22)
Yes, they are still making these movies. The latest one, the fifth in the series, will reportedly tell the story of how Scrat, the always hungry and clumsy squirrel, finds himself in space. His actions there will then have a disastrous effect on the film's main stars (still voiced by Denis Leary, Ray Romano and John Leguizamo) back on Earth. Bonus, Neil deGrasse Tyson will add his voice to the film.
Lights Out (July 22)

Horror master James Wan (Saw, Insidious) produces this supernatural thriller about a brother and sister (Teresa Palmer and Gabriel Bateman) who encounter an evil being that only comes out when the lights turn off. Which is kind of every single horror bad guy ever. But this film, based on a viral short film by David F. Sandberg, has some truly scary potential.
Star Trek Beyond (July 22)
The crew of the starship Enterprise is in the middle of their five year voyage mission started at the end of Into Darkness when they encounter Krall (Idris Elba), a new villain with a bone to pick against the Federation. Justin Lin, the direction of Fast and Furious 3-6, aims to breath some life in to the J.J. Abrams produced franchise that got decimated by critics and fans alike the last time around. From that awesome trailer, it looks like he's on the right track.
The Space Between Us (July 29)
Ender's Game star Asa Butterfield and Tomorrowland's Britt Robertson play a boy and girl, one living on Earth and the other from Mars, who fall in love online. That would be okay if he wasn't the first ever human born on Mars, and a total secret. An awesome premise and equally great supporting cast including Gary Oldman and Carla Gugino only raise the stakes.
Bourne 5 (July 29)
After a pretty successful detour from the main story, Matt Damon and Paul Greengrass are back in one of the biggest spy franchises out there today. Not a ton is known about this as yet untitled sequel except it'll pick up years after the third film and follow Bourne all over the world. Really, that's all we needed to know.
Three Body Problem (July in China)
One of the most decorated science fiction novels of the past decade, The Three Body Problem by Liu Cixin, gets a big budget movie adaptation. The story follows a family in several time periods, dimensions and more as they live and contribute to the edges of science and beyond. Currently there aren't plans for a U.S. release but if the film delivers on what audiences are expecting, it's inevitable. Also, it's the first film in a potential trilogy.
L.O.R.D. (July in China)
The kick-ass Fan Bingbing (X-Men Days of Future Past, Iron Man 3, Stretch) stars in this 3D Chinese fantasy film which is an acronym for "Legend of Ravaging Dynasties." Um, yes please? It follows four kingdoms battling for ultimate dominance. No U.S. telease is yet set but it sounds like something to keep an eye out for.
AUGUST
Suicide Squad (August 5)
A star-studded comic book adaptation starring nothing but villains? Seems like a stretch but with Jared Leto, Will Smith, Margot Robbie and more from a script by director David Ayer, not to mention cameos and links to the DC Universe, Suicide Squad is a movie that everyone is excited about. It could either be the next evolution in what a comic book movie could be, or a huge miss. We won't know until August but the anticipation is exciting. Check out the first footage.
Pete's Dragon (August 12)
Disney's string of making live-action versions of their animated classics continues with Pete's Dragon, which stars Robert Redford and Bryce Dallas Howard. Lyrical director David Lowry (Ain't Them Bodies Saints) promises to bring some art-house cred to the story of an abused boy who finds refuge with his very own secret dragon.
Sausage Party (August 12)
The team behind This Is the End and The Interview bring their unique blend of potty humor and pop culture sensibilities to this hard R-rated animated film about a rogue sausage who must traverse the supermarket during a July 4th sale. How that story becomes a hard R-rated animated comedy, we don't know, but in Seth Rogen, James Franco, Jonah Hill, Kristen Wiig, Michael Cera, Edward Norton and more we trust.
Spectral (August 12)
"Ghostbusters without the humor" is the ultra basic pitch for Spectral, a new thriller from Legendary Pictures. First time director Nic Mathieu tells the story of a a group of supernatural eliminators who are called in to fight a threat in Europe. The "I know that person" cast includes James Badge Dale, Emily Mortimer and Bruce Greenwood. The whole thing screams under-the-rader awesome.
Kubo and the Two Strings (August 19)
Legendary stop motion studio Laika goes away from the supernatural that has served them so well and into realm of fantasy adventure. Kubo tells the story of a young boy whose family history forces him into an epic quest to find the armor of the greatest samurai who ever lived. The stellar voice cast includes Matthew McConaughey, Charlize Theron, Rooney Mara and Ralph Fiennes. Watch the beautiful trailer.
A Man in the Dark (August 26)
The team behind the awesome remake of The Evil Dead, director Fede Alvarez and producer Sam Raimi, are back with this thriller that follows a group of kids who break into the house of a blind man only to find out that was a big, big mistake.
SEPTEMBER
Patient Zero (September 2)
A super cool cast including Natalie Dormer, Stanley Tucci and Matt Smith star in this fresh take on a zombie movie. The Infected have a special language but one human (Smith) can speak it, which puts him at the center of the fight to save the human race. This is a movie that's been teased since Comic-Con so hopes are high.
Storks (September 23)
Conceived, written and co-directed by Neighbors and Forgetting Sarah Marshall director Nicholas Stoller, Storks takes the tried and true idea of storks delivering babies and turns it on its head by having them deliver for online retailers. That is, of course, until one actually delivers a baby. As expected, the voice cast rules with names like Kelsey Grammar, Andy Samberg, Keegan-Michael Key and Jordan Peele
A Cure for Wellness (September 23)
Little is known about A Cure for Wellness except it's a horror film directed by Gore Verbinski starring Dane DeHaan. Verbinski is at his best when he's making smaller, intimate movies and he made one of the most popular modern horror movies, The Ring. We're stoked to find out what he has in store here.
Delirium (September 30)
Who doesn't love a good haunted house movie, especially from horror mega producer Jason Blum? That's what you'll get with Delirium, directed by Dennis Iliadis (The Last House on the Left), starring Topher Grace, Genesis Rodriguez and Patricia Clarkson.
OCTOBER
Gambit (October 7)
Channing Tatum is poised to put on a cajun accent and throw some playing cards as he brings one of the most popular X-Men characters to life in this solo movie. Doug Liman (Edge of Tomorrow, The Bourne Identity) is directing and we can't wait to see how Gambit will fit in with his other X-Universe characters like Deadpool, Wolverine and everyone else.
A Monster Calls (October 14)
Amazing director J.A. Bayona brings together a crazy cast (Liam Neeson, Felicity Jones, Sigourney Weaver) for this fantasy about a boy who deals with his mother's cancer by listening to stories told by with monsters. It's based on the best-selling book by Patrick Ness. Here's the trailer.
Underworld 5 (October 14)
Yup. Another one. Rumored to be called Underworld: Next Generation, Kate Beckinsale is back as Death Dealer Selene in the continuing trials of a world where vampires and werewolves are at war. The rumored title suggests a passing of the torch, which also happened behind the scenes as first time director Anna Foerster helms this installment.
Ouija 2 (October 21)
How many times do you have to be told? Never, ever, ever play with Ouija boards. And while the first film was a critical disaster, it garnered enough of an audience to necessitate this sequel, which is rumored to follow the exploits of the same haunted board from the first movie.
Inferno (October 28)
Ron Howard directs a third Dan Brown adaptation starring Tom Hanks as symbologist Robert Langdon. This time he's joined by Felicity Jones in a race to stop a billionaire mad man from unleashing a plague that will decimate the population of the world. The book was a fun romp in classic Brown fashion and there's no reason to believe the movie won't be more of the same.
NOVEMBER
Doctor Strange (November 4)

The Marvel Cinematic Universe is about to get really, really strange this fall when Benedict Cumberbatch brings the Supreme Sorcerer to the big screen. Sinister director Scott Derrickson is in charge with Tilda Swinton, Chiwetel Ejiofor, Rachel McAdams and rounding out the cast. Strange promises to send Phase Three off in a wild new dimension after the already massive battles of Civil War.
Trolls (November 4)
Yes. Those trolls. The ones you had on the end of a pencil in elementary school are finally getting the big budget, 3D animated film you never knew you wanted to see. Mike Mitchell (Sky High, The Spongebob Movie) directs for DreamWorks Animation (Shrek, How to Train Your Dragon) and the leads are voiced by Anna Kendrick and Justin Timberlake. Timberlake will even make music for the film.
Fantastic Beasts and Where To Find Them (18)
Fantastic Beasts is the first in a proposed trilogy of Harry Potter prequels written by J.K. Rowling herself, her first attempt at screenwriting. Eddie Redmayne stars at Newt Scamander, a Magizoologist whose briefcase full of creatures busts open and endangers the balance between the muggle and wizard worlds several years before Harry Potter was born. David Yates, director of Potters 5-8, is back at the reigns. Here's the cryptic teaser trailer.
Moana (November 23)
Disney doing what it does best. Taking an ancient fairy tale and making it their own. This time it's the story of a young girl from the South Pacific who goes on an sea-bound adventure with a legendary demi-god to prove herself and save her people. It's also a musical, directed by the same guys who did Aladdin and The Little Mermaid.
DECEMBER
Rogue One: A Star Wars Story (Dec 16)
Just one year after the release of The Force Awakens, Lucasfilm will release their first "Star Wars Story," a standalone, spinoff film set in the same universe as the main saga. This one tells the story of how a group of scoundrels stole the technical readouts of the first Death Star that play a crucial role in A New Hope. Godzilla director and massive Star Wars fan Gareth Edwards directs, Felicity Jones stars along with Diego Luna, Ben Mendelsohn, Riz Ahmed, Donnie Yen, Forest Whitaker, Mads Mikkelsen and Alan Tudyk.
Passengers (December 21)
Two of the biggest stars in the world, Chris Pratt and Jennifer Lawrence, team up for this sci-fi romance from director Morten Tyldum (The Imitation Game) and writer Jon Spaihts (Prometheus, Doctor Strange.) The film takes place on a ship that's transporting humans to a far away planet and one person wakes up early. So as not to feel lonely, he wakes another passenger.
Sing (December 21)
The director of The Hitchhiker's Guide to the Galaxy, Garth Jennings, makes his first foray into animation with this story set in the world of professional theater and music. Matthew McConaughy lends his voice to another animated film, and he's joined by Reese Witherspoon, Seth MacFarlane, John C Reilly, Scarlett Johansson and many more
Assassin's Creed (December 21)
Video game adaptations have a rough history at best, but we have high hopes for Assassin's Creed, which stars Magneto himself, Michael Fassbender. Much like the game, he plays a modern man who has the ability to relive the adventures of his skilled, assassin ancestor. He'll then use those skills to fight the Knights Templar in the present. Oscar-winner Marion Cotillard co-stars.
Jumanji (December 25)
Jonathan Liebesman (Ninja Turtles, Battle Los Angeles) directs this remake of the popular book turned into a 1995 Robin Williams film. We don't know how it'll differ from that film but I'd expect bigger effects and a slightly different story, enough to warrant its existence.
Miss Peregrine's Home for Peculiar Children (December 25)
New, weird Tim Burton movie alert! The Beetlejuice and Batman director works from a screenplay by Jane Goldman (Kick-Ass, Kingsman) telling the story of a young boy (Asa Butterfield) who must help a group of "peculiar" children from monsters who are haunting them. Samuel L. Jackson, Judi Dench, Terence Stamp and others co-star.
---
Contact the author at germain@io9.com.