The New York State Comptroller just released a report on the condition of New York City subway stations. It's bad. It's really bad.
How bad? Well, a whopping 417 out of the system's 468 stations have structural or architectural defects that need to be fixed. Put another way, there are only 51 stations out of 468 that don't need fixing. And—not to be alarmist about the situation or anything—but if there's anything you don't want to hear about stations for speeding trains that are built underground, it's that there are structural defects.
Luckily, it doesn't sound like the stations aren't about to cave in. The comptroller pointed to seemingly small things wrong with the vast majority of the stations. Some of them are indeed dangerous, however. "New York City Transit reports it is making progress on repairing stations, but the pace is too slow and much more work needs to be done," said Thomas DiNapoli. "Worn or damaged stairs and platform edges pose risks for riders, while broken tiles, lights and peeling paint leave riders with a low opinion of the transit system."
G/O Media may get a commission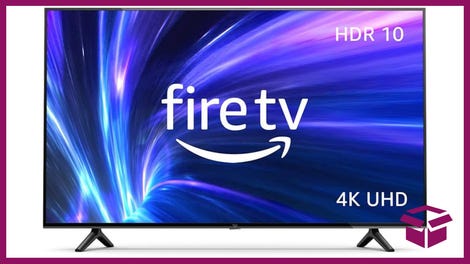 42% Off
Amazon Fire TV 50" 4K Smart TV
It will cost an estimated $5 billion to fix the problems. This is a very unfortunate situation, since the Metropolitan Transit Authority, which runs New York City Transit, does not have an extra $5 billion lying around. Plus, that's significantly more than what New York City Transit has spent renovating stations over the course of the last 32 years. (It's spent just $4.5 billion.) There is some money on the way thanks to the MTA's $32 billion, five-year capital plan, but not all of that money is for the subway. In fact, that plan was drafted well before the comptroller's report was released, so there's a chance a lot of the problems aren't addressed in it.
If you're ever actually ridden the New York City subway, this news probably isn't a surprise. It's famously dingy and full of rats. Famously. But hey, that's part of the charm. And at least we know they're taking care of the tracks—for the most part. [WSJ]
Images via Flickr / Nick Stango