About a decade ago, a friend of mine had a year of magical drinking. He'd been through a rough patch, moved home to Southern California, and taken up residency at a local tequila bar. Not really much of a drinker, he'd usually just read and people watch. A single drink would last him the afternoon. "Wait, so you just sipped tequila?" I asked him. "At first," he said. "And then I discovered mezcal."
It sounded like more of a revelation than a discovery. A few years later, I got my first taste of mezcal, when another friend brought back a bottle from Oaxaca. I'm not a tequila drinker, but I was quickly informed that tequila and mezcal are close siblings of very, very different temperaments. Mezcal is not something you take a shot of but rather something you put in a sniffer. It's all smoke at first taste, but when it clears, a bouquet of flavor opens on your palette, and the distinctive sweetness of agave slides across your tongue. This I could sip!
It's Friday afternoon, you've made it through the long week, and it's time for Happy Hour, Gizmodo's weekly booze column. A cocktail shaker full of innovation, science, and alcohol.
In the past few years, mezcal's become a bit of a boutique fascination in the United States—and for good reason. Mezcal is everything city-dwelling, money-spending hipsters like out of a spirit. It's obscure. It's organic. It's small batch. It's arcane (in a good way). And most importantly, it's artisanal.
G/O Media may get a commission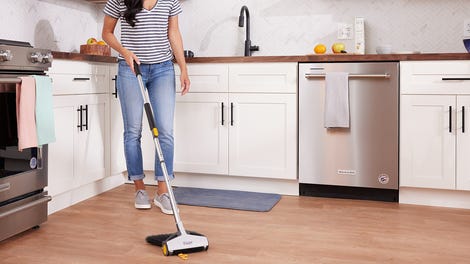 BOGO 50% Off
Flippr - BOGO 50% Off
Look into the agave and lose yourself.
All this probably sounds equal parts appealing and confusing, if you're new to mezcal. So let's back up a second. Mezcal, like tequila, is made by distilling the juice from the cores—or piñas—of the agave plant. Whereas tequila must be made of the blue agave variety in Jalisco and a few other states in central Mexico, mezcal usually hails from the far south of Mexico (read: Oaxaca). The distillation process also differs because mezcaleros roast the piñas over flaming hot rocks in earthen mounds. This is where mezcal gets its undeniably earthy and wonderfully smoky flavor. Once roasted, the piñas are crushed beneath a prehistoric-looking stone wheel pulled by a horse or donkey and then distilled in wooden barrels or clay pots. It's all very, very artisanal.
Those are the basics. I knew as much earlier this week, when I went to Casa Mezcal, a three-story Oaxacan cultural center, restaurant, and mezcaleria in the Lower East Side. There I met Pedro, an affable and intensely knowledgable bartender who explained how mezcal has more in common with fine wine than with tequila—at least in terms of craft. In Mexico alone, there are some 9,000 producers of mezcal, the vast majority of whom sell locally and in small batches. There are also about 200 different species of agaves, each of which has its own distinctive flavor.
You can't get more artisanal than a horse and wheel made out of stone.
So when selecting a mezcal, it's important to look not only at the palenque (distillery) but also the species of agave used. While the emphasis put on age is not as strong as it is in wine, you will find a spectrum. Joven mezcal is unaged. Reposado or añejo are aged. All are delicious.
The more questions I asked Pedro about specific varietals and palenques, the more he urged me to go to Oaxaca and see the process for myself. On the back of a receipt, he wrote "Los Amantes" and the name of its owners, Guillermo Olguín and Ignacio Carballido. "Just tell them you were here and you can see how they make mezcal," said Pedro, as he poured me a taste of Los Amantes Joven. One taste led to another and another, and the next thing I knew I was planning a trip to Mexico with a sniffer in my hand. I stopped short of booking a hotel, if only because I want to do more research on which palenques to visit.
Mezcal is traditionally not super fancy. Here it is fancy.
But you don't really have to go to Oaxaca to learn about mezcal. One of the most glorious things about the elixir of the Gods is that you can find an excellent bottle for around $50 pretty easily. With Pedro's help, I identified five of my favorites (and one I'm dying to try) that you can either order or buy at a good liquor store. Or you could fly to Oaxaca and discover even more.
---
Los Amantes Joven
Holy shit I love this. And I'm not the only one either. According to one ranking, Los Amantes Joven is the second best mezcal in the world. (The comparably priced Don Amando, which I haven't tried, is ranked first.) That said, it's easily one of the most delicious and agreeable spirits I've ever tasted. This is a perfect starter bottle. [$55]
---
Fidencio Tobala Joven
This is my favorite (and Pedro's too). It's an expensive favorite! Yet, the elegant yet approachable flavor made me feel like I was really experiencing something special, and I'd consider buying a bottle for a special occasion. Made from the wild Tobala agave, this mezcal is rare and luxurious. Sip it slowly. [$150]
---
Alipus San Andrés
After tasting several mezcales, Pedro filled my sniffer with this treat. Alipus is craft palenque—though most palenques are craft palenques—known for its notably complex flavor profiles, and the San Andrés release won't let you down. The layered floral flavor is excellent for slow sipping. [$48]
---
El Jolgorio Tobala Joven
Speaking of comparing mezcal to wine, the colorful lineup of varietals from El Jolgorio reminded me of bottles you'd find at a boutique winery. Except instead of being filled with grape juice, they're full of the holy nectar called mezcal. And apparently, I'm a fan of the Tobala varietal, though I can't really afford to be. [$115]
---
Mezcales De Leyenda Guerrero
So remember how most mezcales are from Oaxaca? That doesn't mean that a delicious mezcal from another part of Mexico can't be outstanding as well. This peppery blend from Guerrero was one of the most interesting mezcales I've tried. And it's certified organic, just for the hipsters! [$62]
---
Ilegal Mezcal
This is the mezcal I have not tried, but I've heard a lot about. Made with four generations' worth of expertise, Ilegal Mezcal is supposed to be both terrific and terrifically priced. Right now, they're offering a three pack for the price of two half decent bottles of scotch. [$47 to $210 for three vintages]
---
And to think those are only a handful of thousands of different mezcales from Mexico alone. As the spirit's becoming popular worldwide—mainly in the U.S. and Japan—palenques are opening up elsewhere. The trend is reminiscent of the spread of single malt whiskey, yet somehow more spiritual. As the Oaxacan saying goes: "Para todo mal, mezcal, y para todo bien también." In English, "For everything bad, mezcal, and for everything good, the same".
Images via Flickr / Joshua Bousel / Roger Ferrer Ibáñez