On the one hand, everything we've seen from Suicide Squad makes it very likely that it's going to be the best film of DC's new movie universe so far. On the other hand, filming it sounds like it was a complete nightmare.

Regardless of the trailers, the costumes, or the stunts, it's what happened off-screen that stands out most about this film. This is a movie about a crocodile man, a woman with a magic sword, and a boomerang enthusiast, but there was much weirder shit going on off-camera than on. Here is a brief chronicle on this madness.
Dead Animals
First, the first sign that things were strange were reports of Jared Leto's antics "in character." Adam Beach, who plays Slipknot, told E! that Margot Robbie (Harley Quinn) got a rat, Will Smith (Deadshot) got a bunch of bullets, and the rest of the cast got a dead pig. Which was all well and weird, but the storytold by Ike Barinholtz is much grosser than Beach's version:
He did this crazy thing. All the actors were rehearsing, and his character is in love with Margot Robbie, she's Harley Quinn. So we're rehearsing, and this actor who plays the Joker's kind of lieutenant, walks in and he goes, "Present for Ms. Quinn." Hands her a box. She opens the box, and a live, giant black rat pops out. And we're like, "What the fuck is going on? That's crazy!"

So 20 minutes later, we're still rehearsing, and the actor comes back in and he goes, "This is for the squad from Mr. J." And he throws a pig on the table, a dead pig, and as he puts the pig on the table all these bullets start to come out of it...this is in a rehearsal space a month before we started shooting.
Leto was apparently so aware that he was going to be a nightmare that he warned the crew ahead of time, with costume designer Rene Fontana saying "When we first met him, he said—look, girls, I'm going to be pretty intense, I'm going to be the Joker when I come for fittings." And that was exactly what happened, since Fontana also said, "Sometimes he tried to terrify us, but we're strong women. He was growling at us, and we'd play back."
In fact, even reporters invited to the set during filming were told to call Leto "Mr. J, or Smiley." Several of his castmates were worried about approaching him when he wasn't in costume. To quote a semi-apocryphal story, try acting, dear boy. It's much easier.
G/O Media may get a commission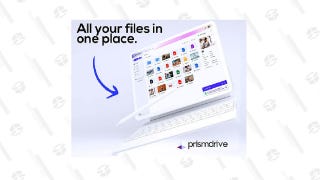 Save 97%
Prism Drive Secure Cloud Storage: Lifetime Subscription
Bad Tattoos
In addition to Leto wandering around stuck in the Joker's skin, there was also "Harley's Tattoo Parlor," where the cast—mostly Robbie but also Will Smith—gave and got tattoos of the word "skwad." The spelling alone would be bad, but, again, the story as told by Barinholtz to Howard Stern (via Hitfix) makes this sound less like a plan and more like a series of drunken mishaps:

She has a tattoo gun, so [the cast would] get drunk and [she'd be] like, "Alright, let me give you a tattoo." And one of the guys she tattooed, she made a big typo. And he was like, "Oh it's cool, don't worry about it!"
Psychological Torture
When Leto wasn't terrorizing people with "gifts" and Robbie wasn't giving people messed up tattoos, director David Ayer was physically and psychologically torturing the cast. "There's all sorts of little tricks he has, manipulations that fold into the process, you don't know you're victim to until it's in full effect," Jai Courtney said. "It'll be sad to stop working with him, all of us hope that opportunity will come again." That doesn't sound the least bit like Stockholm Syndrome at all.
Ayer's process, Joel Kinnaman revealed in that same Yahoo! set report, includes asking "questions in front of everyone that were hard to dodge." They have to talk about their fears and embarrassing or painful memories in front of strangers. Ayer volunteered the same information, of course, but he wouldn't fight any of them.
Physical Pain
That's right. In addition to the enforced sharing, Ayer revealed that he also made the cast punch each other.
The rehearsal was very intense. It wasn't a normal rehearsal, we'd talk about their lives, their history, and really got them to open up as people to each other. I also had them fight. I had them fight each other. You learn a lot about who a person really is when you punch them in the face. It gets rid of a lot of the actor stuff.
(Of course, Leto wasn't in the rehearsal process, so he didn't get rid of the "actor stuff." Hence the rats and pigs and things.)
Everything was so intense that there was a sort of therapist/life coach-type person around the set just in case. This doesn't sound like a summer camp-style set as much as a "summer camp from a horror movie" kind of set.
I have no doubt that the cast is as close-knit as they keep saying they are. They survived something utterly ridiculous.