In a bit of role reversal, Keir Dullea, better known as 2001: A Space Odyssey's Dr. David Bowman, plays an intelligent ship in the short film HENRi, which also stars Superman actress Margot Kidder. After some time adrift in space, the ship's intelligence decides to build itself a body to feel more alive.
HENRi was written and directed by Eli Sasich, whose short film Atropa we were drooling over just last week. Where Atropa was a proof-of-concept, however, HENRi is a complete story, but, like Atropa, it was inspired by classic science fiction films. Speaking over email, Sasich told us a bit about the genesis of HENRi:
HENRi was born out of my love for films like Silent Running and 2001: A Space Odyssey - films my dad introduced me to early on. On a technical level alone, I'm absolutely fascinated by how those movies were made. The use of miniatures and in-camera effects is stunning. So I wanted to make something that used a mixture of those techniques. But really, the goal with HENRi was to tell a very human story, without a "human" main character. I wanted to try and get an emotional response out of a robot — that seemed like a fun challenge. That's what's so cool about science fiction — the ability to tell these kinds of unique stories.

I have to add — I will always feel a great sense of gratitude to my Kickstarter backers, who took a chance on a complete stranger several years ago. They gave me an opportunity to head down a path that I would have never been able.
It's always nice when crowdfunding allows someone with this much talent to spread their creative wings. We're definitely keeping an eye out for Sasich's work in the future.
You can also read more about the film and see some of the models that went into its creation at Filmmaker Magazine.
G/O Media may get a commission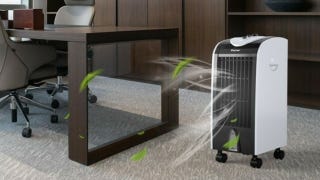 Save $10
Evaporative Portable Air Conditioner Cooler with Filter Knob
[via Rob Munday]