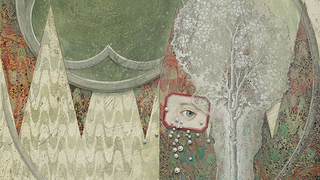 The Brother's Grimm and their stories are some of the great icons of western literature - and this amazing project by Corwin Levi & Michelle Aldredge is looking to re-interpret 25 of the folklore tales for modern with the help of 27 artists. They just hit their Kickstarter goal, but there's still time to get in!
Header Image Credit: Goose-Girl at the Well by Anne Connell
Mirror Mirrored gathers 27 artists into single collection to offer their own works inspired by one of the Grimm's stories, through a variety of mediums - whether it be painting or sketches or craftwork like scarves and sculptures, even video (through QR code technology worked into the physical book) - to re-imagine the tales through a different lens for modern day audiences.
Although the Kickstarter has now hit its target of $25,000, having edged over the goal in the early hours of this morning, there's still 62 hours left if you're interesting in getting a copy of the book. The lowest tier of pledge that nets you a copy of the first run of the book are $10 for an eBook version, or $50 for the physical book. Other tiers net you the book as well as some of the original pieces of art used for the collection, or new art from the artists involved, as well as larger formatted special editions of the book itself.
If you'd like to check it out, you can do so here.
---
You're reading Toybox, io9's new blog for all things pop culture. From merchandise to awesome fan creations, TV recaps and critical commentary on the hot topics of the day, you can find it all here!