Yeah, I was pretty much pulling this face too after reading that headline.
Exclusive to the Japanese Manga service Mangabox, Avengers: Zombies Assemble, penned by Yūsaku Komiyama (who also wrote an Age of Ultron prequel manga to celebrate the film's Japanese release) will see the Avengers plan a surprise party for Tony Stark, only to be rudely interrupted by zombies who turn several of the heroes in to the living dead. Of course.
Two pages have made it online already, and only add to the bizarre confusion of the above scenario by actually putting it not in the setting of Marvel Comics (which has dealt with more than its fair share of zombies) but in the actual Marvel Cinematic Universe:
That sure is manga Mark Ruffalo, Chris Hemsworth (what the hell is Thor doing to that sandwich, oh my god), Jeremy Renner, and a Winter Soldier-era Scarlett Johansson in that second page. Also, THE LIVING DEAD. This is fascinating. I want this in Phase 3 of the MCU, like, yesterday.
G/O Media may get a commission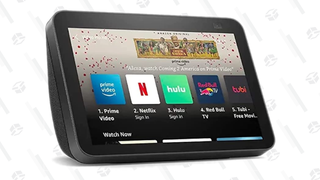 The manga, due for release this Wednesday, is currently exclusive to Japan, just like Komiyama's Age of Ultron one-shot—so while we may not be seeing it officially here in the West for the foreseeable future, no doubt it'll pop up and get translated online by the end of the week, just like the Marvel/Attack on Titan crossover did.
[Via Comic Book Resources]