Sigourney Weaver describes her Avatar character, and Hit Girl talks Kick-Ass. Plus, Joss drops Dollhouse hints and we recoil at Paris-Hilton-on-Supernatural reports. Plus Earth-twisting Twilight, Fringe, FlashForward, Smallville, Stargate Universe, Warehouse 13 and Chuck spoilers!

Avatar:
Sigourney Weaver describes her character, Grace: "There's a little bit of Jim [Cameron] in her. She's sort of impatient in some ways, a perfectionist, very passionate, can be caustic but also very kind and with a big heart." [Hollywood Outbreak]
Kick-Ass:
G/O Media may get a commission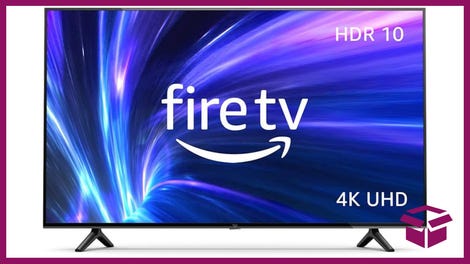 42% Off
Amazon Fire TV 50" 4K Smart TV
Twilight:
Jodelle Ferlan has been cast as the "newborn vampire" in the third movie, Eclipse. [Twilight Lexicon]
Here are some images from New Moon, from a new "vertical calendar." [Jasper Cullen Fan via SpoilerTV]

And Jackson Rathbone describes the pivotal scene where he attacks Bella:
Yeah, there's a little bit more violence. It's definitely longer. It's really about the moment where Bella is realizing what kind of world she's into... I was going pretty method. We choreographed it - so I wasn't too worried about attacking Kristen - but I told the guys to hold me back, because you want it to look real.
[MTV]
Dollhouse:
Some set pics from the first episode of the new season show Joss filming on the steps of L.A. City Hall. Is someone getting married? Fighting City Hall? Speaking of fighting the law, Joss play-acted getting "arrested" by one cop/fan, as you can see in one of the photos. More images at the link! [Akinius on Flickr, via Whedonesque]

In episode three of the new season, we'll meet a new recurring character: Cindy, a smart, attractive politician's wife, who's like a young Hillary Clinton. [SpoilerTV]
This year, we're going to visit the Attic and seeing what's inside, and we'll meet some "old friends." And we'll find out first hand why people don't want to go there. We'll also learn more about the origins of the Dollhouse. And there's a new Big Bad — someone Echo has a history with, but is unaware of. (Maybe Caroline's supposedly dead boyfriend?) [Wired]
Supernatural:
Oh no — Paris Hilton will be guest starring in episode five of the new season. But trust showrunner Eric Kripke, say inside sources — once you know what her storyline is, you will die. With happiness. We hope. [E! Online]
Fringe:
Here are some more castpics. I think there are some definite "desktop pattern" candidates here. [SpoilerTV]

FlashForward:
Here's a new trailer, which includes a few new glimpses of the first episode:


Keir O'Donnell (The Wedding Crashers) is joining the cast of this show, but it's not clear whom he'll be playing. [Variety]
Smallville:
CW president Dawn Ostroff says Michael Rosenbaum won't be back in season nine, but may return after that. But inside sources say she's being misleading, and we might actually be seeing quite a bit of Lex in upcoming episodes. [TV Guide]
Stargate Universe:
I think we may have reported these comments already, but just in case... Robert Carlyle says everyone dies in an upcoming episode called "Time," and then comes back to life. (Of course.) And he describes the most recent episode he was filming:
I was floating in a tank, and that was kind of bizarre, in actual fact. A bunch of aliens actually got me. Of course, Rush is left on a planet, which is what he deserves, and then the aliens come and pick him up and stick him in a tank. So that's where you suddenly pick me up again, floating in it. So that was quite cool.
Warehouse 13:
Here are some stills from episode eight, "Duped". [SpoilerTV]

Chuck:
Young Hollywood talks to Zachary Levi. [SpoilerTV]


A new press release gives you even more insights into the bitey plot of this vampire soap opera:
Four months after the tragic car accident that killed their parents, 17-year-old Elena Gilbert (Nina Dobrev, "DeGrassi: The Next Generation") and her 15-year-old brother, Jeremy (Steven R. McQueen, "Everwood"), are still adjusting to their new reality. Elena has always been the star student; beautiful, popular and involved with school and friends, but now she finds herself struggling to hide her grief from the world. Elena and Jeremy are now living with their cool-but-overwhelmed Aunt Jenna (Sara Canning, "Smallville"), who is doing her best to be a surrogate parent.

Elena manages to find some comfort with her familiar social circle – best friend Bonnie (Katerina Graham, "17 Again"), frenemy Caroline (Candice Accola, "Juno"), and former boyfriend Matt (Zach Roerig, "Friday Night Lights"), but Jeremy is on a more dangerous path, hanging out with the stoners and using drugs to hide his pain. Jeremy is also trying to figure out why Matt's sister, Vicki (Kayla Ewell, "The Bold and The Beautiful"), is suddenly rejecting him and hanging out with Jeremy's rival, Tyler (Michael Trevino, "Cane").

As the school year begins at Mystic Falls High, Elena and her friends are fascinated by a handsome and mysterious new student, Stefan Salvatore (Paul Wesley, "Fallen"). Stefan and Elena are immediately drawn to one another, although Elena is puzzled by Stefan's increasingly bizarre behavior when he appears suddenly at the cemetery where her parents are buried. What she doesn't realize is that Stefan is hiding a dark, deadly secret of his own – the fact that he's a vampire. At a bonfire party the next night, Elena and Stefan are just getting to know each other when chaos erupts after Vicki is attacked and left bleeding from a savage bite to the neck.

Fearing that he knows who is responsible for the attack, Stefan returns home and finds his older brother, Damon (Ian Somerhalder, "Lost"), whom he hasn't seen for 15 years. Damon is also a vampire, and the two brothers have a long and bitter history. Damon ridicules Stefan for rejecting their legacy of violence and brutality, but he understands his brother's obsession with Elena, since she looks exactly like a woman Stefan loved more than a century ago; a woman that Damon tried to make his own. Now these two vampire brothers – one good, one evil – are at war for Elena's soul and for the souls of her friends, family and all the residents of Mystic Falls, Virginia.
Additional reporting by Alexis Brown.