Near the end of Muppet Guys Talking, puppeteer Dave Goelz is asked a question about where he's found the nobility in his life's work. "[In] folly," he answers. "Human folly. Celebrating the degree to which we're all lost." That's just one instance of how this documentary about the world's favorite puppets gets surprisingly deep.

Directed by Frank Oz and screened this week in Austin at SXSW, Muppet Guys Talking is a warm, unassuming film that documents a reunion of five people who worked with Jim Henson. The movie is essentially a recording of a 10-hour hang-out in 2012 that Oz had with Goelz, the man who's brought Gonzo and Dr. Bunsen Honeydew to life for decades, Fran Brill (Prairie Dawn), Jerry Nelson (Count von Count), and Bill Barretta (Rowlf, Pepe the King Prawn). Oz, having performed as Yoda and Miss Piggy, is among the best known of the crew but the point of the film is to let audiences know about some of the more unheralded puppeteers who helped bring the Muppets to full bloom.
There's a mix of cozy reminiscing, nuts-and-bolts discussion of craft, and psychological deconstruction in Muppet Guys Talking, as the friends describe the origins of characters and the depths they plumbed to shape those personalities. Talking about Animal, Goelz says that the wild percussionist didn't need to be three-dimensional like Miss Piggy and that Animal only thinks about "drums, sleep, food, sex, and pain." "He goes out in the middle of the night," Goelz went on. "You don't know where he goes and you don't want to ask."
Oz shared similar insights about Fozzy, saying that, in his mind, the character doesn't have a key to the Muppet Theater where he performs. But the schlocky comedian shows up at 6:00 a.m. every morning, wanting to be in "the show business." "He'll never succeed at being funny but he'll never stop trying," Oz said.
G/O Media may get a commission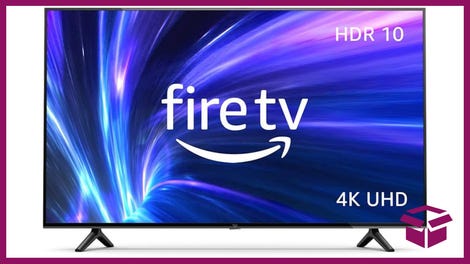 42% Off
Amazon Fire TV 50" 4K Smart TV
Gonzo is crazy but free, Bunsen is specific but misses the big picture and Zoot is in his own world. Some of these truths have been obvious to people who've watched the Muppets but, in the cases where they weren't, the insights will make you appreciate the characters even more.
Anecdotes about The Muppet Movie and other productions reveal that making this kind of entertainment could be physically grueling. One such story is centered on a campfire singalong segment with the late John Denver. A bunch of puppeteers were hunched underneath the stage in a tight circle around the propane tank fueling the fire up above. Oz remembered thinking "Holy shit, this thing could blow and destroy all of us."

"We've worked real close, like nose-in-armpit close," Oz says at another point in the film. That emotional closeness is evident on screen and Muppet Guys Talking makes it clear that the Henson only built such a meaningful legacy by creating an open atmosphere where anyone could contribute ideas and take risks. Goelz describes Jim Henson as a harvester of people and said that "How do you get to abandon and lunacy?" was a key question that reverberated through the air in their work together. "The farther you went with a character, the more Jim liked it," he remembered. Nelson, who died shortly after the project was filmed, cited his Muppet work as a source of personal growth, saying, "I'm not who I thought I was."
Generations of people have also had the Muppets be part of their own self-discovery journeys. I include myself in that number but didn't expect to cry while watching Muppet Guys Talking. Yet I started welling up about two minutes into the documentary. Seeing old, familiar Sesame Street footage and the raucous music from the Muppet Show reminded me of the rapturously untethered energy that Henson's work infused into my young mind. The ethos of Henson's work seems to be joy without judgment. Oz puts it another way in the movie, saying that his late friend "took a chance on sweetness," adding, "That's hard thing to take a chance on. You can get laughed at."
Muppet Guys Talking stands as a testament to the enduring opposite reaction to the Muppet oeuvre: we're giggling with these creators, not at them, and there's a deep well of gratitude underneath all the laughter.