Period films are the bane of movie producers' existence. They cost a ton of money, limit locations, require elaborate costuming and are always fighting against the very existence of the modern world. But when it all comes together, the films function as one of the closest things we have to a time machine.
Filmmaker Vugar Efendi likes pairing famous films with their historical inspiration. We previously featured his side-by-side comparisons of shots from the movie canon with paintings from art history. Now, Efendi is back with this collection of clips from films based on history paired with the real footage that inspired them.
Some examples, like Natalie Portman's pitch-perfect embodiment of Jackie Kennedy giving a tour of the White House, are spot on reenactments. While the assassination of Lee Harvey Oswald in JFK takes on a broader view—giving us multiple angles of the scene while putting the more faithful facsimile on a television being watched in the average American's living room. And you have to love the meta-levels going on in the scene from Catch Me If You Can. Real footage from the game show To Tell the Truth shows real con man Frank Abagnale pretending to be a pilot on a game show in which contestants pretend to be someone else and only one person is telling the truth. Meanwhile, DiCaprio is pretending to be Abagnale on the screen next to him.
G/O Media may get a commission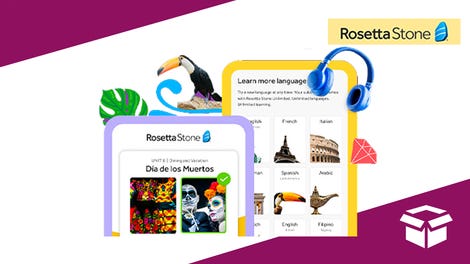 Extra 20% off
Rosetta Stone Lifetime Subscription - All Languages
[Vugar Efendi via Slate]