New research shows that many young children, prior to reaching the age of six or seven, mistakenly believe that birthday parties cause aging. It's a truly adorable finding, but the study also offers an important glimpse into the developing brain and our early tendency to seek out causal explanations for the unfolding world around us.
What would happen if a kid were given not one, but two birthday parties? Sounds like an amazing deal, but for many children in the three-to-five set, this is a very challenging question. New research published in the science journal Imagination, Cognition and Personality shows that nearly two in five young children, when asked this question, will get it wrong, saying that a person will gain an extra year. Or even two.
From a very early age, usually around four years old, children start to understand that certain things grow, and that things grow bigger and not smaller, while inanimate objects do not. About a year or two later, kids start to understand that living things grow because they eat food, and not through sheer will power. But birthdays and birthday parties present a complication to the young brain, as it's an event that's indelibly linked to a person's age, and by consequence, the aging process itself. As a cultural phenomenon, birthdays represent an important time for kids to think about growing older and what it means, while also affording scientists the opportunity to study how birthdays may influence a child's understanding of aging.
Back in 2002, scientists began to explore this idea, learning that children, up until about the age of seven, believe that birthday parties cause aging. Unfortunately however, the way this study was structured may have inadvertently led the children to this conclusion. Child psychologist Jacqueline Woolley from the University of Texas at Austin decided to revisit this apparent glitch in children's thinking, revising the experiment in way that overcame the shortcomings of this earlier experiment.
G/O Media may get a commission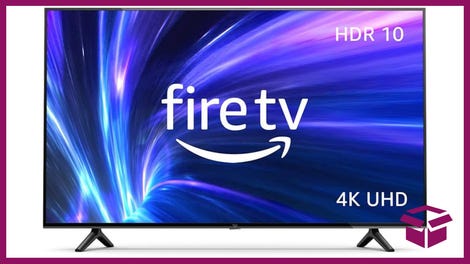 42% Off
Amazon Fire TV 50" 4K Smart TV
Woolley talked to nearly 100 kids for her study, all between the ages of three and five. She told them stories about children who were celebrating their third birthday. The first story was about a kid who had no party on their birthday, the second was about a child who was given a pair of parties, and the third story was a simply a story about a child who was turning three (the control question). After each story, children were asked to indicate how old each child was by gesturing with their fingers or using their words. Woolley also asked the kids if they knew their own age, and other questions designed to assess their beliefs about the processes and inevitability of aging.
Results showed that 72% of the children got the control story right, correctly answering that the child would be turning three. For the child with no party story, 54% correctly said the child would still be three. For the two-party story, 62% got it right, saying the child would still be three—but 38% said the child's age would be either four or five.
It was more difficult for children to understand that stopping birthday parties would not allow a person to stay the same age. Only 63% of kids got this right, saying birthday parties didn't cause a person to gain a year of age.
"Overall, results of this study revealed some degree of confusion in preschoolers about the role of birthday parties in aging, with many children appearing to afford them a causal role," writes Woolley in the study. "Children of all ages seemed to believe that not having a birthday party can halt, or possibly even reverse, the aging process and that having multiple parties can speed it up."
This study affirms previous research, showing that some (but not all) preschool-age children think that birthdays cause aging, but that this misconception decreases during the preschool years (three year olds are particularly prone to this error).
"[C]hildren... are especially driven to seek explanations for personal, meaningful events," writes Woolley. "We suggest that the annual experience of the seemingly sudden change from one age to another is an event of great significance and meaning to preschool-age children in particular, and that this salience drives children to seek an explanation for the apparent change."
In other words, children are just as obsessed with cause-and-effect as adults are. To the young, developing mind, the birthday party is as good as an explanation for aging as any. One day you're three years old, then you're given a birthday party—and poof!—you're suddenly four years old. It's cute, but it's a clue that helps us better understand the causal reasoning skills and tendencies of very young children.
Importantly, there's absolutely nothing wrong with kids who make this mistake. If anything, it's something to be celebrated.
"Anyone who celebrates birthdays or who wonders about children's minds should be interested. Our culture is obsessed with the concept of the birthday party," Woolley told Gizmodo. "Parents should enjoy their children and their children's questions, and discuss these issues with their children as they arise spontaneously."