Some of you may remember Danger Girl artist J. Scott Campbell's first round of fairy tale princesses, which depicted Cinderella and Snow White as heroines who were allergic to every textile invented. For his new 2012 Fairy Tale Fantasies calendar, Scott Campbell— whose style can only be described as "uranium-enriched cheesecake" — has now drawn a slew of princesses who have been horribly cursed by the Décolletage Hobgoblin.
Here's a new, baffling batch of 16 fairy tale characters à la J. Scott Campbell. I'm extremely disappointed that the Little Mermaid's castle and Jasmine's minarets are barely phallic, unnerved wholesale by Cinderella's cleaning pose, and kind of wish I came up with the notion of Cinderella's dress exploding at midnight. It's like a scene out of a Patrick Stewart film. And what, no pin-up version of One-Eye, Two-Eyes, Three-Eyes? This is truly a calendar that murmurs discreetly, "For 365 days a year, I am a paragon of understatement."
PS: I realize that a handful of these characters aren't Disney royalty. I'm not going to include "And the Princess and the Pea on a cold day!" in the headline.
G/O Media may get a commission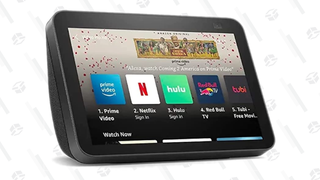 Via Bit Rebels — hat tip to seivewright!