James Cameron says the Avatar saga might not end with the third movie. Sylvester McCoy is looking to join The Hobbit after all - just not as Bilbo. The Fantastic Four reboot might have found the new Doctor Doom. Spoilerama!

Avatar Sequels:
In a recent interview, James Cameron reaffirmed the Avatar novel is his next port of call in building up this universe, in the process hinting that he wants to make more than just an Avatar 2 and an Avatar 3: "I'm actually mapping this out. One of the things that I'm working on is the novel, which is a good companion to the first movie. To me, the book is laying the foundational bed for the entire world and all of the back-story and future history. There's definitely going to be a second and third film. I don't know if that means it's going to be a trilogy."
The interview also explains some of his motivations behind the rerelease of Avatar and what the final Blu-Ray version will contain, so you can check out the link if that's of interest. [Underwire]
Fantastic Four Reborn:
The upcoming reboot is reportedly considering Stephen Moyer, better known as Bill on True Blood, to play Doctor Doom, and in fact an offer is already out to him. This is the first time there's been any indications Doctor Doom would be the villain of the new Fantastic Four movie (other than common sense, I guess - the Fantastic Four isn't really known for its extensive rogues gallery), if there's any truth to these rumors. Which is, as always, a pretty gigantic "if." [ComicBookMovie]
G/O Media may get a commission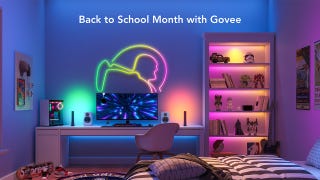 Back to School
Back to School Month with Govee Sale
The Hobbit:
The great Sylvester McCoy - who remains Doctor Who's only openly Scottish Doctor - dropped a few more hints on a possible role in The Hobbit:
"I am being cast in The Hobbit. We're currently in negotiations - there are two of us under consideration. It's not the Bilbo role, but could be bigger."
TheOneRing speculates he may be up for the wizard role of Radagast the Brown. Their logic has a leap or two, but either way, it appears McCoy is definitely in contention for a Hobbit role. [Argyllshire Standard]
Thor, Captain America, Paul, and more:
Movie Con III was this last weekend, and Empire has posted the videos of the full panel Q&As for Thor, Captain America, Paul, Harry Potter and the Deathly Hallows, and The Voyage of the Dawn Treader. There are also additional snippets on X-Men: First Class, John Carter of Mars, Tintin, Hugo Cabret, and a delightful clip in which Simon Pegg says he doesn't know anything about Star Trek 2 just yet, but will make with the spoilers the moment that he does. You can check out all of the videos at the link. [Empire Online]
Transformers 3:
Here are some new images from what's thought to be the very end of the movie. Rosie Huntington-Whiteley is holding a giant bunny for reasons that I'm sure make perfect sense: [SpoilerTV]

And, for those interested, there are a bunch of new Chicago set videos here. [TFLAMB]
Also, our friends at Jalopnik had a few set photos from an abandoned auto plant in Detroit. [Jalopnik]
Harry Potter and the Deathly Hallows:
Here are some character photos: [SpoilerTV]

Fringe:
Here are some promo pics for the first two episodes. The first 23 photos are for the season premiere, "Olivia", while the rest are from "The Box": [SpoilerTV]

Chuck:
Here's two photos of Olivia Munn as Greta, the BuyMore's new employee played by a succession of CIA agents: [SpoilerTV & 5975]

Supernatural:
Here's a first look at the Winchesters with their grandfather Samuel Campbell, played by Mitch Pileggi: [TV Squad]

The sixth and seventh episodes will be called "Live Free or Twihard" and "Family Matters" [SpoilerTV]
Warehouse 13:
Here's a sneak peek at Tuesday's episode, "Vendetta": Click to view

Eureka:
Here's the promo for the mid-season finale, "I'll Be Seeing You": [SpoilerTV] Click to view

The Event:
A New York Magazine article offhandedly mentions that, yes, The Event is all about an alien invasion. Which I think was already hinted at previously, but consider that extra confirmation. [New York Magazine]
Here's a new promo: [SpoilerTV] Click to view

Smallville:
This magazine scan reveals Supergirl's new human disguise when she returns this season, and here are a couple more images from the new season that show the return of Jonathan Kent and Lois's run-in with a crucifix: [OSCK & The Ausiello Files]

Michael Shanks confirmed on his Twitter that he'll make his first return appearance as Hawkman in the second episode, "The Shield", and then he'll return again in the eleventh episode. [@MichaelShanks]
Allie Bertram, who played a hippie in a flashback on Supernatural last season, will play "a high-school reporter" in an episode set to air in October, according to an interview in the Calgary Daily Herald. IMDB says the episode in question is "Homecoming", the 200th episode.
Being Human:
Here's a fun featurette that focuses on director Philip John, who's directing three of the episodes in series three. He talks a little bit about what we can expect from his episodes, promising that classic mix of gore, emotion, and comedy: [SpoilerTV] Click to view

No Ordinary Family:
Twilight vampire Jackson Rathbone has reportedly been cast as Trent Stafford, a classmate of the newly telepathic daughter Daphne. His character was apparently the recent victim of a burglary. The role might be a recurring one. [The Ausiello Files]
In the fourth episode, entitled "No Ordinary Vigilante", James Earl will reportedly play Kenny, Ashton Moio will reportedly play superpowered son J.J.'s friend Declan, and Chord Overstreet will reportedly reprise his role of Lucas. The character first appeared in the pilot. [KSiteTV]
Terra Nova:
The show about a family from 2149 who get flung back to the time of the dinosaurs has picked up a new cast member. Allison Miller will reportedly play Skye, a veteran of Terra Nova who becomes a mentor to the son of Jason O'Mara's character. [Variety]
Additional reporting by Kelly Faircloth and Charlie Jane Anders.