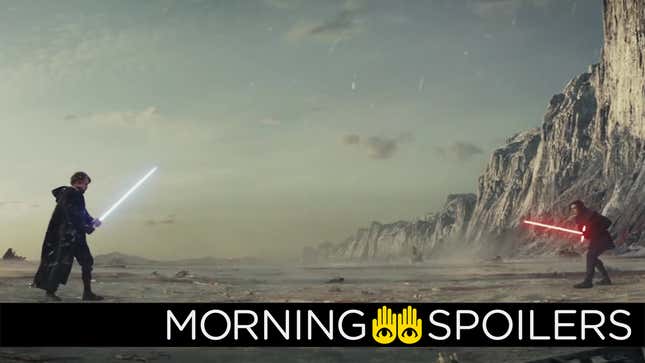 The Hellboy movie might have added another iconic hero from the comics. Get a suitably democratic new look at Captain Marvel courtesy of Brie Larson. Fox is looking to do its own take on War of the Worlds. Plus, new behind-the-scenes looks at Joker, and what's to come on Legends of Tomorrow. Spoilers, go!


Star Wars Episode IX
The "Hot Scoop or Shot of Poop" segment on the latest episode of The Weekly Planet Podcast cites sources who reportedly said that Matt Smith is set to play a young incarnation of Emperor Sheev Palpatine in Episode IX... yes, really. Thinking this one leans a bit more to "poop," personally.
In related news, Adam Driver dodged a question from Vulture asking what he finds "most interesting" about playing Kylo Ren.
That's hard to say because we're working toward something in particular with that character. I don't want to give anything away.
---
Hellboy
Thomas Hayden Church has reportedly joined the cast of Hellboy as 1930's pulp hero and vigilante Lobster Johnson. [Discussing Film]
---
Paddington 3
Speaking with Collider, producer David Heyman revealed a third Paddington movie is in development without the involvement of series director, Paul King.
I don't think Paul King will direct the third. He did the first two—he and I are working on another project together. … He's very special, Paul. We're developing a third Paddington. We haven't got a script yet, we've got a treatment which we're still working on.
---
Jacob and the Sea Beast
THR reports Big Hero Six director Chris Williams is leaving Disney to direct Jacob and the Sea Beast, an animated film about a ship captain befriending a sea monster, for Netflix. Williams says, "Jacob and the Sea Beast is the kind of story I've always wanted to take on. It's a tale of high adventure where our hero leaves the known world and ventures out into uncharted waters. As it turns out, I'm doing the same thing. I'm grateful for the opportunities provided by my former creative home and am excited to leap into a new environment."
---
Captain Marvel

Instagram user @ninjawhip has a photo of Lego's official 'Skrull Leader' minifigure.
Meanwhile, Brie Larson reminds fans to vote today with a new set photo.
---
Joker
The Joker takes a smoke break in the latest set photo from Todd Phillips.
---
Fantastic Beasts: The Crimes of Grindelwald
The cast and crew discuss Jude Law's Dumbledore—and his relationship to Grindelwald—in a new featurette.
---
Ralph Breaks the Internet
Ralph goes viral in the latest clip from the Wreck-it-Ralph sequel.
---
Swamp Thing

Will Patton has joined the cast of Swamp Thing as "prominent businessman" Avery Sunderland, "the de facto patriarch of his Louisiana hometown, always giving back to the community. His benevolent veneer, however, masks a ruthless determination to harness the power of the swamp for profit." [Deadline]
---
Watchmen
Deadline reports James Wolk has joined the cast in a "prominent," though currently undisclosed, role.
---
War of the Worlds
According to Deadline, Greg Kinear is in talks with Fox Networks Group Europe to star in a brand-new television series based on H.G. Wells' War of the Worlds, which is entirely unrelated to the BBC's current attempt to also adapt the novel.
---
Deadly Class
New initiates are forced to watch Faces of Death on VHS in the latest trailer for Syfy's adaptation of Deadly Class.
---
Arrow
Felicity discovers yet another new secret about Oliver in the trailer for next week's episode, "The Demon."
---
Legends of Tomorrow
Finally, The Legends contend with a swamp monster—presumably not a swamp thing—at a summer camp in the 90's in the trailer for next week's episode, "Wet Hot American Bummer."
---
Banner art by Jim Cooke.