It looks like China's Huawei, the world's largest telecommunications equipment maker, is sick and tired of the United States accusing it of cyberspying. In an interview with the French press, the company's founder and CEO Ren Zhengfei said they're throwing in the towel stateside.
Ren did not mince his words. "If Huawei gets in the middle of U.S-China relations [and causes problems,] it's not worth it," Ren reportedly said. "Therefore, we have decided to exit the U.S. market, and not stay in the middle."
However, it seems not everybody at Huawei got the memo. Huawei vice president William Plummer, who Foreign Policy describes as "the company's point person in Washington," wouldn't corroborate Ren's claim. Plummer told FP that "Huawei has adjusted our priority focus to markets that welcome competition and investment, like Europe," and suggested that Ren was just "making a comment on the current market environment" in the interview.
So it remains unclear exactly what Huawei's next move will be. It's no mystery that the United States is deeply suspicious of the company and its ties to China's People's Liberation Army. U.S. House Intelligence Committee chairman Mike Rogers somewhat famously said last year that Huawei's products "cannot be trusted to be free of foreign state influence and thus pose a security threat to the United States and to our systems." The committee also released a report that accused Huawei of all kinds of bad behavior including bribery, corruption, and immigration violations. Huawei, of course, denied the claims.
G/O Media may get a commission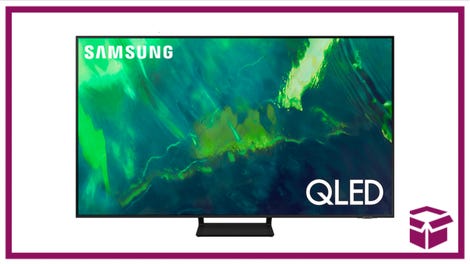 35% off
Samsung Q70A QLED 4K TV
Save big with this Samsung sale
If you're ready to drop some cash on a TV, now's a great time to do it. You can score the 75-inch Samsung Q70A QLED 4K TV for a whopping $800 off. That knocks the price down to $1,500 from $2,300, which is 35% off. This is a lot of TV for the money, and it also happens to be one of the best 4K TVs you can buy right now, according to Gizmodo.
Regardless of the exact plans, it does look like Huawei's up to something. It should be said that Ren doesn't have absolute power; he only owns 1.4 percent of the company. As FP points out, he's also prone to saying crazy things in interviews. But, hey, sometimes CEOs say crazy things in interviews and then they come true. [Foreign Policy]