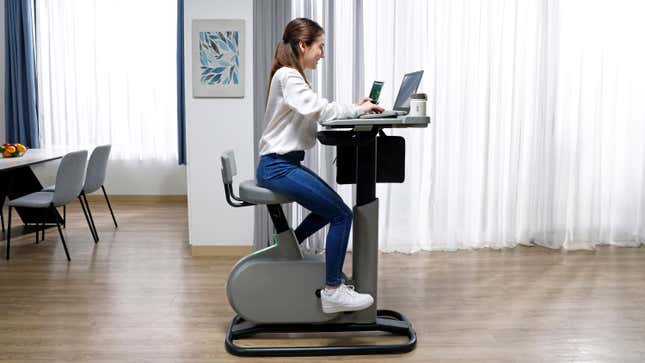 The pandemic-induced shift to working from home can make it hard to stay active during the work week. Standing desks, treadmill desks, and bike desks that merge productivity and fitness are one solution to the problem, but Acer's eKinekt BD 3 takes things one step further by turning a day's worth of mindless pedaling into power to charge devices like laptops and smartphones.
Peloton Slashes Prices on Bikes, Raises Subscription Fees
The CDC recommends at least "150 minutes of moderate-intensity physical activity" every week, or about 20 minutes per day, to help maintain a healthy body. That doesn't necessarily mean you have to drag yourself to the gym every day, or crawl out of bed at the crack of dawn for a vigorous morning run. Doing any level of physical activity throughout the day, instead of just sitting in a chair parked in front of a computer screen for eight hours, can be beneficial to your health, which is why we're seeing more and more devices like the Acer eKinekt BD 3.
Compared to the sleek Peloton stationary bikes that look like machines you'd find in an Olympic-caliber training facility, the eKinekt's design is reminiscent of the exercise bikes of the '80s, which didn't exactly focus on an ideal cycling form. The eKinekt prioritizes productivity and providing a user a comfortable place to work all day while burning calories and building muscle at the same time, but it can also provide the occasional rigorous workout.
A spacious integrated desk offers enough room for a laptop with a separate keyboard and mouse plus other work paraphernalia like a smartphone and water bottle, and in "Working Mode" is positioned closer to the user so they can sit upright for typing or staying in frame on a Zoom call. But the desk can also be pushed forward into "Sports Mode," providing more room for a user to lean in for a more vigorous ride with the bike's pedal resistance increased.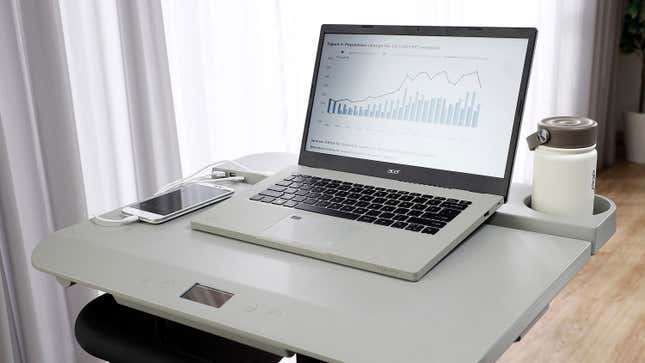 What sets the Acer eKinekt BD 3 bike desk apart from the many, many other solutions that have shipped since the start of the pandemic is a built-in generator that turns all the pedalling into useable electricity, with Acer promising "75 watts of self-generated power" from an hour of cycling at 60 RPM. A small screen on the desk displays both fitness metrics and information about how much power has been generated, which is made available to devices through two USB-A ports and a single USB-C port.
In addition to the fitness benefits it offers, the Acer eKinekt BD 3 could potentially also be used away from power outlets, assuming you've got the endurance to keep devices sufficiently charged all day. So in addition to feeling the burn, you could also feel the sun on your face by using Acer's bike desk on a back deck.
The Acer eKinekt BD 3 desk bike is expected to be available in North America starting in June for $999.