Acer has finally made an honest product of its Aspire Timeline, so to speak, and Intel's brand-new ULV processors, designed for precisely these kinds of laptops, make a surprise appearance, pulling the base price down to $599, from $699.
The rest of the info is largely unchanged from our first look at this early entrant into the recently burgeoning field of semi-thin, semi-light laptops: the 8-hour battery life claim still holds, LED backlighting keeps power usage down and brightness up on the 1366 x 768, 16:9 screens, and all models boast HDMI output. Displays sizes run from 13.3-inches to 15.6, with the smallest being the priciest, at $899.
G/O Media may get a commission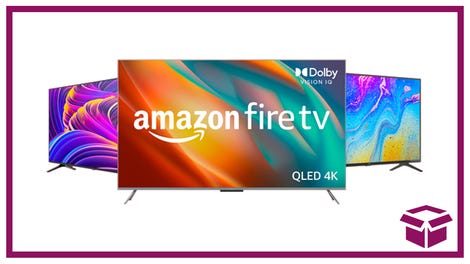 Ooh. stunning.
New Amazon Fire TVs
It remains to be seen how these new processors—especially the lower-end SU2700—perform under the weight of Vista (Home Premium is default on all models) and if the impressive battery claims hold up in real world testing. But dollar for dollar, these guys definitely hold their own, at least on paper. Full specs below. [Acer]
Acer Aspire Timeline AS3810T-6415

* Intel Core 2 Duo processor SU9400 (1.40GHz, 3 MB L2 cache, 800MHz FSB, 10 W)
* Genuine Windows Vista® Home Premium 64-bit with Service Pack 1
* 13.3-inch HD Acer CineCrystal™ LED-backlit TFT LCD (resolution 1366 x 768, 16:9 aspect ratio)
* Mobile Intel® GS45 Express Chipset
* Intel Graphics Media Accelerator 4500MHD
* 4 GB of DDR3 1066MHz dual channel memory (runs at 800MHz)
* 500GB(3) SATA hard drive
* Acer Crystal Eye webcam
* Multi-in-1 digital media card reader
* Intel® WiFi Link 5100 802.11a/g/Draft-N wireless LAN WiFi certified
* Bluetooth 2.0
* 3 – USB 2.0 ports
* HDMI port
* Multi-gesture touchpad pointing device supporting circular-motion scrolling, pinch-action zoom, page flip
* Acer touch-sensitive hotkeys (Touchpad Lock, Backup Manager, PowerSmart)
* Standard 6-cell Li-ion (5600 mAh) Battery
* 3.5 lbs.
* 12.67" (W) x 0.92" to 1.13" (H) x 8.97" (D)
* Energy Star® 5.0 compliant
* MSRP $899.99

Acer Aspire Timeline AS4810T-8480

* Intel Core 2 Solo processor SU3500 (3MB L2 cache, 1.40GHz, 800MHz FSB, 5.50 W)
* Genuine Windows Vista® Home Premium 64-bit with Service Pack 1
* 14-inch HD Acer CineCrystal™ LED-backlit TFT LCD (resolution 1366 x 768, 16:9 aspect ratio)
* Mobile Intel® GS45 Express Chipset
* Intel Graphics Media Accelerator 4500MHD
* 4 GB of DDR3 1066MHz dual channel memory (runs at 800MHz)
* 320GB SATA hard drive
* Acer Crystal Eye webcam
* Multi-in-1 digital media card reader
* 8X DVD SuperMulti double layer drive
* Intel® WiFi Link 5100 802.11a/g/Draft-N wireless LAN
* 3 – USB 2.0 ports
* Multi-gesture touchpad pointing device supporting circular-motion scrolling, pinch-action zoom, page flip
* Acer touch-sensitive hotkeys (Touchpad Lock, Backup Manager, PowerSmart)
* Standard 6-cell Li-ion (5600 mAh) Battery
* 4.2 lbs.
* 13.32" (W) x 0.94" to 1.13" (H) x 9.44" (D)
* Energy Star® 5.0 compliant
* MSRP $699.99

Acer Aspire Timeline AS5810TZ-4657

* Intel Pentium processor SU2700 (2MB L2 cache, 1.3 GHz, 800MHz FSB, 10 W)
* Genuine Windows Vista® Home Premium 64-bit with Service Pack 1
* 15.6-inch HD Acer CineCrystal™ LED-backlit TFT LCD (resolution 1366 x 768, 16:9 aspect ratio)
* Mobile Intel® GS45 Express Chipset
* Intel Graphics Media Accelerator 4500MHD
* 3GB of DDR3 1066MHz memory (runs at 800MHz)
* 320GB(3) SATA hard drive
* Acer Crystal Eye webcam
* Multi-in-1 digital media card reader
* 8X DVD SuperMulti double layer drive
* Acer InviLink Nplify 802.11b/g/Draft-N wireless LAN
* 4 – USB 2.0 ports
* HDMI port
* Multi-gesture touchpad pointing device supporting circular-motion scrolling, pinch-action zoom, page flip
* Acer touch-sensitive hotkeys (Touchpad Lock, Backup Manager, PowerSmart)
* 6-cell (5600 mAh) Li-ion Battery
* 5.3 lbs.
* 14.88" (W) x 0.97" to 1.16" (H) x 10.19" (D)
* Energy Star® 5.0 compliant
* MSRP $598.00