This week, Paul Dini (Batman: The Animated Series) unveils a live-action show about super-teens on lockdown. Batman faces Emperor Joker, and we've got two clips. Seven of Nine moves into a haunted house. Plus Adam Baldwin wears a stormtrooper helmet!
Deadly Mississippi Tornado Kills More Than 2 Dozen | Extreme Earth
Today:
There's a new Scooby Doo - Mystery Inc. at 7 PM on the Cartoon Network ("The Shrieking Madness"), followed by a new Johnny Test at 7:30 PM ("Johnny's Royal Flush").
And then there's a new Chuck on NBC at 8 PM, in which Morgan has something to tell Casey. Please, please, please, let this episode have more awesome Morgan/Casey scenes like last week's fluffy blanket moment, and fewer scenes where the villain helps Chuck and Sarah figure out their relationship. At least this first sneak peek makes it look like a Casey-centric episode. And is Casey wearing a Stormtrooper helmet???

There's also a new House on Fox at 8 PM.
At 8 PM, there's Adventure Time on Cartoon Network, followed by a new Regular Show at 8:15, and a new Mad at 8:30 PM.
G/O Media may get a commission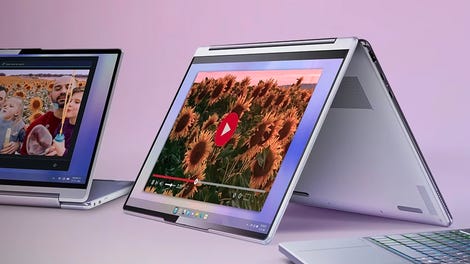 up to 70% off
Lenovo Spring Clearance
There's a new episode of The Event at 9 PM on NBC, in which Simon asks Sophia to betray Thomas. And it looks like those plane crash survivors aren't doing so hot:

Movies:
Seriously, run home now and set your DVR. Syfy is having a marathon of the Leprechaun movies in reverse order, including Leprechaun 4: In Space! If you've never seen a giant leprechaun explode in space, you kind of owe it to yourself to record this. Starship Troopers is on Encore at 4:10 PM and 11:10 PM. Also, AMC is showing Tremors at 6 PM, followed by the first two Friday the 13th movies. At 8 PM, Disney is showing the awesomely titled Mostly Ghostly, starring Sterling Beaumon, and FX has Aliens Vs. Predator: Requiem.
Tuesday:
Tonight sees the debut of Tower Prep at 8 PM on Cartoon Network — a new live-action show from the mind of Batman: The Animated Series and Batman Beyond creator Paul Dini. That, by itself, should be enough to make you tune in without needing to know more. But here's more, anyway. The show is about a kid named Ian, who has the ability to see things before they happen. Ian gets expelled from high school for protecting his friend, and then he wakes up in the mysterious Tower Prep, a school for kids with special abilities where none of the teachers have names. It's not clear if they're still in the United States, or even still on Earth. Ian teams up with a group of other superpowered kids to try and figure out the secrets of Tower Prep, and maybe escape. Excited yet? Here's a clip:

There's a new No Ordinary Family, on ABC at 8 PM, in which there's a vigilante who's killing criminals, and the police mistake Jim for this guy, because he's a vigilante too — just not a deadly one.

And then there's a new Stargate Universe on Syfy at 9 PM, "Pathogen."

Also at 9 PM: The Scream Awards on Spike TV. See Bill Murray in his Ghostbusters outfit and Ryan Reynolds with his Green Lantern power battery. Plus find out why True Blood didn't win the ultimate scream thingy. (Thanks for the heads up, 99TelepodProblems!)
And then another Caprica on Syfy at 10 PM:
In New Cap City, Tamara tries to settle a score with Zoe; Daniel regains his company with unforeseen consequences; Clarice tries to break Lacy.
How did Sister Clarice become the coolest character on this show? It's pretty amazing.

Movies:
Another marathon of horror films on Syfy, this time including My Name Is Bruce. But also, 30 Days Of Night is on FX at 10 AM. Night Of The Living Dead is on AMC at 11:30 AM. TMC has 2001's Replicant at 1:05 PM — a film I have never heard of, which apparently stars Jean-Claude Van Damme as a clone of a serial killer, who's created to help catch the real killer. And then Aliens Vs. Predator: Requiem is on FX at 3:30 PM, so you can turn the brightness all the way up on your screen and try to figure out what the frak is going on. Cloverfield is on FX at 8 PM, and The Goonies is on ABC Family at 8:30 PM. At 1 AM, USA is showing On Her Majesty's Secret Service, in which Blofeld hypnotizes women to love chickens so they can spread a deadly virus, and at 1:30 AM, Encore has Groundhog Day.
Wednesday:
In a new episode of J.J. Abrams' Undercovers on NBC at 8 PM, the team has to find a North Korean physicist. Could there finally be some weird science on this show? We can only hope.

Also at 8 PM, there's a new MythBusters: Buster's Cut on Discovery ("Duct Tape Hour"), followed by a new MythBusters at 9 PM, all about cold feet. (Do you really get cold feet? Also, what actually happens when the poop hits the fan?)
Avengers: Earth's Mightiest Heroes has its official debut at 8:30 PM on Disney XD. (Last week's airing was just a sneak peek.) The show has already released a ton of short videos of the origins of its various heroes, but now we're getting our first proper episode. Sadly, there's not much information out there about this show.

At 10 PM, there's a new episode of Sci-Fi Science: Physics Of The Impossible on the Science channel, "Cyborg Army."
Science fiction is full of terrifying man-machines whose awesome power can crush any opponent. But could we one day build our own army of superhuman cyborgs to protect us from extraterrestrial threats? Dr. Michio Kaku thinks so. Advances in biomechanics mean we can already meld nerve endings and robotic body parts. On a combat exercise in Fort Benning, Georgia, Michio road tests the U.S. Army's latest communications system - could it be the first step toward a Borg like collective consciousness? A stunning breakthrough in wireless electricity transfer hints at how a cyborg army might get the juice needed to stay on the march. The cutting edge of nano-tech reveals a future world where tiny machines manipulate DNA and alter the human body at the level of the cell. Recruitment for the cyborg army could begin sooner than you think.
At 10:30 PM there's a new episode of Comedy Central's Ugly Americans.
Movies:
There's another horror movie marathon on Syfy, but they're all pretty forgettable. (Rise of the Gargoyles?) Superman II is on Encore at 4:10 PM. AMC is once again showing a bunch of Friday the 13th movies all evening, starting at 6 PM. Disney is showing the fantasy movie Twitches at 8 PM, and IFC has Maximum Overdrive at 9 PM, for all your goblin-faced killer truck needs. Alternate-history smackdown Inglourious Basterds is on TMC at 11:30 PM. The English-language [Rec] remake, Quarantine, is on Encore at 1:05 AM.
Thursday:
There's a new The Vampire Diaries on The CW at 8 PM, followed by a new Nikita at 9 PM. It's time for Bonnie the witch to make up her mind about whether to help the vampires deal with the werewolf menace, while Katherine steps up her nastiness a scoche.

At 8 PM, there's also a new The Big Bang Theory on CBS.
Movies:
It's all snake movies, all day on Syfy. Megasnake, Snake King, Anacondas: Trail of Blood... Cinemax has Twelve Monkeys at 9 AM and Watchmen at 3 PM, so you can take a nap in between, and then imagine Terry Gilliam directing Watchmen. And Daredevil is on FX at noon. Another Friday the 13th marathon on AMC starting at 6 PM. The Sixth Sense is on Encore at 8 PM, followed by the original Superman at 9:50. Also at 8 PM: Twitches Too on Disney and Van Helsing on ABC Family.
Friday:
Batman: The Brave and the Bold takes on one of DC Comics' most thrilling storylines of the past decade, at 7 PM on Cartoon Network. That's right — it's "Emperor Joker," the story in which the Joker gets control over reality-warping powers and remakes the universe in his own image! Except, of course, that the original version mostly starred Superman, and I'm guessing it'll be just Bats this time out. The studio sent us two clips and a bunch of images, so check it out!

That's followed by a new Ben 10: Ultimate Alien at 7:30 PM, "Deep."
And then there's another Smallville, on The CW at 8 PM. In "Isis," Lois decides to tell Clark that she knows his secret, but first there's an Egyptian goddess thingy. Which, you know, happens sometimes.

There's also a new Medium on CBS at 8 PM. ("Talk To The Hand.")
At 8 PM, we get another outing of Genndy Tartakovsky's Sym-Bionic Titan on the Cartoon Network , followed by a new Generator Rex at 8:30 PM. Finally, at 9, there's a new Star Wars: The Clone Wars: "Assassin."

Then at 9 PM, there's a new Supernatural on The CW, in which Dean becomes a vampire. Despite the tongue-in-cheek title, "Live Free Or Twi-Hard," this actually seems like a pretty intense episode.

At 10 PM, there's a new Sanctuary on Syfy, "Firewall."


Also at 10 PM, there's the debut of a new TV series called Dean Of Invention on Planet Green, with the first two episodes, called "Meet the Microbots" and "Building the Bionic Body." Here's the blurb:
Dean Kamen is a globally renowned inventor with more than 400 patents, including the Segway, the insulin pump and the robotic prosthetic "Luke Arm." This fall, the billionaire bachelor will play the role of investigator — leaving his private island to jet around the world in search of the technologies of tomorrow. In the world premiere original series DEAN OF INVENTION, Planet Green joins Kamen on his quest to find the next scientific breakthroughs that will improve life for all mankind.
Movies:
Today's horror movie marathon on Syfy includes some good stuff, like Dagon and The Descent. The original Mad Max is on IFC at 2:55 PM. Cinemax has War Games: The Dead Code, the sequel that nobody demanded, at 2:35. At 6 PM, AMC is showing another two Friday the 13th movies — it's amazing how many films in this series have "final" in the title — followed by House of Wax at 10 PM. And meanwhile, TCM is doing a Hammer horror film marathon, with four classic Hammer films in a row.
At 9 PM, IFC is showing The Hills Have Eyes 2. And Minority Report is on Cinemax at 10 PM. The Chronicles of Riddick is on TBS at midnight. And then at 1:15 AM, you have three almost irresistible choices: Night Of The Lepus, the greatest killer-rabbit movie ever, is on Syfy, while TNT has alien-morality-detecting-tongue epic Doom, and Cinemax has The Sex Spirit, which is about "a sexy spirit that haunts a bed and breakfast."
Saturday:
There's literally nothing new on TV today. It's like television wants you to have a life or something.
Movies:
The horrifying-sounding Casper: A Spirited Beginning, starring Steve Gutenberg, is on Cartoon Network at noon. At 1 PM, ABC Family has the original Gene Wilder Willy Wonka movie. At 3 PM, Telefutura is showing Cyborg Americano: Guerrero de Acero. Harry Potter and the Sorcerer's Stone is on Disney at 4 PM, followed by Harry Potter and the Chamber of Secrets at 7 PM. V for Vendetta is on FX again at 6 PM, and The Boy Who Cried Werewolf is on Nickelodeon at 8 PM.
Sunday:
Jeri Ryan (Seven of Nine!) stars in a TV movie called Secrets in the Walls, about a woman who moves into a haunted house. This is made by RHI TV, which usually sells its content to Syfy, but for some reason this one's appearing on Lifetime instead, with its world premiere this Sunday at 8 PM. Here's the blurb:
Single mom Rachel Easton and her two daughters move from their cramped Detroit apartment to the suburbs when Rachel gets an irresistible deal on her dream house. But with the night comes scratching from within the walls, distant cries, and a figure of a young woman in the shifting shadows of the basement. As the haunting intensifies, Rachel and her friend must uncover the horrifying secret of what happened in the house years ago to save her family.
At 9 PM, there's a National Geographic special, "Inside The Milky Way," on National Geographic.
Also at 9 PM in most markets, your local PBS station is showing the first episode of Sherlock, the 21st century reimagining of Sherlock Holmes, from Doctor Who writers Steven Moffat and Mark Gatiss, with the 90-minute episode, "A Study In Pink." That's as part of PBS' Masterpiece Mystery series. (Thanks to algomeysa for the heads up.)
At 11:30 PM, there's another new Venture Bros. on the Cartoon Network at 11:30 PM ("The Silent Partners").
Movies:
AMC has Frankenstein Meets the Wolf Man at 8 AM, followed by Pet Sematery at 9:45. The original War Games is on WGN America at 10 AM. Scooby-Doo and the Goblin King is on Cartoon Network at 10:30 AM. Plus more horror films on Syfy. The Back to the Future trilogy is on G4 starting at 11 AM. The Witches, a Jim Henson/Nicholas Roeg joint starring Anjelica Huston as a witch who turns kids into mice, is on Cartoon Network at 3 PM. Tim Burton's Charlie and the Chocolate Factory is on ABC Family at 3:30 PM, followed by Corpse Bride. Star Trek: First Contact is on BBC America at 4:30 PM and 8:30 PM. 28 Days Later is on AMC at 8 PM. The original silent Nosferatu is on TCM at 9 PM. Jeepers Creepers is on AMC at 10:45 PM, followed by Ghost Ship.