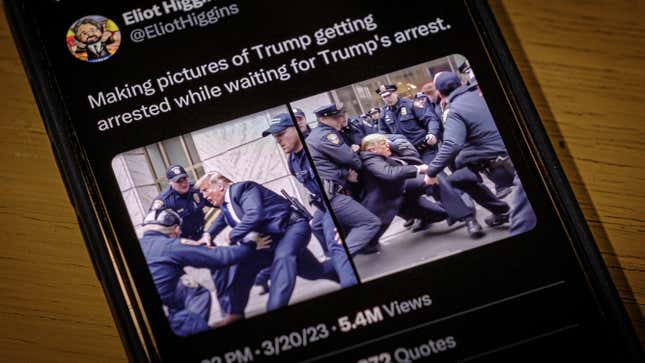 Americans' concern over AI's influence on humanity is growing, with an large majority saying that the technology's rapid growth will negatively impact the future, a new poll finds. The survey, conducted by Reuters and Ipsos and released Wednesday, revealed that of those contacted, 70% of people who voted for Donald Trump in the 2020 presidential election believe AI threatens humanity, while just 60% of those who voted for Joe Biden felt the same way. The online poll was conducted between May 9 and May 15 and consisted of 4,415 U.S. adults.
Generating Video Via Text? | Future Tech
"It's telling that such a broad swath of Americans worry about the negative effects of AI," Landon Klein, director of U.S. policy at the Future of Life Institute, told Reuters. "We view the current moment as similar to the beginning of the nuclear era, and we have the benefit of public perception that is consistent with the need to take action."
The survey found that more than two-thirds of Americans are worried that AI will affect the future of humanity, while 61% said they believe it could threaten civilization as we know it. The technology is spreading rapidly, with some 100 million people signing up to use ChatGPT since its debut in November.
A Fox News poll found earlier this month that a similar percentage of Trump voters said that the federal government should step in to regulate AI—70%—in comparison to 82% of Biden voters. But when asked if they believed the federal government is up to the task, Fox's poll reported that 59% of Republicans said they were not confident in the government's ability to regulate AI.
Overall, voters are "skeptical elected leaders are up to the task of placing appropriate limits on this new tech, which probably says something about opinion on the tech and opinion on our leaders," Republican Daron Shaw, who conducts the Fox News poll alongside Democrat Chris Anderson, told Fox.
The poll comes a day after a meeting in Congress to address the need for AI regulations in the U.S. OpenAI CEO Sam Altman, the creator of ChatGPT, testified before the Senate panel, asking for regulation in the face of the potential misuse of AI.
"My worst fears are that we—the field, the technology, the industry—cause significant harm to the world. I think that can happen in a lot of different ways," Altman said during the meeting. He continued, "I think if this technology goes wrong, it can go quite wrong, and we want to be vocal about that. We want to work with the government to prevent that from happening."