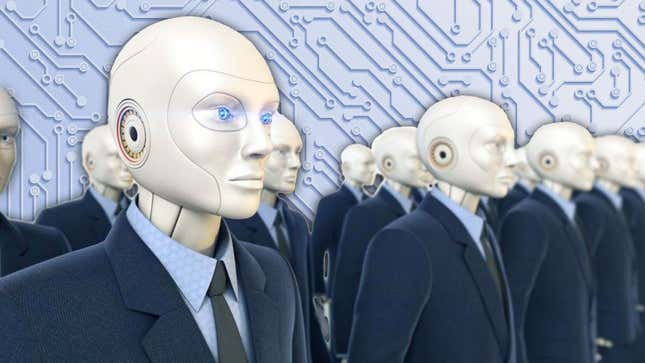 If you've ever had the privilege (or curse) of listening in on a corporate earnings call, you probably noticed that the executives behave a little mechanically. According to a new study that compared ChatGPT and other AIs to the human robots working in the C-Suite, sometimes that's a good thing.

Why is Everyone Suing AI Companies? | Future Tech
Once a quarter, publicly traded corporations have an earnings call to let investors know how the company is doing. You usually hear from the CEO and Chief Financial Officer, and after the executives give their spiel at an earnings call, the floor is open for questions. Sometimes, they add new information, but usually, corporate leaders just dodge questions and refer back to points they made in their prepared speeches.
ChatGPT could do part of that job; after all, analyzing and regurgitating things other people already said is a chatbot specialty—at least when it's not "hallucinating" ideas out of thin air.
So, researchers at Northeastern University's D'Amore-McKim School of Business set out to compare executives' earnings call chops to ChatGPT and other large language model AI tech. For the study, the researchers trained AI on prepared remarks from earnings calls and then had chatbots answer the same investor questions thrown at executives.
The researchers found that a lot of the time, the human's answers were pretty similar to what the AI spit out, with no new information. But sometimes the executives added more detail. The study then compared how stock prices behaved after the earnings calls.
Essentially, when executives gave less robotic answers with more new information, the effect on the company's stock was more dramatic.
So should you just have the robots replace the "human" executives running the earnings call? Bloomberg columnist Matt Levine had this possible takeaway for corporations: "If earnings are bad you should have ChatGPT do your earnings call, but if they're good you should do it yourself."
If you've got good news, letting the humans do their thing and give more details could juice your numbers. When times are tough, you might consider passing the mic to a tight-lipped AI. Chances are no one will be able to tell the difference anyway.