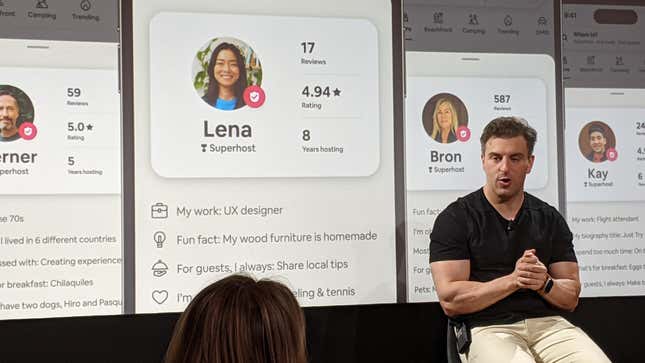 Airbnb has your back if you're thinking about doing a solo trip abroad this summer. The company announced Wednesday it's planning to add a new tab to its rental selection called "Rooms." Billed as a new option for solo or couple travelers looking for short-term rentals, the company wants users to stay at a locale with a host who can offer more than three hots and a cot.
Boogeyman's Director Talks Working on Bigger Budget Horror
Airbnb CEO Brian Chesky told reporters at a New York City press conference there's already 1 million private rooms available around the world just by emphasizing the rental locations that already exist. Rooms are on the whole cheaper than other listings on the site. Airbnb said the average cost of a room is around $67 a night.
"If you want to take a trip abroad, to Rio, Tokyo, Mexico City—a city you've never been to it can be a little disorienting, especially if you're a solo traveler or you're a couple and you stay in a hotel in a hotel district where you don't know anyone," he said. "Walking in the shoes of a local—I think this is a really great option."
The feature is reminiscent of Couchsurfing, an app that lets users find other travelers or find a place to crash while out in the world. That app is designed to be looser and more freeform, with hosts not demanding any kind of compensation. Of course, there's far fewer protections for users. Airbnb wants to offer more user protections with their "Host Passport" feature that offers both the basics of the host plus a much longer bio explaining their work, hobbies, music preferences, spoken languages, and more.
In addition to the new tab, the company is promoting that it's introducing more than 50 new features and updates to the app. The company introduced the "Display Total Price" feature late last year to cut down on unseen and often obscene cleaning fees, but now that toggle should appear throughout the entire app. There's also more options for hosts to see the total costs of what they're requesting from users. Airbnb is also promoting its customer service center will answer users in just two minutes, though time will show how effective its call center will be.
These updates and features should be rolling out on the platform this week.
Airbnb has been doing rather well for itself as of late, especially compared to pandemic-era lows, but with that success the company has been criticized for the number of hosts who turn their properties into defacto hotels. There are a growing number of reports of how residents living near Airbnbs and some users themselves have tried to promote only staying at rentals where the host still actively lives there.
Despite the controversy, the latest updates to the platform have emphasized longer stays. The company has added leasing features that make renters act more like tenants and host more like landlords.
Some cities and countries have responded with laws impeding residents from setting up Airbnbs. New York City has several regulations on short term rentals, and Airbnb has agreed to give info on hosts who allegedly break the rules. Portugal significantly curtailed short-term rentals, including Airbnbs, citing the lack of affordable housing with prices being driven up by the proliferation of rental properties.
The company said stays of more than a month make up around a fifth of all bookings on the platform. These new features emphasize shorter, smaller stays with hosts, that's not to say Airbnb is moving away from longer, multi-week and even multi-month rentals, by any stretch.
Major cities in Portugal like Lisbon are no longer allowing new Airbnb rentals, but that didn't stop Chesky from showing off new calendar and wishlist features to find what stays are still available at different times in the Portuguese capital. The Airbnb CEO also added that NYC represents "a fraction of our business—like under 1%" while citing how the company has hosts in more than 100,000 cities across the world, though not so much in China.