Welcome to the official month of horror movie binge-watching! And while everyone should devote a prerequisite amount of October re-watching the horror classics, what about some brand new scares? Here are 21 new horror movies you can watch this month.
We've complied a list of all the brand new horror movies available this month, either in the theater or via Video On Demand (vudu, Amazon, iTunes, etc.). For each film we tried to give the general gist, who's behind it, and whether or not the public (or critics) think it's scary according to early reviews.
Consider this your handy buyer's guide, before you go looking for your next late-night scream.
Honeymoon
What: Newlyweds head to the family cabin for a weekend of lovemaking and celebrating. But when the wife wanders off in the middle of the night, only to be discovered naked by her shaken husband, she comes back... wrong.
Who: The pair of lovers are played by Harry Treadaway and Rose Leslie (Ygritte!)
Where: Available right now on VOD.
But Is It Scary? The buzz is good for Honeymoon. THR wrote that there were some "genuinely shivery moments."
G/O Media may get a commission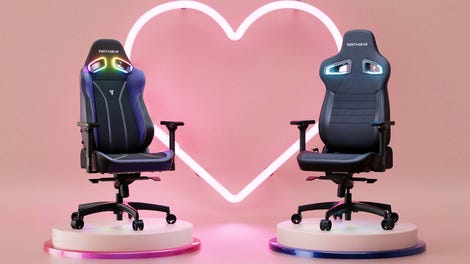 Up to $150 off
Vertagear Gaming Chairs
ASMODEXIA
What: A Spanish horror movie centered around an exorcist pastor and his granddaughter, who are traveling the country pulling demons out of the possessed. The imagery in this movie is blooooody, plus we like that the "evil" the religious duo is fighting seemingly infects people like a virus.
Who: Directed and written by Marc Carreté
Where: Available right now on VOD
But Is It Scary? The visuals are super compelling, and the NYT seemed to like ASMODEXIA all right — I would give this one a spin if you're not against reading subtitles.
The ABC's Of Death 2
What: A second helping of this monster collection of shorts from all sorts of directors. Alas, sometimes the sheer amount of horror to get through in this film can be overwhelming. However there are a few gems in this one that would be very fun to watch in the background of a Halloween party (an R-Halloween party that is). Specifically the He-Man rip off (featuring the world of Zorb).
Who: Some notable directors in this year's short compilation include Vincenzo Natali, Bill Plympton and Chris Nash.
Where: Available Right now on VOD, and in theaters on October 31st.
But Is It Scary: Some yes, and some no. There's just so much to choose from it's hard to wrap it all up in one yay or nay. However Movie Pilot has reviewed every single letter short in the horror alphabet (part 2).
Extraterrestrial
What: Just a simple cabin in the woods-meets-alien abduction movie. It's been SO LONG since we've had a good alien abduction scare, fingers crossed for this one.
Who: Directed by The Vicious Brothers (the creators of the sometimes scary found footage movie Grave Encounters)
Where: On VOD October 17th
But Is it Scary? We really REALLY want this to be scary, but Bloody Disgusting called it "frightless."

The Dorm
What: This lovely classic horror title is less old timey 80s slasher flick and a lot more supernatural shocker. The plot is centered around a "haunted dorm room" oooooh! The new tenant becomes possessed by the girl who died inside this creepy dorm. Shocker, they are both gorgeous.
Where: The Dorm premieres Sunday, October 26 at 8/7c on MTV.
But Is it Scary? Not sure yet. We just found out this thing existed last week!
Dead Snow 2
What: It's the return of Zombie Nazis! The surviving cast member from the first Dead Snow wakes up with a ZOMBIE ARM. And decides to raise hell and kill all the Nazi Zombies with his new American Zombie-slaying crew.
Who: Directed by Tommy Wirkola and starring Martin Starr (who is exceptional).
Where: Available on VOD now.
But Is it Scary? Not "scary," but exceptionally gory! And very, very funny. Lots and lots of good laughs form the reviews on this one. It's rocking an 80% on Rotten Tomatoes.
Horns
What: Based off author Joe Hill's work, the movie is centered around a young American boy (Daniel Radcliffe) who is accused of murdering his girlfriend (Juno Temple). The world thinks he's guilty, and to top it all off he's started to grow magical horns out of his head that can compel those around him to spill their dirty secrets and act on their most terrible fantasies.
Who: Directed by Alexandre Aja of Piranha 3D fame
Where: In theaters on October 31st (but it's also available right now on iTunes).
But Is it Scary? Not so much scary as gruesome. Cinemablend loved the "pitch black humor." But Indiewire called it a failure.
The Houses October Built
What: A group of friends go on a haunted house road trip, searching for the scariest and best haunted houses from across the land. Unfortunately for them the real big bad winds up locating them instead. It's POV camera angle but not terrible shaky, but the thing is filled with fantastic haunted house types scares.
Who: Directed by Bobby Roe
Where: Available on VOD on October 10th
But Is it Scary? Can't tell yet, but we like the premise.
V/H/S Viral
What: Another collection of horror shorts but not nearly as many as The ABC's of Death. The first V/H/S collection was an absolute favorite at io9. However, this one has been receiving less than exciting reviews. Although it does have a short where people's privates attack each other.
Who: Directors this year include: Justin Benson, Gregg Bishop, Aaron Moorhead, Marcel Sarmiento, and Nacho Vigalondo.
Where: Available on VOD on October 23rd.
But Is it Scary? Rumor has it it's not as scary as the first V/H/S. Badass Digest called it a "step backwards." So maybe watch that one instead.
Open Windows
What: Speaking of horror director Nacho Vigalondo (who contributed to V/H/S) he currently has a "modern day Rear Window" feature, titled Open Windows. It's a voyeur horror where a super fan is given access to his celebrity crush's computer and can watch her as much as he likes. things go terribly wrong.
Who: Elijah Wood plays the fan and Sasha Grey the stalked starlet.
Where: Now available on VOD
But Is it Scary? Vigalondo's films are less scary and more mind-trippy. However, The Dissolve did not love this film and said the whole thing eventually, "becomes its own form of monitor-choking Malware." Which is harsh.
The Town That Dreaded Sundown
What: A meta remake movie of the 1974 movie of the same name. The movie is aware of the previous murderous slasher film, in fact that seems to be real life for the Texarkana citizens. So 65 years later when the killer from the "Moonlight Murders" resurfaces, people are spooked. Made even creepier based on the fact that these unsolved crimes of 1946 are a very real thing.
Who: The movie is produced by Ryan Murphy (of Glee and American Horror Story fame) along with Blumhouse Productions (Insidious, Paranormal Activity). But directed by Alfonso Gomez-Rejon (and this will be his first feature film).
Where: Available now.
But Is it Scary: The few reviews of this revival have been mostly positive. Seems like a return to the slasher flicks of yesteryear.
Ouija
What: This is exactly what you think it is a movie about an evil Ouija board. We're just surprised it took this long to get here.
Who: Written and directed by Stiles White. Where: In theaters on October 24th.
But Is it Scary? No clue — there is no buzz on this film yet, but it looks like your classic run-of-the-mill horror movie. Lots of jump scares, angry ghosts, thumping on the walls. All that good stuff.
Summer of Blood
What: A man who is pretty worthless at just about everything royally messes up his life. At the end of his rope he meets a man who asks him if he wants to die and then WHAMMO. He wakes up full of vigor and new power. But he also has a taste for blood.
Where: Available on VOD right now.
But Is it Scary? Not scary, more weird.
13 Sins
What: A regular joe gets a phone call with a list of demands, the reward is inciting. As the demands get harder and more dangerous the reward increases as well. And it's not long until the main character is stuck in a very bad place running tasks of very bad people.
Where: Available on VOD right now.
But Is it Scary? More thriller less horror. Lots of split critics on this one, but we agree with the Village Voice, it's a "deftly constructed horror flick."
As Above So Below
What: POV shot horror movie about a bunch of kids looking for an artifact deep inside the real life catacombs in Paris, France. Shot on location in the actual real life catacombs As Above doesn't need a lot of FX to achieve thrills the catacombs are damn scary all on their own. Also the catacombs turn out to be a secret doorway to hell, so that helps with scares.
Where: In theaters right now.
But Is it Scary? Yes, more or less. It's not Shining scary, but it will do the job.
Annabelle
What: The evil doll from The Conjuring gets her own origins movie.
Where: In theaters now.
But Is it Scary? No.
Inner Demons
What: Part intervention part demon possession. The horror movie follows a girl who is both addicted to heroin and evil. And she tries to kick both while locked up in rehab.
Where: Available in theaters and on VOD right now.
But Is it Scary? Critics are split. It's currently rocking a 50% on Rotten Tomatoes.
Wolves
What: Lucas Till and Jason Momoa star in this werewolf horror movie that reads like a bodice ripping romance story with fur humping. Here's the official synopsis:
" Popular high school student Cayden Richards wakes from a horrific nightmare, only to realize that he's living it… He is changing into something vicious, unpredictable and wild. Forced to hit the road after the brutal murder of his parents, Cayden tries to hunt down the truth of what he is. In the remote, mountain town of Lupine Ridge, he discovers others like him — Including the beautiful Angelina, a young woman caught between two ancient clans of "wolves". And when he finally discovers the shocking truth behind his ancestry, Cayden realizes there is only one way to save the woman he loves… a grisly fight to the death against forces more savage than he could have ever imagined."

Seriously, is that not True Blood for wolf people? Also the werewolves in the movie have legit prosthetic over their faces (above). You will flip.
Who: This is the feature debut of David Hayter (voice of Snake from Metal Gear Solid and screenwriter for Watchmen) feature debut.
Where: Wolves hits VOD on October 16th.
But Is it Scary? There's just no way — it looks like Cats but with Wolf people. That's not saying it might not be a lot of fun.
Tusk
What: Michael Parks lures Justin Long into his home so he can kidnap him, mutilate his body, transforming Long (against his will) into a Walrus. And that's not even the weird part.
Who: It's directed by Kevin Smith, and inspired almost entirely by his podcast/
Where: In (limited) theaters now.
But is it scary? No it's just really, really, really, really, really weird.
At The Devil's Door
What: Supernatural real estate! A real estate agent played by Naya Rivera tries to sell a house with a past, and in doing so becomes a victim of the house's past. Basically the agent runs into the long lost daughter of the couple who are trying to unload this house, and something is wrong with her.
Who: The producers of The Strangers worked on this movie with the writer and director of other so-so horror movie The Pact.
Where: It's available right now on VOD
But is it scary? The horror club gave it an A, but everyone else kind of hated it.
The Pact 2
What: A woman who makes a living cleaning up crimes scenes starts to feel (and experience) physical and mental connections to the serial killer, thus revealing additional connections in the real world to this monstrous crime.
Where: Available right now on VOD.
But is it scary? Horror movie smarty pants Brian Collins told us that The Pact 2 is "a worthy successor to the underrated original." And his word is gold in these parts, so maybe go see both!