This year's science fiction books are going to rock. John Scalzi returns to the Old Man's War universe, there's a brand new Neil Gaiman novel, and Stephen King's long-awaited sequel to The Shining. Plus brand new books from Austin Grossman, Nalo Hopkinson, Christopher Priest, Diana Gabaldon, Robert J. Sawyer, Joe Hill... and J.R.R. Tolkien?
Here are 54 of the books we are dying to read in 2013.
Top image: Abaddon's Gate by James S.A. Corey
January
The Gun Machine by Warren Ellis
The creator of Planetary and Transmetropolitan is back with another weird story about cities — in this one, a detective finds a room full of guns, each connected to an unsolved murder. And this strange discovery leads to an even darker secret — an unholy bargain between the city's most powerful people and the Old Gods of Manhattan. The io9 Book Club Pick for February.
G/O Media may get a commission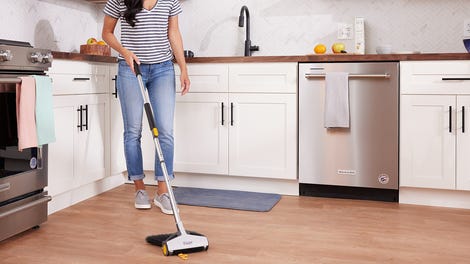 BOGO 50% Off
Flippr - BOGO 50% Off
Etiquette & Espionage (Finishing School, #1) by Gail Carriger
Carriger turns her delicate Victorian touch to young-adult fiction, with this story of young ladies who learn the proper knife to use with goose liver pate — and the proper knife for stabbing someone in the back, too. Based on the excerpt we ran the other day, this looks like jolly good fun.
Great North Road by Peter F. Hamilton
This novel has been out in ages in the UK, but it's just hitting our shores now. Hamilton imagines a nearly perfect future, in which humanity has learned to travel at faster-than-light speeds, and solved the environmental and energy problems that plague us now. The only problem? Dividing up the spoils between a ruling family of homicidal clones.
A Memory of Light by Robert Jordan and Brandon Sanderson
The final Wheel of Time book, which you've been waiting years for. There's a good chance you've already read this, since it came out yesterday — but we'll have our review next week.
The Mad Scientist's Daughter by Cassandra Rose Clarke
This debut novel from Angry Robot Books sounds pretty interesting, and like a neat companion to Madeline Ashby's stories of robot consciousness. Cat is tutored by her billion-dollar android Finn — until the government grants human rights to androids, and suddenly Finn is a person, who has to figure out what he wants in life.
Revenge: Eleven Dark Tales by Yoko Ogawa
Ogawa won the Shirley Jackson Award for her novel The Diving Pool, and now she's back with eleven creeptastic stories, complete with Murakami-esque weirdness. In one story, a woman's heart beats outside her body, causing people to fall in love with her — or want to preserve her beating heart inside a delicate leather bag.
---
February
Vampires in the Lemon Grove: Stories by Karen Russell
A new collection of stories from the Swamplandia author is cause for celebration in any case — but these tales sound especially insane. They include the universe communicating with a teenager through the objects in a seagull's nest, a community of captive girls transmuting into silkworms, and a massage therapist finds that a veteran's tattoos have healing powers. Oh, and then there are the titular vampires, stuck in a sunny lemon grove.
The Teleportation Accident by Ned Beauman
This sounds like a nuttier, more literary version of The Prestige by Christopher Priest. In a nutshell, the "teleportation machine" is a fancy contraption that gets an actor from one part of the stage to another, so he can appear as if by magic — until it goes wrong and kills an actor, who may or may not have made a deal with Satan. And then meanwhile, a laboratory is working on an actual teleportation machine. From the author of the acclaimed Boxer, Beetle.
The Best of all Possible Worlds by Karen Lord
Lord's debut novel, Redemption in Indigo, was a marvel — and this is one of the year's most anticipated novels. An alien race faces extinction after an unprovoked act of aggression, and their only hope for survival is to reach out to the native humanoids that they're distantly related to. To survive, these creatures may have to give up their cherished culture — and then they discover a long-hidden secret about the universe, with far-reaching ramifications.
The Different Girl by Gordon Dahlquist
Four girls, identical except for their hair color, live on an island together. Until a fifth girl arrives, the survivor of a shipwreck, and turns everything upside down. The first YA novel from the author of The Glass Books of the Dream Eaters.
Homeland by Cory Doctorow
The follow-up to Little Brother, Doctorow's hyper-political YA novel about teen hackers fighting back against the intrusive homeland security state. Now Doctorow is tackling the era of Wikileaks and secret documents, with Marcus torn between releasing some incendiary government secrets and helping a crusading reformist politician win an election.
---
March
Empty Space by M. John Harrison
At long last, here's the followup to Harrison's dazzling Nova Swing and Light. Harrison weaves together three separate events, in different time periods — an elderly widow gets disturbed by surreal omens, a spaceship centuries later picks up a strange cargo, and on a distant planet a policewoman struggles with a zone where the laws of physics don't apply.
Mila 2.0 by Debra Driza
Yup, this is the YA novel that Shonda Rhimes is turning into a TV series as we speak — the story of a young girl who discovers that she's actually a hyper-advanced android, and unscrupulous people will stop at nothing to get hold of her so they can study her advanced technology. It's your basic "android girl on the run" story, but there are also hints she's evolving into something even more super-advanced. Read it to get up to speed, before you see the Rhimes version.
The Demonologist: A Novel by Andrew Pyper
A literature professor who specializes in the literature of demons gets summoned to Venice to witness a real-life demonic event — which he doesn't believe in, until he's confronted with overwhelming proof. Soon, he's trying to save his daughter from an evil demon, and his only guide is John Milton's Paradise Lost. Sounds sort of like The Da Vinci Code with Milton.
The Summer Prince by Alaya Dawn Johnson
Johnson's stories of 1920s speakeasies and vampires were fun — but now she's creating a future Brazil, where artists rebel against the government's restrictions on new technology. An artist named June falls in love with the new Summer King, Enki — who's marked for death, like all the Summer Kings before him.
Sister Mine by Nalo Hopkinson
Is this really Hopkinson's first adult novel since 2007's The New Moon's Arms? It feels like an eternity. We heard her read from this story of twins, one with magic powers and one without, recently, and we were left dying to hear more. To save her missing father, Makeda must reunite with her estranged twin sister — and maybe figure out whether she might have magical powers after all.
You by Austin Grossman
The author of Soon I will Be Invincible (and occasional io9 contributor) is back at last, with what sounds like a twisty, weird take on life inside a video game studio. Russell goes to work at Black Arts, in part to find out what happened to his friend Simon, who died under mysterious circumstances — but soon, he comes across a programming glitch that could be more than just a game-killer.
---
April
Life After Life by Kate Atkinson
Atkinson's debut novel Behind the Scenes at the Museum was named England's Whitbread Book of the Year. Now she's back with this weird story of a girl who dies on the day she's born in 1910 — and then is reincarnated again. And again. Ursula Todd is born again and again, throughout the century, and her ability to remember her past lives could help her save the world.
Equilateral by Ken Kalfus
The National Book Award finalist brings us this "intellectual comedy," in which British boffins at the turn of the century have proof that there's intelligent life on Mars — and all they need to do to discover it for real is build a massive apparatus in Egypt. Too bad the Egyptians are less enthusiastic about this scheme.
Prophet of Bones: A Novel by Ted Kosmatka
Science has proved conclusively that the world is only 5,800 years old — everybody knows that. So when a young scientist named Paul discovers an ancient hominin tool user in an archeological dig, who appears to be much older, it casts doubt on the very foundations of modern science. So of course the military arrives to shut this troublesome dig down, and the billionaire who funded the dig will stop at nothing to shut Paul up. Sounds like a great book to give your New Earth Creationist friends.
Red Planet Blues by Robert J. Sawyer
After fossils are discovered on Mars, the Red Planet is flooded with prospectors — and the only law is what you can enforce with a gun. Private detective Alex Lomax must walk the mean streets of Mars alone — until he discovers clues to a decades-old murder, and possibly the motherlode of valuable fossils. Everybody's hoping to strike it rich, so they can upload their brains. The author of FlashForward has come up with what sounds like an entertaining blend of noir and hard SF.
Without A Summer by Mary Robinette Kowal
The third book in Kowal's Milk and Honey series — and this time, she's tackling the real-life Year Without a Summer, and it's up to Vincent and Jane to find their friend Melody a husband and stop an international crisis.
London Falling by Paul Cornell
He helped breathe new life into Doctor Who, created the Skrull Beatles, and made Lex Luthor cool again. Now Cornell is tackling urban fantasy in the vein of Jim Butcher and his fellow former Who scribe Ben Aaronovitch. A London detective discovers that his dead suspect made a deal with a supernatural entity, which finally came to collect — and now he and his team are starting to be able to see supernatural forces everywhere. How do you combat a demonic enemy? By using good, old-fashioned police work.
NOS4A2 by Joe Hill
A new horror-suspense novel from the author of Heart-Shaped Box and Horns, and the writer of Locke and Key. Victoria McQueen, a kid who has a talent for finding things, gets kidnapped by the sinister Charles Talent Manx, who sends children to a strange and horrifying place called Christmasland — and then Victoria escapes, and moves on with her life. Until years later, when Manx kidnaps Victoria's young son.
Odds Against Tomorrow by Nathaniel Rich
The author of The Mayor's Tongue is back with a near-future story about a math genius who works for a big corporation, predicting every possible future disaster. Until a real-life, massive disaster strikes Manhattan — and Mitchell is uniquely positioned to profit. Or save the city. One or the other.
---
May
Dead Ever After by Charlaine Harris
It's the final ever Sookie Stackhouse novel — and Sookie gets arrested for murder! The more Sookie investigates the shocking death, the more she discovers that Bon Temps is built on lies and nothing is what it seems.
The Tyrant's Law by Daniel Abraham
The third book of Abraham's Dagger and the Coin series. Events are coming to a head, and the tyrant Geder Palliako is resorting to genocide — leaving our heroes to try and save as many refugees as possible. But is there a force out there that could actually defeat Palliako and change the world forever?
The Human Division by John Scalzi
Chances are you'll already have read this latest installment in Scalzi's Old Man's War series in its individual ebook chapters long before the actual book comes out. But just in case you'd rather read the whole thing in one go, here it is.
Gods and Monsters: Unclean Spirits by Chuck Wendig
The author of the Blackbirds/Mockingbird novels turns his hand to full-on hotpants epic fantasy, with a tale of gods and goddesses battling on Earth — until a single monotheistic god decides to try and wipe them all out, with an army of angels. Sounds pleasingly demented.
The Shambling Guide to NYC by Mur Lafferty
Turns out the rough guide to New York is really, really rough. Zoe becomes a travel book editor in New York, but everybody discriminates against her because she's human. Including her vampire boss and her death goddess coworker. The first novel from the host of the I Should Be Writing podcast.
The Fall of Arthur by J.R.R. Tolkien
Yup, it's a new Tolkien book. Just one of those things that happens every once in a... never. Actually, this is an epic poem about Arthurian legends that Tolkien never managed to finish, perhaps because he was working on Lord of the Rings. Now his son Christopher has put it together, along with some notes for what was to come.
---
June
Joyland by Stephen King
The first of two new King novels coming this year. This one is a crime novel set in an amusement park, with ghosts. Set in 1973. Oh, and it sounds as though it has a coming of age component, as a young man goes to work as a carny and confronts death and mystery and probably girls.
The Ocean at the End of the Lane by Neil Gaiman
All we know about this novel is, it's Gaiman's first adult novel since Anansi Boys. And it's full of magic and mystery, and there's probably some topographically improbable bodies of water.
Gameboard of the Gods by Richelle Mead
We're pretty big fans of Mead's Vampire Academy novels — so it's pretty exciting that she's changing gears and doing a book series set in a dystopian future. Justin March is a failed investigator of supernatural events and fringe religious groups, who's been exiled from the Republic of United North America — until he's brought back to RUNA to solve a series of ritual murders.
Abaddon's Gate by James S.A. Corey
The third volume of Corey's blockbuster space opera series — an alien artifact has built a massive gate in the orbit around Uranus, and the gate leads to a starless void. But while a team goes out to explore the artifact, conspiracies are set in motion.
The Shining Girls by Lauren Beukes
A new novel from the author of Moxyland and Zoo City, about a time-traveling serial killer who finds a key to a house in Depression-era Chicago that allows him to travel to other eras — but he must kill the shining girls. Until one of his victims survives and starts hunting him right back. It's described as Time Traveler's Wife meets Girl With the Dragon Tattoo.
iD by Madeline Ashby
The follow-up to her novel vN, about biological robots that are programmed with built-in limitations — like seeing humans suffering causes them to malfunction and basically break down. Until the von Neumann machines start evolving. We heard Ashby read from this novel at World Fantasy 2012, and it sounds like it gets even crazier than the first.
The Long War by Terry Pratchett & Stephen Baxter
The sequel to The Long Earth. It's a generation after the events of the first novel, and now a new version of America has been founded on one of the parallel Earths, called Valhalla — and Valhalla wants its independence from the Datum Earth, so it can pursue good old-fashioned American values.
---
July
Neptune's Brood by Charles Stross
This is the slow space opera that Stross told us about recently, set in the universe of Saturn's Children. Our posthuman offspring battle and scheme over the fabled Atlantis Carnet, a financial instrument that could bring down entire civilizations, which is split into two halves held by two sisters.
The Woken Gods by Gwenda Bond
The author of Blackwood is back with a strange tale about an alternate United States populated by gods. Kyra is on her way home from school when she meets two trickster gods, one offering a threat and the other a warning. And then she finds out her father has vanished with some mysterious Egyptian artifacts. The entire fate of the world could be at stake.
Skinner by Charlie Huston
This is being described as a techno-thriller with Neal Stephenson overtones — Skinner was a great interrogator known for his weird psychological experiments, until the CIA grew to fear him and banished him. Until a complex cyber-terrorist attack happens, and the CIA needs Skinner back, as the balance of world power is tipped in a new direction.
Evening's Empires by Paul McAuley
The fourth novel in McAuley's Quiet War series. And that's about all we know at this point.
Kill City Blues by Richard Kadrey
The fifth Sandman Slim novel — Stark is back in L.A. after his stint in Hell, but there's no rest for him. Someone's gotten hold of an ancient superweapon from the banished older gods — and worse yet, Stark is forced to go to a mall. Infested with lurkers, and bottomfeeding Sub Rosa families.
---
August
The Thinking Woman's Guide To Real Magic by Emily Croy Barker
Could it be — gasp! — a portal fantasy? Basically, a grad student has a terrible life, struggling to finish her dissertation while her ex-boyfriend marries another woman. Until she wanders through a portal into a different world, where she's glamorous and having a romance with a handsome, brilliant man. Except that now, she'll need all her wits to survive in a fairytale world.
Billy Moon: A Transcendent Novel Reimagining the Life of Christopher Robin Milne by Douglas Lain
There's no synopsis yet, but Lain is generally a pretty trippy writer — and we like the idea of doing a messed-up take on A.A. Milne and Winnie the Pooh.
The Adjacent by Christopher Priest
Speaking of the author of The Prestige... Priest is back, at long last, with apparently the "longest and most complicated book he's ever written." Should be interesting.
---
September
The Dead Run by Adam Mansbach
We know almost nothing about this thriller from the author of Angry Black White Boy and Go The Fuck to Sleep — except that it's being categorized as science fiction/fantasy. We'll let you know more when we do.
Doctor Sleep by Stephen King
The sequel to The Shining. Dan Torrance is all grown up and trying to get past his terrible experience at that resort hotel by using his remaining power to help the dying people at a nursing home — until he meets a little girl who has the strongest "Shining" he's ever seen. He has to protect her from the True Knot, the immortal fiends who prey on children with special powers.
Steelheart by Brandon Sanderson
The fantasy mastermind is taking on a new genre — supervillains. It's ten years after an Earth-shattering event gave certain people amazing powers, and inevitably some of them decided they wanted to rule the world. Only a group of ordinary humans, known as the Reckoners, resist the superpowered tyranny. And David joins the Reckoners, hoping to kill Steelheart, the most powerful super of them all, who killed David's father.
The Water Knife by Paolo Bacigalupi
Bacigalupi's next adult novel is about a future water war — between Phoenix and Las Vegas. Just how far will these cities go to protect their water supplies? And just how valuable is the secret of a new water source?
The Abominable by Dan Simmons
The Hyperion author is back — with a tale of the Abominable Snowmen on Mount Everest. Can an expedition survive the attacks of these legendary "man bear" demons, and rescue the young future Lord Wessex?
October
Written in My Own Heart's Blood by Diana Gabaldon
The eighth Outlander book takes place during the American Revolution, and Gabaldon was predicting it would be out this fall a while ago.
---
November
Who Wacked Roger Rabbit? by Gary Wolf
The third Roger Rabbit book, at long last. Return to Toontown for another set of insane adventures.
---
December
Control by Lydia Kang
A new young-adult science fiction novel, about a girl who will die if she forgets to breathe, due to the mysterious birth defect Ondine's Curse. To add to her problems, Zelia and her Dyl are orphaned — and it turns out that Dyl has enhanced genes, which is a crime in the dystopian world of 2150. The sisters are forced to go on the run and hide out in a freak show.
Sources: Publisher catalogs and press releases, plus Publishers Weekly, About.com, Goodreads, Flavorpill, The Millions, Barnes & Noble, Fantasy Book Critic and Locus.