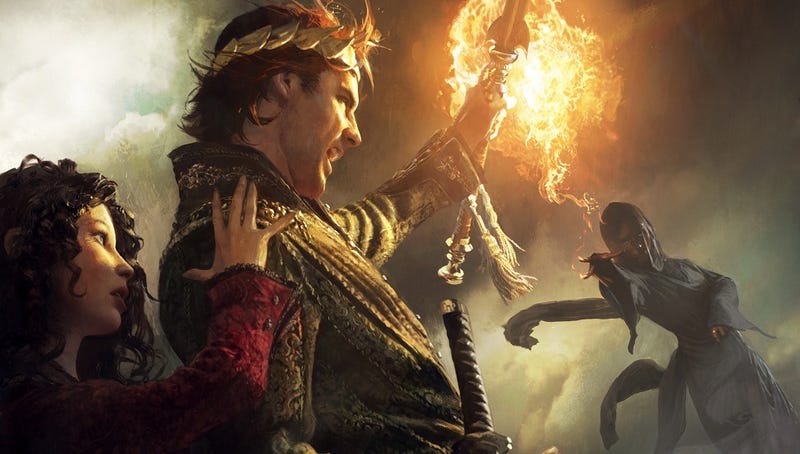 A week ago, a pilot episode for a Wheel of Time TV show aired at 1:30 in the morning on the cable channel FXX. And its producers, Red Eagle Entertainment, explained it was basically to hold onto the rights past their Feb. 11 expiration date. But now, they've sued Harriet McDougal, the widow of author Robert Jordan.
Did you miss that Wheel of Time special that FXX snuck on the air Sunday night? Well, the 30-minute pilot (titled "Winter Dragon") is now online for your viewing pleasure. And don't forget to check out our exclusive scoop on how and why this got made — without the approval of Robert Jordan's estate.
Well, the FXX Network aired something related to Robert Jordan's bestselling fantasy series last night. Subtitled "Winter Dragon," no one seems to know what exactly it is. A failed pilot? A stealthy promo? Something else? As we investigate, ODeck's Nicole has an excellent breakdown of... whatever it is.
We tend to think of science fiction and fantasy as being like mystery novels — the story is over when you solve the case. So we obsess over questions that have no answers. But here are 10 questions that are better unanswered, either because the possibilities are fascinating or because the answers would be terrible.
Let's start with a spoiler-free review, shall we? A Memory of Light is an incredibly fitting end to Robert Jordan's sprawling, immersive and often aggravating Wheel of Time saga. It's both epic and weirdly perfunctory, as Brandon Sanderson — who of course took over for Robert Jordan when he died in 2007 — manages to…
This year's science fiction books are going to rock. John Scalzi returns to the Old Man's War universe, there's a brand new Neil Gaiman novel, and Stephen King's long-awaited sequel to The Shining. Plus brand new books from Austin Grossman, Nalo Hopkinson, Christopher Priest, Diana Gabaldon, Robert J. Sawyer, Joe…
If you're a fan of the intensely epic Wheel of Time series, we've got a special treat for you to celebrate the fourteenth and final book in the series, A Memory of Light. Later today, we're going to be giving away five backpacks emblazoned with a logo that will tell the world that Robert Jordan is your homie — and…