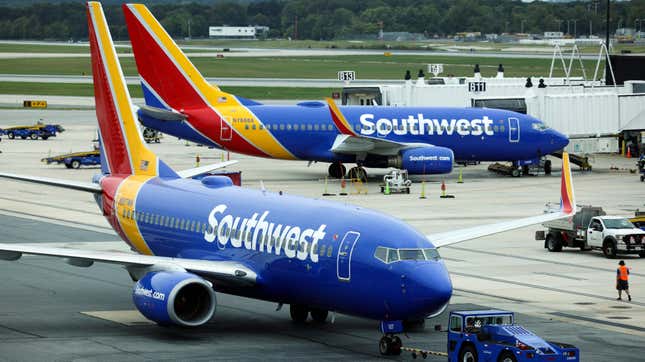 The hell of holiday travel was only made worse this year as reports of horror stories from Southwest Airlines passengers and workers ran the gamut from frostbite to thousands of flight cancellations to outdated software. Now, these issues, which dovetailed over the busy holiday travel season might cost the company hundreds of millions of dollars.

You Could Soon Get Cash Back for Your Canceled Flight
The New York Times reported that this fiasco might cost the company a whopping $800 million according to estimates from investment bank Jefferies. The main crux of the issue, according to Vice President of the Southwest Airlines Pilots Association Mike Santoro, frosty weather did play a hand in the disastrous travel season, but so too did the company's incredibly antiquated digital infrastructure. Southwest's phone system and software reportedly couldn't keep up with the mounting flight cancellations, and the company struggled to get pilots, flight attendants, and travelers onto the correct flights.
"Even though we had a crew available, [scheduling] had no idea those flight attendants were in the back of the airplane," Santoro said in an interview with Insider. "The problem is the software just doesn't keep track of us."
"A number of their employees, flight attendants and pilots, have been warning about this for years — that they were underinvesting and that they were one storm away from disaster," said Helane Becker as quoted in the New York Times. Becker is a managing director and senior analyst at Cowen, an investment bank.
The $800 million price tag mainly consists of revenue losses and customer reimbursements, but the company could probably lose even more as lawsuits waged against the airline pour in. Jefferies estimates that $550 million in losses comes directly from flight cancellations, while an additional $250 million comes from customer reimbursements for hotel, car rental, and among other examples. This $800 million figure is more than then amount the airline made in the first nine months of 2022—$759 million.
This most recent series of unfortunate events could be the start of a reining in of airlines, who frequently oversell, underinvest, and leave passengers unhappy. Secretary of Transportation Pete Buttigieg called the most recent Southwest cancellations "unacceptable" in a letter to Southwest CEO Robert Jordan, and further announced that the U.S. Department of Transportation would be holding the company accountable using "the fullest extent of its investigative and enforcement powers." Buttigieg previously led the charge this past November to fine six airlines for failing to refund their customers promptly.