September's bookshelves strain under the weight of so much awesome. There are long-awaited sequels by Stephen King and Margaret Atwood. New Alastair Reynolds and Kim Stanley Robinson! Plus much, much more. Here are all the books you absolutely should not sleep on in September!
Top image: Cover art for On the Steel Breeze by Alastair Reynolds
Conjured by Sarah Beth Durst (Walker Childrens)
G/O Media may get a commission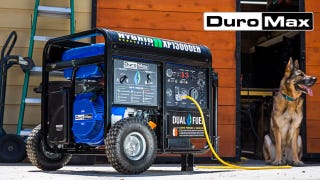 Black Friday Sale
DuroMax Generator Sale
This book sounds like so much fun — Eve is in a "magical witness protection program," being hidden from a magic-wielding serial killer. But she's lost all memory of her past life. And every time she uses her secret magical powers, she blacks out and wakes up weeks later, with no memory of what happened in between. Add strange dreams of a spooky carnival, and we're all the way in.
Shaman by Kim Stanley Robinson (Orbit)
He took us to our dazzling future in 2312 — now Robinson is leaping back through time, to a prehistoric era, for a strange coming-of-age story. Shaman focuses on Loon, who's destined to be the next shaman in a local tribe, and has to go on a dangerous journey to find his own path.
Happy Hour In Hell by Tad Williams (DAW Hardcover)
The second book in Williams' Bobby Dollar series, which began with The Dirty Streets of Heaven. Basically, if you're jonesing for more gritty urban fantasy about angels and demons, in the vein of Richard Kadrey's Sandman Slim and Vertigo's Lucifer series, then you might want to give this one a shot.
On the Steel Breeze (Poseidon's Children) by Alastair Reynolds (Gollancz)
This is a follow-up to Reynolds' Blue Remembered Earth, but also a stand-alone novel. A thousand years from now, humans are making our way out into the universe in generation ships. A new main character, Chiku, is making the voyage on one of these "Holoships," and there are strange relationships with artificial intelligences — plus lots and lots elephants.
Steelheart by Brandon Sanderson (Delacorte Press)
Sanderson has conquered epic fantasy — and now, he's going to make his mark with superheroes, with this story about a guy seeking revenge for his dead father, against the most powerful superhuman of them all. We ran the book trailer for this recently.
MaddAddam: A Novel by Margaret Atwood (Nan A. Talese)
At long last, Atwood's back with the third volume in her "don't call it science fiction" trilogy that started with Year of the Flood and Oryx and Crake. This time around, the survivors are hiding out in a compound, trying to survive the aftermath of a terrible pandemic. Toby, one of the survivors, tries to explain what's happened to the children of Crake, giving us an oral history of the disaster.
Adam Robots: Short Stories by Adam Roberts (Gollancz)
Adam Roberts' short fiction is usually among the most interesting bits of whatever anthology or magazine you find it in — the title story in this collection was one of the stories that stuck in my mind the most from an anthology of stories about artificial intelligence, for example. So here's your chance to get a concentrated dose of shorter works by the Clarke- and Philip K. Dick Award-nominated writer, including his weird time travel story and his off-kilter take on space opera and the Fermi paradox.
The Scroll of Years: A Gaunt and Bone Novel by Chris Willrich (Pyr)
A debut fantasy novel featuring a pair of larger-than-life adventurers, suitably named Persimmon Gaunt and Imago Bone — try being a wallflower with either of those names. One's a poet, the other's a thief, and they're both on the run, fleeing to the Eastern part of their fantasy continent, where they run into some rather inconvenient dragons. Saladin Ahmed says this book is like playing D&D with a drunk Shakespeare, which is good enough for us.
Swarm by Lauren Carter (Brindle & Glass)
The first novel by an acclaimed poet, this is set in a vaguely post-apocalyptic near future, where society has more or less collapsed. Sandy lives on an island with her boyfriend and her elderly friend Thomson, and they appear to be the only people around — until a small child starts sneaking in and stealing their food. Sandy has to figure out how to protect this child from the dangers on the island, while also narrating a child-friendly version of how the world fell apart.
Doctor Sleep by Stephen King (Cemetery Dance)
At long last, King tells us what happened after The Shining. Dan Torrance, who survived the first book, is now a middle-aged wreck, trying to shake off the lingering effects of his father's violent alcoholism. And then he meets Abra, a teenage girl who has the brightest shining he's ever seen — and he's forced to try and protect her from a group of people called the True Knot, who travel around doing horrible things to people like Abra.
The Coldest Girl in Coldtown by Holly Black (Little, Brown Books for Young Readers)
The beloved fantasy author is back, with what sounds like a lavish fantasy novel about a girl trying to save her boyfriend and a stranger after a dreadful massacre. Tana has to go into the heart of Coldtown, the place full of monsters and decadant humans that nobody ever emerges from.
WikiWorld by Paul Di Filippo (ChiZine Publications)
New stories by Paul Di Filippo are always an occasion for happy dancing. And this one sounds especially demented — the title story takes place in a world where the real and virtual worlds have collided, and everybody gets to vote on everything. And your personal data is available to anyone who makes eye contact with you. Cory Doctorow called it "among the most exciting pieces of fiction I've read in years." The main character, Russ, spends three days as the jimmywhale (aka leader) of the entire world. There's also weird alternate history, a tribute to Stanislaw Lem, and collaborations with Rudy Rucker and Damien Broderick.
Anno Dracula: Johnny Alucard by Kim Newman (Titan Books Ltd)
Speaking of long-awaited sequels... people have been waiting 20 years for the fourth and final volume in Newman's Anno Dracula series about Dracula surviving into the 20th century. This one sounds as though it includes a metric ton of references to pop culture of the 1970s, which can't be anything but good. Check out excerpts here and here.
The Dead Run: A Novel by Adam Mansbach (Harper Voyager)
We featured an excerpt from this novel this morning — Mansbach, a celebrated literary author and creator of that celebrated "Go the Fuck to Sleep" children's book, is tackling zombies now. With a prison setting and a gritty style that seem highly reminiscent of The Walking Dead.
The Incrementalists by Steven Brust & Skyler White (Tor Books)
A brand new Steven Brust novel? Yes, please. The titular "Incrementalists" are a society of 200 people whose unbroken lineage of reincarnations goes back 40,000 years — and all that time, they've just been trying to make the world a better place. How's that working out for them? Find out for yourself.
The Mammoth Book of Time Travel SF edited by Mike Ashley (Running Press)
What else do you need to know? It's 25 time-travel stories, to keep your mind warping through the night. Authors include Kage Baker, Michael Swanwick, Christopher Priest, Kristine Kathryn Rusch, Robert Silverberg and the editor, Paul Levinson.
The Woken Gods by Gwenda Bond (Strange Chemistry)
The author of Blackwood is back with another strange fantasy for young readers — this time around, it's a world like ours, except that all the ancient gods randomly woke up. And now, WashingtonDC is full of divine embassies and strange portents. What do you do when two trickster gods interrupt you on the way to work?
Bleeding Edge by Thomas Pynchon (Penguin)
Thanks to Chris Lites for reminding us about this one! Thomas Pynchon is back, with his first novel about the Internet — a tale of the heady days of 2001, after the dot-com crash and immediately before the "11 September" attacks. As Wired puts it, "The book's real accomplishment is to claim the last decade as Pynchon territory, a continuation of the same tensions — between freedom and captivity, momentum and entropy, meaning and chaos — through which he has framed the last half-century." Publishers Weekly calls it "a fable of increasingly sentient computers."