Fall means colder days, longer nights, and the first waves of panic about holiday shopping. We've already told you all about the films you might be interested in but collected here—in a list that numbers nearly 100 entries—is the season's vast array of sci-fi and fantasy books. Plus a few collections, memoirs, and other genre-adjacent works which should help you conquer all.

---
September
In Numina by Assaph Mehr

When old gods suddenly start roaming the Earth, a detective—who's uniquely qualified, since he's also a magician—takes the case. (Sept. 1)
G/O Media may get a commission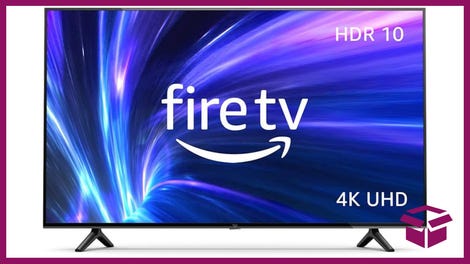 42% Off
Amazon Fire TV 50" 4K Smart TV
The Accidental War by Walter John Williams
In this first book in a new trilogy—set in the universe of the author's Dread Empire's Fall series—it's seven years post-war and two of the fleet's best military minds have been exiled for their unorthodox methods. That is, until an old enemy resurfaces, and they're suddenly at the forefront of a new conflict. (Sept. 4)
The Chrysalis by Brendan Deneen
When a young couple is priced out of Manhattan, they move to the suburbs, where they face an unexpected pregnancy, big career changes, and a deadly secret hidden in the basement of their suspiciously affordable new home. (Sept. 4)
The Dreaming Stars by Tim Pratt
In this sequel to The Wrong Stars, the crew of the White Raven is back and must prevent a race of ancient aliens—currently hibernating inside a massive simulation—from wiping out humanity...and someone is going to have to enter virtual reality to make that happen. (Sept. 4)
Flight or Fright edited by Stephen King and Bev Vincent
Believe it or not, even horror master Stephen King has a phobia: flying. This collection of stories addresses that fear with new entries by King and Joe Hill, as well as classics from authors like Sir Arthur Conan Doyle, Roald Dahl, Richard Matheson, Ray Bradbury, and more. (Sept. 4)
Hidden Sun by Jaine Fenn
A noblewoman must deal with the mystery surrounding her missing brother, as well as an unsolved murder, a suitor she's trying to reject, and a society that looks down on her scientific mind as she takes a journey into a dangerous alien world. (Sept. 4)
Magefall by Stephen Aryan
The sequel to Mageborn returns to a world that's staunchly anti-magic, with both humans and gods targeting all the living mages—including a young, gifted duo who struggle to prove that their abilities aren't harmful, but essential to ensure a peaceful future. (Sept. 4)
Night and Silence by Seanan McGuire
In the author's 12th installment in the October "Toby" Daye series, half-human, half-faerie heroine Toby is accused of kidnapping her own daughter—though of course she knows she didn't do it, and senses someone in the faerie world is responsible. (Sept. 4)
Salvation by Peter F. Hamilton
It's 2204, and humankind has spread to once-distant planets that are now just a jump away from Earth, thanks to portal gates scattered throughout the galaxy. The frontier is an exciting place—until a terrifying alien discovery is made amid one of the newest settlements. (Sept. 4)
Salvation's Fire by Justina Robson
The second book in the multi-author After the War series (the first being Adrian Tchaikovsky's Redemption's Blade) follows the sudden discovery of a woman created through untold sacrifice to ensure the eternal rule of the Kinslayer. But the Kinslayer is dead—so what becomes of this intended bride? (Sept. 4)
The Seclusion by Jacqui Castle
Seventy years in the future, America has become a totalitarian wasteland surrounded by a wall that prevents anyone from entering or exiting its borders. Two young friends set out determined to escape and uncover the concealed truth about the country's twisted history. (Sept. 4)
Timeless: A Drizzt Novel by R.A. Salvatore
The veteran fantasy author returns with a new odd-couple adventure featuring two of his most beloved characters: dark elf Drizzt Do'Urden and his father, the weapon master Zaknafein. Read a wizard-tastic excerpt here. (Sept. 4)
Worlds Seen in Passing: Ten Years of Tor.com Short Fiction edited by Irene Gallo
A collection of science fiction, fantasy, and horror tales were chosen from 10 years of Tor.com stories and novelettes, all penned by acclaimed authors, including N.K. Jemisin, Jeff VanderMeer, and io9 co-founder Charlie Jane Anders. (Sept. 4)
An American Story by Christopher Priest
The latest from the author of The Prestige and The Separation is about a man who begins to question whether or not he actually lost his fiancé on 9/11. (Sept. 6)
The Late Great Wizard by Sara Hanover
A young woman heeds a call for help from an aging professor, but when she arrives, she meets a young man who claims to be the professor—who's also a wizard, as it turns out—and who asks for her help in defeating an ancient evil that's just begun to awaken. (Sept. 11)
Port of Shadows: A Chronicle of the Black Company by Glen Cook
The military fantasy series continues as the Company—especially their resident historian—comes under the dangerously close scrutiny of a sinister court of sorcerers. (Sept. 11)
State Tectonics by Malka Older
The author concludes her Centenal Cycle of cyberpunk political thrillers (after Infomocracy and Null States) as the search engine that runs the world, Information, readies for another election. With network attacks on the rise, Information's agents must decide whether to protect the infrastructure—or pull the plug once and for all. (Sept. 11)
Daemon Voices: On Stories and Storytelling by Philip Pullman
In this non-fiction book, the author of the His Dark Materials trilogy explores storytelling throughout history and reflects on his own experiences and personal writing process. (Sept. 18)
How to Invent Everything: A Survival Guide for the Stranded Time Traveler by Ryan North
An illustrated manual to creating your own civilization from the ground up, sure to come in handy if you ever find yourself suddenly stuck thousands of years in the past. (Sept. 18)

Legion: The Many Lives of Stephen Leeds by Brandon Sanderson
A brand-new story highlights this collection of short sci-fi tales about the author's recurring character Stephen Leeds—a genius whose mind is filled with imaginary experts who keep track of all the information and skills he can learn with great speed. (Sept. 18)
The New Magic by Joseph Malik
In this sequel to Dragon's Trail, a knight who was once nicknamed "the deadliest man alive" must decide if he'll take up dark sorcery to save the kingdom he's been sworn to protect. (Sept. 18)
The Night Crossing by Robert Masello
When an explorer brings a mysterious golden box from the Carpathian mountains back to Victorian London, she meets a frustrated writer named Bram Stoker and finds herself drawn into an epic battle against an ancient enemy. (Sept. 18)
The Queen of Crows by Myke Cole
Heloise, the heroine of epic fantasy The Armored Saint, returns in this sequel. She's no longer a scared young girl struggling against religious tyrants, but an empowered warrior who inspires hope in her people. (Sept. 18)
Through Darkest Europe by Harry Turtledove
This alt-history book imagines that the Middle East and North Africa have long been the stable, thriving center of the world's economy and culture, as unrest and fundamentalist violence causes ongoing turmoil in Europe. (Sept. 18)

Time's Convert by Deborah Harkness
A young surgeon goes to battle during the American Revolution and chooses to become a vampire—and hundreds of years later, meets a young woman in Paris who makes the same choice. They both end up underestimating the challenges that come with being immortal. (Sept. 18)
We Sold Our Souls by Grady Hendrix
After her heavy metal dreams crash and burn in the 1990s, a frustrated guitarist realizes that the fame her former bandmate found as a solo artist might be tied to something...evil. She hits the road to track him down and discover the truth behind his betrayal. (Sept. 18)
Wildcard by Marie Lu
The sequel to Warcross imagines a rematch for bounty hunter, gamer, and hacker Emika Chan, who now knows all kinds of dirty secrets about the creator of Warcross but has run out of people she can trust, and that includes the man she loves. Making matters worse, she's got a price on her head. (Sept. 18)
Worldshaper by Edward Willett
A woman's happy life is shattered when her best friend is murdered—and then reality takes an even more bizarre turn when nobody else remembers that her friend existed. Turns out she has the magical power to open portals to other worlds, an ability that has singled her out for a greater purpose. (Sept. 18)
Mecha Samurai Empire by Peter Tieryas
Billed as "The Man in the High Castle meets Pacific Rim," this alt-history tale imagines that the other side won World War II, and a young man growing up in the United States of Japan (formerly California) dreams of nothing but becoming a mecha pilot. (Sept. 19)
Battlestar Suburbia by Chris McCrudden
A comedic science fiction story set on and around a future Earth, where sentient machines have taken over and force all humans to live on space stations and work as their cleaners. (Sept. 20)
Barren: A Demon Cycle Novella by Peter Brett
In this latest tale set in the author's fantasy world—a place that's run by demons that come out at night—humankind has a new hope in the form of magic wands that could help them fight their nocturnal tormentors...if only everyone could put their longstanding differences aside and work together. (Sept. 25)
The Dark Descent of Elizabeth Frankenstein by Kiersten White
A resourceful young woman escapes a desperate situation and joins the wealthy Frankenstein household—where she soon becomes the constant companion of young Victor Frankenstein. But as you might suspect, his dark side soon threatens everything, including her life. (Sept. 25)
Deepest Blue by Mindy Tarquini
In this tale inspired by Italian folklore and set in a magical city that's only visible at twilight, everyone's life is mapped out for them in advance—until one young man decides to see what creating his own destiny might be like. (Sept. 25)
For a Muse of Fire by Heidi Heilig
A new trilogy begins as a young performer with a very unique talent—she can bind newly-departed souls to her puppets—is forced to hide her gifts when her homeland is colonized by outsiders. Rebellion soon follows, along with adventures filled with magic, family bonding, and romance. (Sept. 25)
Vengeful by V.E. Schwab
In this follow-up to the author's superhero novel Vicious, a superpowered woman who's survived a perilous brush with death plots to take over her city by any means necessary. (Sept. 25)
Rock Manning Goes for Broke by Charlie Jane Anders
This new novella from the co-founder of io9 (and author of the highly acclaimed All the Birds in the Sky) is about a young filmmaker whose slapstick comedies become hugely popular just as America plunges into economic despair and political turmoil. (Sept. 30)
---
October
Best American Science Fiction and Fantasy 2018 edited by N.K. Jemisin and John Joseph Adams
A collection of outstanding science fiction and fantasy works published in 2017, chosen from magazines, journals, and websites. History-making multiple Hugo winner N.K. Jemisin serves as this year's guest editor. (Oct. 2)
Blood Communion: A Tale of Prince Lestat by Anne Rice
In this latest installment of the Vampire Chronicles, Prince Lestat regales his fellow vampires with the tale of his rise to power and the formation of the Blood Communion. (Oct. 2)
Dracul by Dacre Stoker and J.D. Barker
Bram Stoker's great-grandnephew co-authors this Dracula prequel that's inspired by the legendary author's own creative notes about the origins of his most famous character. (Oct. 2)
Dragon's Code by Gigi McCaffrey
Dragonriders of Pern series creator Anne McCaffrey—the first woman to ever win Nebula award, as well as the first woman to win a Hugo for fiction—passed away in 2011, but the otherworldly realm she created lives on in this new tale written by her daughter, Gigi, to mark the series' 50th anniversary. (Oct. 2)
Dry by Neal Shusterman and Jarrod Shusterman
When California's long-standing drought suddenly becomes an "actually, there's no water left at all" situation, a teenage girl left alone with her brother must figure out a way to survive what's rapidly becoming a parched, desperate battle zone. (Oct. 2)
An Easy Death by Charlaine Harris
The author whose work inspired True Blood and Midnight, Texas returns with this series of Western-tinged magical thrillers. The first book introduces us to a new character, gunslinger Lizbeth Rose. (Oct. 2)
Exit Strategy by Martha Wells
Hot off her recent Best Novella Hugo win for All Systems Red, the author returns with a mission-ending adventure for the antisocial AI that calls itself Murderbot. (Oct. 2)
Kill the Queen by Jennifer Estep
A new epic fantasy series begins as a young noblewoman with some well-concealed magical powers barely escapes the massacre of her family, then goes into hiding and becomes a gladiator while she plots her revenge (see: the book's title). (Oct. 2)
Street Freaks by Terry Brooks
The author of the Shannara fantasy series ventures in a different direction for this scifi thriller, about a kid who's forced to go on the run in futuristic, robot-filled Los Angeles. Read the exciting first chapter right here. (Oct. 2)
True Indie: Life and Death in Filmmaking by Don Coscarelli
The filmmaker behind genre favorites like Phantasm, Beastmaster, Bubba Ho-Tep, and John Dies at the End penned this memoir, a look back at his colorful career that's aimed at both fans and aspiring indie filmmakers alike. (Oct. 2)
The Tiger Flu by Larissa Lai

In this cyberpunk thriller, a community of exiled women rise up against the men who've banished them—while also fighting to save their loved ones from the mysterious flu epidemic that's slowing taking over the world. (Oct. 2)
Bright Ruin by Vic James
The dystopian trilogy that also includes Gilded Cage and Tarnished City brings its saga of a Britain controlled by magical rulers to a close with one final, massive rebellion of common folk against their tyrannical masters. (Oct. 9)
Mycroft and Sherlock by Kareem Abdul-Jabbar and Anna Waterhouse
The basketball great turned author and actor (he'll be on the next season of iZombie, in fact!) returns with another book about the Holmes brothers. This new adventure, set in 1872, sets the intrepid duo on an intriguing mystery involving London's opium trade. (Oct. 9)
Power Failure by Ben Bova
The author's latest near-future political thriller starring Dr. Jake Ross sees the Washington, DC science advisor taking a huge gamble on a new form of power involving solar satellite transmissions. (Oct. 9)
The Rift Coda by Amy S. Foster
The Rift Uprising trilogy concludes as genetically-advanced supersoldier Ryn, tasked with protecting Earth from rival versions spread across multiverses, rises up to expose a conspiracy that's tainted everything she once believed in. (Oct. 9)
Strange Ink by Gary Kemble
In this horror novel, a journalist wakes up hungover after a night of terrible nightmares sporting a tattoo he doesn't remember getting. That's not so strange in and of itself, but when the same thing starts happening over and over again, he realizes some very sinister forces are sending him a disturbing message. (Oct. 9)
The World of Lore: Dreadful Places by Aaron Mahnke
Fans of the Lore podcast (now an Amazon Prime show, too) won't want to miss this latest volume in the creator's series, a collection of illustrated versions of both rare and well-known stories about "lurid landmarks and doomed destinations." (Oct. 9)
The Bartered Brides by Mercedes Lackey
The 13th entry in the author's Elemental Masters series—imagining a magical version of Victorian England, and reimagining the cases of Sherlock Holmes—finds John and Mary Watson mourning the loss of Sherlock while keeping an eye out for Moriarty's allies, and taking on a new puzzle involving a rash of murdered brides. (Oct. 16)
The Black Khan by Ausma Zehanat Khan
The author's follow-up to The Bloodprint picks up with the magically powerful, all-female resistance group Companions of Hira as they continue their fight against the Talisman, the oppressive ruling patriarchy. (Oct. 16)
The Book of Magic edited by Gardner Dozois
Seventeen fantasy writers contribute to this celebration of witches, wizards, and sorcerers—with 16 new entries from Garth Nix, Elizabeth Bear, Scott Lynch, and others, plus George R.R. Martin's previously-published novelette "A Night at the Tarn House." (Oct. 16)
The Consuming Fire by John Scalzi
The acclaimed author's follow-up to his recent Hugo finalist The Collapsing Empire returns to the interstellar empire known as the Interdependency and finds it in a time of great turmoil. The travel system that links the star systems has started to vanish—causing a humanitarian crisis as well as a struggle for power among the galaxy's leaders. (Oct. 16)
I Am Behind You by John Ajvide Linqvist
The latest from the author of Let the Right One In follows four families on a camping trip who awake one morning to find the world completely, eerily transformed. (Oct. 16)
Resistant by Rachael Sparks
After a drug-resistant bacteria kills millions, one woman whose blood may hold a lifesaving cure must go on the run to hide from the unsavory parties who'd rather exploit her for profit rather than hasten humankind's salvation. (Oct. 16)
Anne Rice's Vampire Chronicles: An Alphabettery by Becket
A longtime Anne Rice scholar (the author herself penned the introduction; there are also illustrations by Mark Edward Geyer) catalogs all of the interwoven character histories, family genealogies, story lines, vampire lore, and other details of the 15-volume Vampire Chronicles series. (Oct. 23)
A Cathedral of Myth and Bone: Stories by Kat Howard
Two new stories highlight this collection of dark fantasy tales from the author of Roses and Rot. (Oct. 23)
The Haunting of Drearcliff Grange School by Kim Newman
In this horror novel from the author of Anno Dracula, a girl with superpowers heads to London for an academic competition—where the talented and usually-unflappable student and sleuth must confront a terrifying spirit known as "the Broken Doll." (Oct. 23)
Little by Edward Carey
Inspired by the sensational and macabre story of Madame Tussaud, the woman who founded London's world-famous wax museum, this novel traces her rise from Paris orphan to celebrity artist who barely survived the French Revolution. (Oct. 23)
Thin Air by Richard K. Morgan
The author of cyberpunk classic Altered Carbon (the basis for the Netflix show) sets his latest sci-fi noir novel on Mars, a planet that's become overrun with crime and corruption. Professional killer Hakan Veil is more than ready to retire home to Earth—but he'll need to puzzle his way out of an extremely dangerous mystery first. (Oct. 23)
Red Moon by Kim Stanley Robinson
Best-known for his Mars trilogy, Robinson's new novel is set 30 years in the future and imagines that the colony that's been established on the moon is a hotbed of peril, power struggles, and crime—including murder. (Oct. 23)
Roar of Sky by Beth Cato
The Blood of Earth fantasy trilogy ends as geomancer Ingrid gathers her strength for one last magical battle against the sinister woman who has become obsessed with taking over the world and ripping it apart. (Oct. 23)
Deep Silence by Jonathan Meberry
Department of Military Science taskforce leader Joe Ledger returns for a 12th thriller, this time facing down terrorists who have the ability to cause earthquakes and volcanic eruptions, as well as a widespread madness that makes people commit violence against themselves and others. (Oct. 30)
Elevation by Stephen King
King returns to Castle Rock, Maine—setting for several of his best-known works, as well as the current Hulu series—to tell the story of a man with an eerie, mysterious illness who ends up helping the town overcome its ugliest, longest-held prejudices. (Oct. 30)
Finding Baba Yaga: A Short Novel in Verse by Jane Yolen
This novel written in verse follows the story of a young woman who becomes empowered to change her life after she meets a fairy tale witch. (Oct. 30)
The Labyrinth Index by Charles Stross
A new story arc begins in the Hugo-winning Laundry Files series, centering on a woman who heads up Britain's Committee on Sanguinary Affairs. There, she works under a jerky Prime Minister who also happens to be a Lovecraftian elder god, and teams up with American agents to weed out the vampires who've infiltrated Washington. (Oct. 30)
---
November
Nothing to Devour by Glen Hirshberg
The Motherless Children horror trilogy comes to an end as a group of people across America—including a compassionate vampire and a woman who creates "monsters" like her—are drawn together for a variety of reasons, including (but not limited to) revenge. (Nov. 6)
Rewrite: Loops in the Timescape by Gregory Benford
This "thematic sequel" to the author's Nebula-winning Timescape sends a history professor back to 1968, where his 16-year-old self connects with some big names (Albert Einstein, Philip K. Dick) who share his ability to time travel. (Nov. 6)
Skyward by Brandon Sanderson
The prolific fantasy author kicks off a new series with this tale of a young girl who dreams of being a pilot to help fight the aliens that've been the enemy of her world for generations—but a dark chapter in her family's past may keep her grounded. You can read an excerpt here. (Nov. 6)
Someone Like Me by M.R. Carey
The author of The Girl With All the Gifts leaves zombies behind to investigate a new terror: a devoted mom who will stop at nothing to get what she wants, and isn't above activating her secret dark side to stay in control. (Nov. 6)
Static Ruin by Corey J. White
The Voidwitch saga concludes with Mars Xi on the run with a hefty price on her head—and her mutant pet cat and a fellow "human weapon," a young boy who can't control his deadly powers, in tow. Can her long-estranged father, living somewhere on the edge of the galaxy, help her make things right? (Nov. 6)
They Promised Me the Gun Wasn't Loaded by James Alan Gardner
In this sequel that picks up just days after the events of All Those Explosions Were Someone Else's Fault, Jools and her gang of freshly-minted superhero buddies get drawn into the wild scramble to find a villain's inconveniently misplaced super-gun. (Nov. 6)
Bedfellow by Jeremy C. Shipp
In this dark fantasy, a beastly "thing" attaches itself to an ordinary family and forces them to make increasingly horrifying sacrifices on its behalf. If they stick together, can they break free from its grasp? (Nov. 13)
Creatures of Want and Ruin by Molly Tanzer
It's the time of Prohibition, and a woman who's helping put her brother through college counts on the money she earns from bootlegging booze. Her good intentions go sideways, however, when a batch of mushroom moonshine has some terrifying effects on those who imbibe it. (Nov. 13)
Lies Sleeping by Ben Aaronovitch
In this seventh Rivers of London installment, Peter Grant—detective and wizard-in-training—must seek the help of a disgraced former colleague to catch a slippery murderer known as the Faceless Man, whose sinister grand scheme threatens the entire city. (Nov. 13)
Terran Tomorrow by Nancy Kress
The story that began in the Nebula-winning novella Yesterday's Kin, and continued with If Tomorrow Comes, wraps up as the Earth scientists who've barely escaped the plague they encountered in space return home to find deadly spores have wiped out almost all of humanity in their absence. (Nov. 13)
Vita Nostra by Sergiy Dyachenko and Maryna Shyrshova-Dyachenko
Magic, suspense, horror, and science combine in this fantasy adventure, a Russian best-seller that's now getting a definitive English language translation. It's about a teenage girl who meets a mysterious and manipulative man, eventually enrolling (at his behest) in a strange school that teaches "special technologies" that test everything she knows about space and time. (Nov. 13)
City of Broken Magic by Mirah Bolender
In this fantasy debut, non-magical humans called sweepers are trained to destroy magic weapons. It's a dirty job, and dangerously deadly—facts that become all too clear for one rookie who suddenly finds herself serving as the last line of defense for her city. (Nov. 20)
Fire and Blood: 300 Years Before Game of Thrones (A Targaryen History) by George R.R. Martin
The author behind Game of Thrones—perhaps you've heard of him—takes a deep dive into Targaryen history in the first of two volumes all about the legendary dragonlords. (Nov. 20)
The Mortal Word by Genevieve Cogman
The new Invisible Library installment begins with the murder of a dragon—amid a secret a dragon-Fae peace summit, no less. Librarian spies Vale and Irene begin their murder investigation by traveling back in time to 1890s Paris. (Nov. 27)
---


December
King of the Road by R.S. Belcher
The secret society known as the Brotherhood of the Wheel returns to the highway to protect travelers from the supernatural (and occasionally human) monsters that lurk on the road. This latest installment in their adventures features an all-female, all-werewolf biker gang, as well as a pack of killer clowns. (Dec. 4)
The Shattered Sun by Rachel Dunne
The Bound Gods fantasy trilogy ends with plenty of swords and sorcery, as well as a desperate plan to bring the sun back and save the world from the endless darkness known as "the Long Night." (Dec. 4)
Siege of Stone by Terry Goodkind
The Nicci Chronicles continue as a trio of allies—a sorceress, a wizard, and a swordsman—manage to survive a broken spell that unleashes a long-petrified army upon their city. Their next move is pool all the defenses they can muster to protect the people, as well as prevent the awakened soldiers from taking over the rest of the world. (Dec. 31)
Tiamat's Wrath (The Expanse) by James S.A. Corey
True, the fourth season of The Expanse won't be hitting Amazon Prime until sometime next year. But while you wait for the galaxy-crossing adventures of the Rocinante crew to return to TV, why not catch up on the books that started it all...and then leap ahead to see what'll be happening in future seasons? Tiamat's Wrath is the eighth book in the series. (Dec. 4)
Kingdom of Needle and Bone by Mira Grant

When a long-forgotten disease reappears and starts racking up a huge death toll, a doctor who's just lost her niece to the illness decides ethics will need to take a back seat to saving the world. (Dec. 31)
Correction: An earlier version of this story had William Gibson's Agency listed as being released Dec. 31. The publisher has let us know that the book's release has been moved to an as-yet-undetermined date in 2019.