As iPhone rumors develop apace, a WeiPhone forum user—who accurately revealed the iPhone 4S's motherboard last year—has leaked images of what he claims is the logic board of the new iPhone.
Sadly, the image doesn't answer one of the bigger questions surrounding the launch—namely, what processor the device will feature—as the chip itself isn't attached to the board. But, if the thing is real, it does hint at a few tweaks we could expect to see announced next month.
First, the SIM card slot appears smaller in size, which perhaps points to the the new device using the new Nano-SIM format. The battery connector also has five pins, compared to the current four, which suggests that we may see a change in battery technology, and a new digitizer connection adds weight to the speculation around an already-rumored new screen technology.
Perhaps most interesting, though, are some possible tweaks to antenna connections. The extra antenna connections have prompted 9to5mac to speculate that there is an outside chance the new phone could serve up LTE—but that's extremely speculative.
G/O Media may get a commission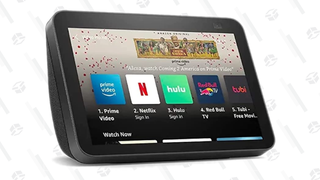 While such leaks are usually untrustworthy, the fact the WeiPhone forum user who posted the images released legitimate photos of an iPhone 4S motherboard before its launch last year make this one at least worth considering, just not definitive. Whether the tweaks to the board relate to the changes we're expecting though—for now, that's anyone's guess. [WeiPhone via 9to5mac]