A small, parasitic plant that is basically the IRL version of the Facehugger from Alien—or, more charitably, a "fairy lantern"—has been rediscovered in a rainforest in Borneo—151 years after its first and only sighting. Michal Sochor, a botanist at the Crop Research Institute in Olomouc, Czech Republic who led the discovery, called it a "fantastic surprise."

"[We] had spent two days in the same forest and found almost no other mycoheterotrophic plants—a bad sign," Sochor told Earther in an email. "Moreover, one must be very lucky to do such a discovery."
Mycoheterotrophic plants—plants that shun the Sun in favor of stealing food from root-associated fungi called mycorrhizae—are notoriously elusive, spending much of their time below-ground. This particular mycoheterotroph, Thismia neptunis, had been spotted just once before, in western Sarawak, by 19th century Italian botanist Odoardo Beccari. Its genus, Thismia (also known as the fairy lanterns), includes nearly 80 described species, many of which have only been discovered recently.
Lucky though they may have been, Sochor and his colleagues didn't come across the illusory T. neptunis completely by accident: they were in the very forest where Beccari discovered the original type specimen, and they "believed the species was still there." Their intuition was rewarded in January 2017, when additional specimens of the parasitic plant were discovered and photographed for the very first time.
G/O Media may get a commission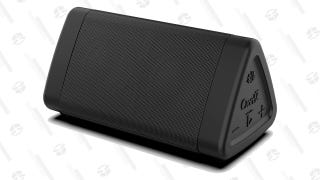 Save 31%
Oontz Angle 3 Portable Bluetooth Speaker
"To our knowledge, it is only the second finding of the species in total," the researchers wrote in a paper published in the journal Phytotaxa last month, which includes an updated description of the "almost mythical plant."
Sochor told Earther that he has "no idea" how widespread the species is, and that information on the distribution of related taxa is no help, since pretty much all species are scarce. "It would not surprise me, if the species [occurred] just in the one particular forest patch," he said.
Perhaps it also won't come as a surprise, then, that T. neptunis is considered critically endangered. According to the paper, Thismia plants tend to prefer undisturbed tropical rainforests, which are becoming harder and harder to come by. The authors note that T. neptunis' habitat "has experienced a significant reduction in Sarawak in the last decades."
Sochor and his colleagues are currently finishing their description of several new Thismia species, which he says were also discovered during last year's expedition. The botanists are also trying to gain new insights into the ecological roles fairy lanterns play. According to Sochor, these may be minor due to the generally limited distribution of the plants.
Nevertheless, he told Earther, "protection of any species from extinction is not a question, it's a MUST, our moral obligation."
[h/t New Scientist]