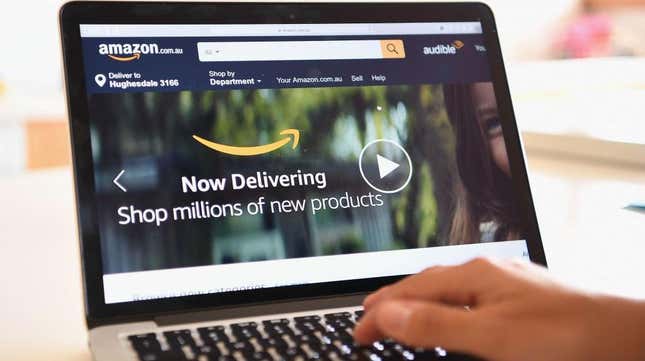 Amazon is pausing construction on its second headquarters in Arlington, Virginia on Friday. The company told Gizmodo the delays aren't impacting phase one of construction, but only phase two, which is slated to be a building across the street.
Prime Day Ain't That 'Green'
Zach Goldsztejn, an Amazon spokesperson, clarified in a phone call with Gizmodo that the phase two construction pause is not due to the company's "role eliminations" earlier this year, but instead was because the phase one building created a large enough office space to hold the existing employees. He said, "It is important to distinguish" between phase one and phase two of construction, adding that the first phase of construction is ongoing.
Despite the delay, the first phase of construction is still slated to be completed as planned in June, and John Schoettler, Amazon's real estate chief, said in an emailed statement to Gizmodo that the company has already employed more than 8,000 people in the area. The employees are expected to move into the 2.1-million-square-foot Arlington office, which is located on the outskirts of Washington, D.C., as soon as construction is finished.
While the first phase of the project will be completed as scheduled, it is the second phase across the street that is being impacted by delays. The project is expected to be 2.8-million-square-feet and has three 22-story office towers, a corporate conference center, and an indoor garden area, according to Bloomberg.
The company first announced its expansion plans in 2017, promising a second headquarters that would hold 50,000 employees when completed, prompting cities around the U.S. to bid on the project. It was proposed that Amazon would open its headquarters in New York City but that idea was opposed by some area politicians including Rep. Alexandria Ocasio-Cortez (D-NY).

She spoke out about the Virginia construction pause in a vindicated Twitter post on Friday, writing, "When I opposed this Amazon project coming to New York bc it was a scam of public funds, the whole power establishment came after us. Billboards went up in Times Sq denouncing me. Powerful pols promised revenge. Op-Eds & CEOs insulted my intelligence. In the end, we were right."
Virginia pledged about $800 million in tax breaks and infrastructure improvements to Amazon, which would be made over 15 years—for bringing its second HQ to Arlington and for the company's commitment to hiring 25,000 local workers. Goldsztejn said Amazon is still committed to building the office and expects to move forward with pre-construction plans later this year. The company is required to finish construction by 2025, per county construction plans.
"Our second headquarters has always been a multiyear project, and we remain committed to Arlington, Virginia, and the greater Capital Region – which includes investing in affordable housing, funding computer science education in schools across the region, and supporting dozens of local nonprofits," Schoettler said. "We appreciate the support of all our partners and neighbors, and look forward to continuing to work together in the years ahead."