Amazon pitched its Fire TV as a streaming device to end all streaming devices. The company touted its simple and effective search, and its open ecosystem boasting enough apps to burn your eyes out. We spent some time messing with the Fire TV and found that for the most part, it makes good on those promises.
Interface
Smart TVs have notoriously crappy interfaces that are slow as hell and lag and freeze so much you'd think they were features. Comparatively, Amazon Fire TV Usain Bolt fast. With the ever-intuitive FireTV, you have a black screen with a sidebar menu for watchlist, TV shows, movies, photos, games, and apps. It's very simple. Click right to select a particular section. And no matter where you end up, you can always hit the home button or the voice search button to navigate elsewhere.
When you select a movie or a TV show, Amazon will show you all your options when it comes to buying or renting the title. You'll see Hulu, and Amazon Instant, and Crackle, and once you pick your poison, it will take you right there.
G/O Media may get a commission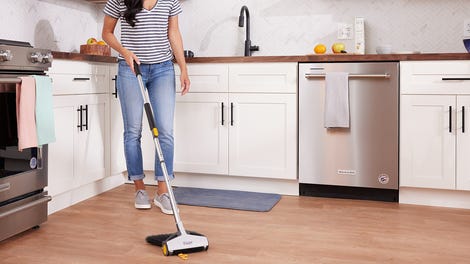 BOGO 50% Off
Flippr - BOGO 50% Off
To be honest, I expected it to be slower than advertised, but thanks to a quad-core chip inside, FireTV loaded up swiftly every time (at least in a demo setting). There was virtually no load time for movies or TV shows, either. Frozen, for example, was paused about 13 minutes in. But once you hit play, from the menu where it was listed, we were trucking immediately.
Things always work more smoothly in demo settings than in the real world, but even taking that into account, Fire TV was crazy quick.
Remote
You will lose this remote. There's no way of getting around it. It's black and thin and perfectly sized for the sliver between your couch cushions. In looks, it's like a 200 percent larger Apple remote.
It has all the basic buttons for playback (fast forward, rewind, and play/pause), a button to go back, a home button, a menu button, and a click wheel, above which is the voice search button. There's nothing confusing here, no tutorials needed. It's not unwieldy or clunky either. In fact, I would say that it's sleek and stylish as far as aesthetics are concerned. You just will always be looking for the dang thing.
Voice Search
Well sue me if I was prepared for this not to work as-advertised. The biggest Fire TV surprise was that voice search worked like a dream. When I said Matthew McConaughey—which with that Irish spelling and pronunciation, doesn't seem like it would be the easiest to pick up—FireTV instantly knew what I was talking about. And we tried out voice search with a couple different TV shows and movie titles and actor names, and it worked almost every time.
The only time it screwed up was because of user error (you have to wait for a beep before you start speaking and it's very loud in this cool living room furnished with Ikat rugs and oversized glass hurricane and colorful couches that look they came from a Target commercial that Amazon has rented out).
Games
Whether you need your set top box to play games is between you and your Xbox, but Fire TV does it. And since it works with a $40 standalone controller, Fire TV is a bit of a different case from your Chromecasts or your Roku sticks. On Fire TV, you can play games with the remote, with a tablet, or with a dedicated controller. More on that in a second.
Games themselves load quickly, which is unsurprising given how responsive Fire TV is overall. Its speed is impressive and a theme that continually colors the user experience. The graphics are nice, but nowhere near Xbox One or PlayStation 4 caliber quality. They're what you would expect from a very good tablet game.
The controller itself isn't particularly special, but not in a bad way. It's surprisingly comfortable to hold given that it's a little bulky, has buttons on the places you'd expect for there to be buttons. When I asked the Tommy Bahama shirt-clad gamer dude playing Sev Zero—one of Amazon's forthcoming original titles what he thought of the controller—he said with crazy eyes of passion that he felt it's as good as what Microsoft and Sony have to offer. Then he immediately went back to Sev Zero, if that's any indication.
There's a lot of good about about Fire TV based on our brief hands on, but some bad as well. The $100 price tag isn't quite as competitive as we'd expect, in a world of $35 Chromecasts and $50 Rokus. And it lacks HBO GO, which really sucks. But as far as the experience itself is concerned, we have almost no complaints. This thing works like a dream where you never have to leave your house ever and all your food is from Seamless and your entertainment is from a little black streaming box.