Amazon has a new Echo and this time, it has a camera built-in to tell you how ugly, or hot, your outfit looks. Dubbed the Echo Look, this forthcoming $200 device has a depth-sensing camera that can take full-length photos and videos using just your voice.
If you're like me, and your small Brooklyn apartment doesn't allow for a full-length mirror, the Echo Look can be used as a replacement. The camera includes LED lighting, and it's designed to blur your background, so photos of your outfit obscure the junk piled up in the corner.
Using a companion app, users can see every angle of themselves, and Amazon says that those images can be used to build a "lookbook" or to share photos with friends. As a grown-ass woman who still finds myself texting my mom and sister photos to get a yay or nay on an outfit, I can say that as silly as this may sound to some, this is also something I would absolutely use. For those who don't find themselves regularly sharing outfit pics with family and friends, a mirror would likely do.
Beyond just taking photos and videos to judge yourself (or have your friends judge), Amazon also has a new free service, Style Check, that "combines machine learning algorithms with advice from fashion specialists." Users can submit photos of themselves in two outfit choices for "for a second opinion on which outfit looks best on you based on fit, color, styling, and current trends."
 
G/O Media may get a commission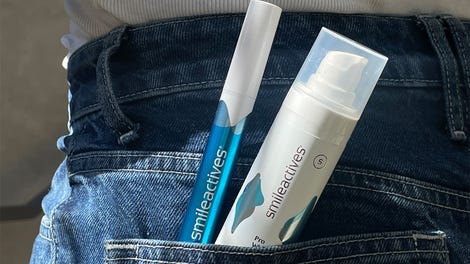 58% off
Whitening Powerhouse Pen & Gel Duo
Of course, the Echo Look has all the other Echo shit built into it too, so you can listen to Spotify or NPR or whatever while trying to figure out if those pants you bought last year but never wore are worth salvaging or should just be dropped off at Goodwill. You can use it to control the other "smart" stuff happening in your house or apartment too.

And of course, this wouldn't be Amazon if there wasn't a way to bring this all back to commerce. If you use that "lookbook" feature, Amazon says it will use your "looks" to help "you discover new brands and styles." I love being advertised to based on what I'm already wearing!
Amazon claims that the camera only fires up when you say the keywords, "Alexa, take a picture" (hopefully that doesn't also trigger that excellent Filter song) or "Alexa, take a video."
In any event, if your mirror doesn't suffice, you can check out Alexa! The device is currently available only by invitation, Instagram #OOTD die-hards, hope they open up supply to the masses soon.