Amazon just announced that the Kindle will have its own app store, with partners ranging from publishers like Zagat to, believe it or not, game makers like EA. E-ink gaming? What?
Says Amazon's vice president for Kindle:
We knew from the earliest days of the Kindle that invention was not all going to take place within the walls of Amazon. We wanted to open this up to a wide range of creative people, from developers to publishers to authors, to build whatever they like.
In that spirit, they've opened up development to selected partners (not everyone, yet—a wider release will come later this month) to create apps for the Kindle platform. There'll be three kinds of apps: Free, one-time payment, and monthly payment. Interestingly, because the Kindle is sold without a monthly fee for the wireless connection, these developers will have to pay 15 cents per megabyte for content delivery. They'll keep 70% of the revenue after those expenses are recouped by Amazon—more info on that stuff here.
G/O Media may get a commission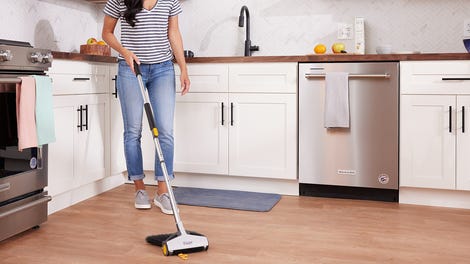 BOGO 50% Off
Flippr - BOGO 50% Off
There are also some basic limits on both bandwidth and app size. Free apps must be smaller than 1MB and use less than 100KB of data per user per month. One-time purchase apps and monthly apps both have the same data usage limit as free apps, but have a size limit of 100MB (although any app larger than 10MB can't be downloaded wirelessly—gotta do it via USB).
Amazon expects to start adding apps "sometime later this year," which is a nice vague thing to say in January. They'll also retain control over the types of apps added, restricting offensive apps, VoIP apps, viruses, that kind of thing. Now: What kind of things are we likely to see in a Kindle app store?
The Kindle is extremely limited by its hardware, most importantly its e-ink screen. The kind of glacial refreshes that are acceptable while reading a book make it totally useless for pretty much any game. The only ones that can deal with the limited screen are essentially pen-and-paper games, like Sudoku, word games (crossword puzzles, Scrabble) and, um, hangman. Scrabble is a fair bet to make an early appearance, since it's owned by EA, one of the two partners specifically named in the NYTimes announcement.
Other apps mentioned include searchable travel books, like a Zagat app that could find, say, local restaurants with specific criteria. But apps like that are really better suited for smartphones, which is an argument you could make about the entire idea of a Kindle app store. We'll have to wait until the plan actually launches before we see if it was a good decision—and who knows, by then the Apple Tablet will probably have revolutionized the publishing industry, solved the economic recession and rescued the world's kittens from the world's trees. [Amazon and NYTimes 1 and 2]
Amazon Announces Kindle Development Kit—Software Developers Can Now Build Active Content for Kindle
Travel books that suggest activities based on real-time weather and current events, cookbooks that recommend menus based on size of party and allergies, and word games and puzzles—just some of the possibilities with the new Kindle Development Kit

SEATTLE, Jan 21, 2010 (BUSINESS WIRE) — (NASDAQ: AMZN)—For the past two years, Amazon has welcomed authors and publishers to directly upload and sell content in the Kindle Store through the self-service Kindle publishing platform. Today, Amazon announced that it is inviting software developers to build and upload active content that will be available in the Kindle Store later this year. The new Kindle Development Kit gives developers access to programming interfaces, tools and documentation to build active content for Kindle—the #1 bestselling, most wished for, and most gifted product across all categories on Amazon. Developers can learn more about the Kindle Development Kit today at and sign up to be notified when the limited beta starts next month.

"We've heard from lots of developers over the past two years who are excited to build on top of Kindle," said Ian Freed, Vice President, Amazon Kindle. "The Kindle Development Kit opens many possibilities—we look forward to being surprised by what developers invent."

The Kindle Development Kit enables developers to build active content that leverages Kindle's unique combination of seamless and invisible 3G wireless delivery over Amazon Whispernet, high-resolution electronic paper display that looks and reads like real paper, and long battery life of seven days with wireless activated. For example, Handmark is building an active Zagat guide featuring their trusted ratings, reviews and more for restaurants in cities around the world, and Sonic Boom is building word games and puzzles.

"As the leading worldwide publisher of mobile games, EA Mobile has had the privilege of collaborating with many dynamic and innovative companies in bringing exciting gaming experiences to new platforms," says Adam Sussman, Vice President of Worldwide Publishing, EA Mobile. "Working with Amazon, we look forward to bringing some of the world's most popular and fun games to Kindle and their users."

Starting next month, participants in the limited beta will be able to download the Kindle Development Kit, access developer support, test content on Kindle, and submit finished content. Those wait-listed will be invited to participate as space becomes available. The Kindle Development Kit includes sample code, documentation, and the Kindle Simulator, which helps developers build and test their content by simulating the 6-inch Kindle and 9.7-inch Kindle DX on Mac, PC, and Linux desktops.