Amazon's foray into drone delivery has been a bumpy road, according to a former Amazon manager who worked with the tech. Cheddi Skeete says that he was fired from the company after raising concerns over the safety of Amazon's drone delivery program.

According to The Seattle Times, Skeete says that there was no onboarding process for new employees working on the drone project, and that he was denied promotions during his nearly two years working for Amazon. Eventually, Skeete says he was fired for expressing concerns over the drone delivery program after witnessing several crashes during testing, one of which allegedly started a brush fire. Skeete is now suing Amazon in Kings County Superior Court, claiming that the company is retaliating against him for voicing his concerns.
"I care deeply about equal opportunity in the workplace, as well as the safety of Amazon's workers and the surrounding communities," Skeete said in a statement, as quoted by The Seattle Times. "I hope this lawsuit holds Amazon accountable for the harm to me, but also encourages and forces them to take safety more seriously in developing their drone program."
Amazon is pushing back against these claims. In an email sent to Gizmodo, a spokesperson for Amazon, Lisa Levandowski told us, "These allegations are false and we look forward to proving that in court."
In 2013, Amazon touted drone delivery coming to consumers as soon as 2018 in a 60 Minutes segment. Amazon Prime Air, as it's been named, would effectively bring your Amazon order to your doorstep via drone on demand, but the lofty goal of one of the world's largest marketplaces has been slow to fully come to fruition despite receiving clearance to test from the Federal Aviation Association in 2020.
G/O Media may get a commission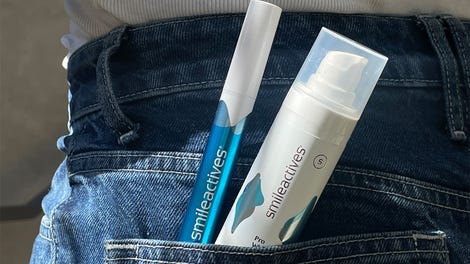 58% off
Whitening Powerhouse Pen & Gel Duo
The company started making its first official go at using drones for deliveries in two small cities, Lockeford, California and College Station, Texas, in December 2022. At the time, an Amazon Air spokesperson told Fox 40 News, "Our aim is to safely introduce our drones to the skies. We are starting in these communities and will gradually expand deliveries to more customers over time."
A report from Bloomberg in 2022 sheds light on the internal friction associated with Prime Air. Amazon's drones are expected to be able to make deliveries up to 5 pounds within a 7 mile radius in under 30 minutes after the user clicks purchase. Tests were conducted in rural Oregon, and drone flight assistant David Johnson told Bloomberg that these tests were usually conducted without a full team and without proper equipment, including a laptop with a broken keyboard. Skeete claimed in the article that the test sites had no portable toilets, causing female employees to radio the entire team when they needed a bathroom break, bringing whatever test they were in the middle of to a halt.
Skeete among several employees who have spoken out about the conditions surrounding the project. Skeete is now seeking lost earnings and compensation for emotional distress and legal fees.
Updated: 1/18/2023 at 5:25 p.m. ET: added comment from Amazon.