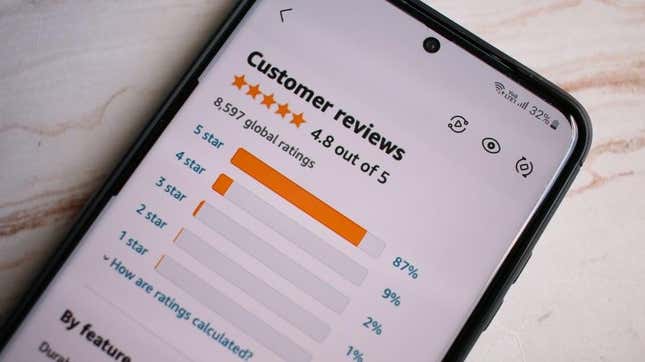 Amazon is rolling out a new generative AI tool that will summarize customer reviews for each product, the company announced Monday. Instead of sifting through hundreds, possibly thousands of personalized reviews, the AI-powered tool will sum up the most frequently mentioned product features and customer opinions that commonly pop up, in a paragraph next to the product detail page.
Why is Everyone Suing AI Companies? | Future Tech
The company said in a press release that the feature will allow customers to readily access the majority's reviews by separating them into categories such as Ease of Use, Performance, and Stability.
Amazon claims in its press release that it will use fraud detection tools to oversee the AI-generated reviews, saying it will "strictly prohibit fake reviews that intentionally mislead customers by providing information that is not impartial, authentic, or intended for that product or service." The company says that it blocked more than 200 million suspected fake reviews last year, but with the proliferation of consumer software like ChatGPT, AI-generated reviews have flooded the platform.
With 1.5 billion reviews posted last year, the question remains whether Amazon is up to the task of sifting through all the garbage being thrown at it. Unknown vendors have created Facebook groups called "Amazon Reviews" which promise so-called product testers a full refund on their products if they buy the item and leave a positive review. The Guardian reported in April that it found 34 groups on Amazon, consisting of 56,000 total members, offering fake reviews on the company's site.
Amazon has taken legal action against fake review brokers, suing more than 10,000 Facebook group administrators in 2022, a spokesperson told The Guardian. The tech conglomerate further attempts to assure customers in its press release that its AI-generated review highlights will only reference reviews from verified purchases.
However, to identify fake reviews, the company says it's using "machine learning models that analyze thousands of data points to detect risk." Using yet another automated tool to filter out fake reviews may not be reassuring for customers.
Last year, Tripadvisor found 1.3 million posted reviews were fake, while Trustpilot removed 2.7 million false reviews posted in 2021, The Guardian reported. Tripadvisor said in a 2023 report: "... We expect to see attempts from businesses and individuals to use tools like ChatGPT to manipulate content on Tripadvisor."
Despite the warnings that AI-generated reviews can do more harm than good, Amazon's director of community shopping, Vaughn Schermerhorn told Gizmodo in an email that the AI tool will reportedly benefit customers as an additional resource for its reviews.
"We want to make it even easier for customers to understand the common themes across reviews and, with the recent advancements in generative AI," he said in a statement. He continued, "We believe we have the technical means to address this long-standing customer need."