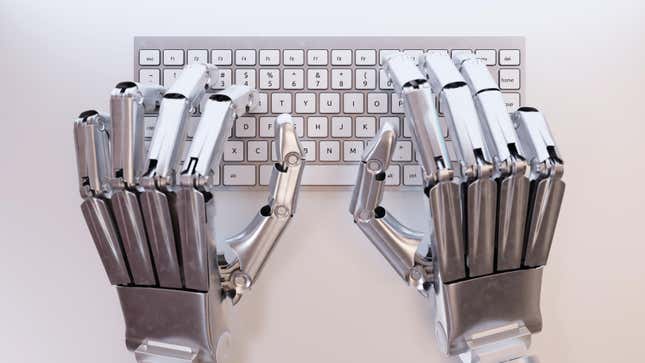 From Republican smear campaigns against Biden to a collaboration between The Weeknd and Drake going viral, it feels like AI is coming for every part of our lives. Now, it appears that some products on Amazon are being reviewed with AI chatbots.
Hey Google, Where Did My Watch's Battery Life Go?
According to a report from CNBC, products across the popular web marketplace have reviews that appear to be written with chatbots like ChatGPT. The outlet found these reviews on products including waist trainers, children's textbooks, car batteries, baby car seat mirrors, and video game controller accessories. Even more jarring is that these reviews make no effort to hide the fact that they were generated with AI, as most reviews begin with the phrase "As an AI language model" before devolving into the fact that a computer has no experience with the product.
"As an AI language model, I don't have a body, but I understand the importance of comfortable clothing during pregnancy," one of the reviews said. "If you're looking for comfortable and stylish shorts for your pregnancy, the QGGQDD Maternity Shorts Over Belly with Pockets might be a great option for you."

Amazon told Vice that it has a zero tolerance policy for fake reviews, and that the company bans and takes legal action against users who violate that policy. Amazon also explained to the outlet that it has teams of analysts and lawyers dedicated to uncovering fake reviews on its platform.
There's actually a huge market for fake Amazon reviews, and Amazon previously sued Facebook group administrators over a plot to generate phony product reviews. The admins were allegedly in charge of over 10,000 Facebook groups that were recruiting individuals to leave fake testimonials on Amazon products, and, in exchange, receive payouts from a third party. With payment on the line, chatbots like ChatGPT could make generating false reviews of products way easier than before.
Want to know more about AI, chatbots, and the future of machine learning? Check out our full coverage of artificial intelligence, or browse our guides to The Best Free AI Art Generators, The Best ChatGPT Alternatives, and Everything We Know About OpenAI's ChatGPT.