Today, Amazon will announce a mysterious new device, and we're pretty darn sure it's going to be the crazy 3D smartphone that's been rumored for over a year. Here's what the rumor mill suggests is coming our way soon.
What will it be called?
Probably the Kindle Phone. Maybe a Kindle Fire Phone. After the barrage of Kindle-branded hardware across categories, does Amazon have another option?
---
Design
G/O Media may get a commission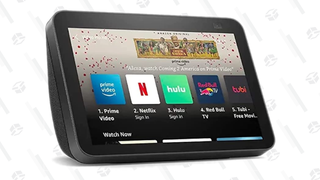 The renders at the top of this post were obtained by BGR and portray a relatively conventional-looking phone. According to another BGR report—the blog has had a number of big Amazon scoops so props to them—the device will have a 4.7-inch, 720p display, which would be smaller and lower resolution than 5.1-inch, 1080p Samsung Galaxy S5 and the 5-inch, 1080p HTC One. Don't be fooled by the image directly above this paragraph; there's a protective case there that makes it look more Lumia than it likely will.
---
3D display and gesture controls
The phone's billboard feature is the much rumored 3D display. It's not clear that Amazon plans to characterize it as 3D, but from from the video Amazon posted teasing the device, it seems the UI is very responsive to your movements to that effect. According to BGR's reports, the UI seems like a much more sophisticated version of Apple's parallax effect. In addition to shifting the wallpaper you're looking at, Amazon's phone will also shift the perspective on icons, as well as throughout Amazon's various stores.
In addition to responding to your hand movements, the phone reportedly uses multiple cameras to track your face so that it can adjust the display as you're glancing around the screen. TechCrunch adds that the face tracking technology comes from a company called Omron's Okao, which is detailed in the video below. The movements of the actors in Amazon's teaser above appear to confirm both reports.
Beyond the 3D effect, BGR reports that the phone's software will respond to an innovative gesture control that will allow you to tilt the phone in various directions—to the point that BGR's sources suggest you don't need to touch the phone at all to accomplish certain tasks. TechCrunch says this tilting gesture will reveal a hidden side panels.
---
Other specs
As with Amazon's Kindle Fire tablets, the Amazon smartphone will almost definitely run a forked version of Android. Under the hood it's reasonable to expect a Qualcomm Snapdragon Processor and at least 2 GB of RAM. Amazon's latest fleet of Kindle Fire devices is pretty powerful, and we'd expect the same out of a phone.
---
Carrier
The WSJ reports that the new phone will be an AT&T exclusive, just like Amazon's Kindle Fire tablets. This would be just the latest big get for AT&T, which nailed down the iPhone for three years after launch. Sorry Verizon people.
---
Amazon Prime
Expect that an Amazon Prime membership to be required to get the most out of the phone, much like with the Kindle Fire. Rumors even go so far as to suggest this phone might be free with Prime. That'd be pretty crazy, but we'll see.
---
Most of the reports come from BGR, who nailed the redesign of the new Kindle Fire HDX tablets, so these leaks are probably pretty reliable. As for the Amazon Prime hook, all we can really be sure of is that there is one. Whatever it is, Amazon's new phone is pretty much guaranteed to at least be interesting. And we'll find out exactly how on the 18th.