Remember when Bill Clinton was president, and Amazon was just a website where you could buy books? Those were the halcyon days. Now, the world's biggest store runs brick-and-mortar shops, builds affordable hardware, operates artificial intelligence, and soon, it will hire out humans to help you set up your gadgets. Why? Because if it's possible to sell it, then Amazon wants to sell it to you.
Or so it seems. The new program resembles a Geek Squad of sorts. As Recode reports, Amazon has been quietly hiring "field technicians" in select markets, including Dallas, Houston, Hoboken, Las Vegas, Miami, Orlando, and Tampa. The job listing calls for prior experience as an Apple Genius or a Geek Squad Double Agent and presumably requires some expertise in smart homes, especially smart homes powered by Alexa. Presently, Amazon is charging $100 to set up a smart thermostat like the Alexa-enabled Ecobee4, and customers can book the appointment during the checkout process.
This isn't as crazy as it sounds, though. Sure, it's pretty wild that Amazon is getting into the business of sending Amazon employees to your home, but the company has offered help in finding local handypeople for years. The new offering also complements the recently launched Amazon Smart Home Consultation. This free virtual service connects customers with Amazon employees who can explain how to set up a number of smart home devices, demo more devices, answer questions, and create shopping lists. Because let's not forget, no matter how big Amazon becomes, the company's primary purpose is to sell you shit.
We don't yet know if field technicians will arrive at your house with pockets full of Amazon shopping lists and Whole Foods coupons. It's not an unbelievable idea, though. Once Amazon's acquisition of Whole Foods goes through, Amazon will considerably expand its portfolio of products and physical stores where you can buy them. Heck, maybe the same guy who delivers your boxes full of quinoa and almond milk will also help you connect your Amazon Echo to a new internet-connected lighting system. When that breaks, you can just log on to Amazon to talk to an expert who will also try to sell you an internet-connected security cam.
It's only Orwellian, if you buy into the system. You don't have to hire Amazon employees to set up your smart home gadgets, and you certainly don't need to buy those gadgets on Amazon dot com. But Amazon day is July 11, and there are just so many deals. So many deals!
G/O Media may get a commission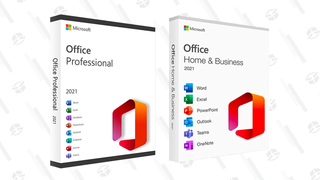 89% off
Microsoft Office Professional 2021 Lifetime License
[Recode]