Lightspeed recently republished a classic story by Carolyn Ives Gilman, "Frost Painting," about a mysterious art colony in Montana that the locals say is inhabited by aliens — or maybe humans who have become alien. It's also the tragic, wistful story of an art critic who falls in love with an artist whose greatest works are designed to disappear.
Here's an excerpt from the story, taken from a passage that introduces us to the alien art colony whose lure has torn apart the cozy romance between art critic Galena and her artist girlfriend Thea:
The reports from Montana had fascinated Thea from the start. There were many versions from the beginning. Remote Montana community taken over by aliens. Demonic possession in Montana wasteland. Mystery Montana disease baffles scientists. Galena scoffed at it all.

After anthropologists at the University of Montana began to investigate, the explanations still metamorphosed to suit every paranoia. It was a type of mass hysteria. It was a scandalous case of environmental contamination. It was genetic inbreeding. It was a secret government experiment. One debunking journalist concluded that the "victims" were in fact members of a harmless New Age religious community who were being stigmatized by society as "ill" for their nonconformity.

The explanation of the victims themselves never changed. The Dirigo, they said, were enabling them to create art of a type never before imagined.

It was the art that riveted Thea's attention. As pictures finally filtered out, Thea bought all the magazines and pored over them. "Just think," she said, "I could work in real wind, real lightning, if I had their inspiration."

"If you had their inspiration, you'd be in a loony bin," Galena said.

But it did seem as if Thea's creativity was lagging that spring. Her studio was cluttered with unfinished work; it was over a year since she had held one of her famous shows that drew crowds to see the self‑destroying art. As her comfort increased it seemed her drive faded. Galena worried that her own happiness was poisoning the well from which it sprang.

One morning when Galena, ready to leave for work, leaned over the bed to kiss her partner goodbye, Thea looked up out of the rumpled bedclothes and said, "I'm going to Montana." Galena laughed, brushed the scattered hair out of Thea's face, and said, "Ride 'em, cowboy."

When she got home that evening, Thea's suitcase and backpack were waiting by the door. The truth smashed all the elaborate structure of Galena's security. Contentment had come to her so late, so unexpectedly, that she had never thought it, too, could be perishable. She followed Thea around the house, asking questions in a voice like a lost child.

"How can I get in touch with you?"

"What are you going to do there?"

"How long will you be gone?"

"Why are you doing this?"

"When will you know?"

"What about me?"

"What about me?"

To which Thea could only answer again and again, "I don't know."

And that was all Galena had ever gotten out of her. She consented to drop Thea off at the airport, but wouldn't go in with her, and they didn't part with a kiss, or even a hug.
Read the whole story at Lightspeed.
Top photo is of Robert Smithson's "Spiral Jetty"
G/O Media may get a commission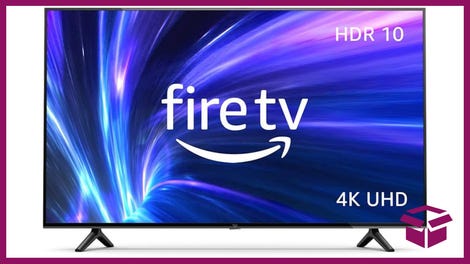 42% Off
Amazon Fire TV 50" 4K Smart TV