Given that we're in the Age of Superhero Films, many of 2017's biggest movies were based on comic books. However, there were just as many original scifi and fantasy movies that made waves last year, so it seems natural that they too would get turned into comics.

Comics artist Ben Matsuya (Jupiter Jet) created five-panel comic strips based on a few of 2017's genre hits. Matsuya told me the idea to make the strips started after he and his brother were ranking their favorite movies of the year, and challenged each other to condense each movie "into as few beats as possible" by turning them into just five panels. He detailed the basic storylines for Get Out, Netflix's Ojka, and Golden Globe winner The Shape of Water—Matsuya said that one was his favorite film last year.
"All three of these movies were so unique and amazing in their own way," Matsuya said. "[Get Out and Ojka] really tackle specific issues, [but] The Shape of Water explores the simplest and most broad of topics: The necessity to see one another in ourselves and accepting each other as they are, warts and all. The frog is not a prince, the frog is a frog. And he just ate a cat."
Matsuya said he also considered Blade Runner 2049, Coco, and Spider-Man: Homecoming for the comics treatment as well, but for now it's just the three listed above, along with a couple other indie film designs. Beyond the brotherly challenge, he wanted to make these comics because movies are such a big part of his life that "they inevitably bleed into my art,"and he sees the two mediums as very similar.

G/O Media may get a commission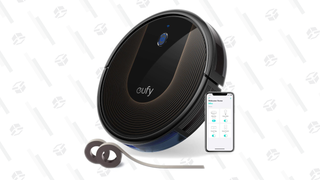 48% Off
Eufy BoostIQ RoboVac
"I see a lot of parallels between the storytelling of movies and comics," Matsuya said. "When you watch a movie or read a comic, you can't help but view the world from the main protagonist's perspective. You have no choice but to empathize with them. And in doing so, I believe you learn to apply and extend that ability to 'see each other' in the real world."
Currently, Matsuya and his brother are finishing their first graphic novel, a horror comedy called Midnight Massacre about an amusement park at Halloween inhabited by real monsters. You can check out the rest of his five-panel movie comics below.