Andrew Garfield reveals how old Peter Parker will be in the Spider-Man reboot. Plus Matt Smith and Karen Gillan talk Doctor Who, new Captain America concept art, Fringe casting news, and a Source Code trailer. Merry Spoilermas, everyone!
Spider-Man Reboot
While discussing his training for the role, star Andrew Garfield revealed a few tidbit about this movie's Peter Parker, including the fact that, yes, this Peter is definitely a teenager, even though Garfield is in his late 20s:
"I think Spider-Man needs strength, but Peter Parker is still a teenager, you know? That's a very tender balance to figure out. It's very specific what we're trying to achieve in terms of body type and the feeling of that. Rest assured, there's a lot of people who are helping me with it because I have no discipline in that respect. My father's a swimming coach and I kind of rebelled against that very, very early on so any form of physical discipline has to be really cracked with a really smart whip."
Garfield also confirmed that he's put on Spider-Man's costume, rather charmingly saying that he feels "like a kid in my pajamas" when wearing the costume. [Hollywood Reporter]
Captain America
Here's some cool new concept art that shows Captain America with the troops: [AICN]

G/O Media may get a commission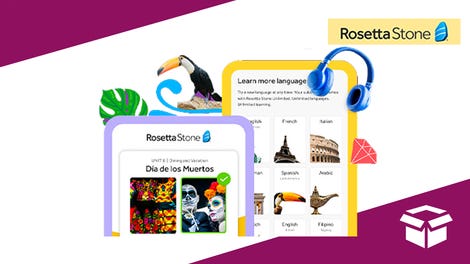 Extra 20% off
Rosetta Stone Lifetime Subscription - All Languages
Source Code
Here's the international trailer for Duncan Jones's new movie, which is pretty close to the already released American trailer:
Doctor Who
Here's an interview with Matt Smith and Karen Gillan in which they discuss "A Christmas Carol" and their recent filming in Utah: [Blogtor Who]
And here's the flying shark that menaces Amy, Rory, and the other stranded passengers on the space cruiser, as well as this Christmas special's (Doctor-less) kiss: [Blogtor Who]

Executive producer Piers Wenger talks a bit about series six's new monsters, particularly the mysterious Silence:
Steven's not a big fan of using monsters from the classic series or monsters that we've seen before, so we've got quite a lot of new monsters this coming year. There's going to be a monster that recurs, that we've heard referenced in the series already, but which we've never actually seen the physical manifestation of, and it's called The Silence. It will be a recurrent theme and will have an ongoing significance. We'll see [The Silence] in its physical form, but that is something that is already established in many ways. It figured in the last series but we're going into the true terror of them, the horror of their species and their needs. It's going to emerge next year.
Fringe
Some script ages released for casting purposes reveal that the "Young Peter" character that's due to appear in an upcoming episode is actually called Leonard in the script. This may just be a bit of flimsy subterfuge to sort of hide the fact that another version of the young Peter Bishop is showing up, or it may reveal some twisty, crazy Fringe-style craziness is in store - they both make about the same amount of sense.
Either way, the pages reveal the eight-year-old Peter, AKA Leonard, is being treated in a hospital for pain, and he's being protected by a Nurse Fletcher. She tells him that he can't leave the hospital room, and that his mother won't be coming to see him because she didn't want to disrupt his treatment. Peter doesn't believe that the nurse is telling the truth.
Chuck
Here are some promotional photos of Linda Hamilton as Mary Bartowski: [SpoilerTV]

Tron Uprising
The animated spin-off is currently set for a series premiere in 2012 and features the voices of Elijah Wood, Emmanuelle Chriqui, Mandy Moore, Paul Reubens, Nate Corddry, Lance Henriksen and Bruce Boxleitner, who will be reprising the titular computer program Tron. Now movie screenwriter Edward Kitsis, who is also heavily involved in the series, explains where Uprising fits in with Tron Legacy:
This animated show will take place from when Flynn is in a safe house. It's from when Clu takes over the grid to before when Sam comes in. So if you were wondering what was the grid like before that, then watch the show.
He also explained what sorts of stories they're interested in telling:
To give you an example of how we approached storytelling sometimes is like when you're in the End of Line club, when we first meet Castor and he's being berated by one of the patrons saying, 'I want an audience with Zuse.' His name is Bartik, and there's an entire back story we have for him. The guy with him, his name is Hopper, there's a whole thing between the two of them, what they are doing in there, and how they got there. It's like over the years of developing this movie, we developed all these mythologies and all these back stories and all little tangential things. Did we have time to do the Bartik story? No. But now maybe the Bartik story is in the animated series -you know, he's got a huge scar on his face. I want to know how he got that scar. We couldn't sit down and write that there's a guy with a scar on his face without knowing what the scar was. So we hope it adds to the depth of the movie.
The Cape
Extended synopses are out for the show's first two episodes, which are being shown as a combined two-hour premiere, "Pilot" and "Tarot":
WHEN A COP IS UNJUSTLY FRAMED FOR CRIMES, HE IS FORCED TO TEAM UP WITH CARNIVAL MISFITS AND TAKE ON A NEW IDENTITY, FIGHT CRIME AND WIN HIS FAMILY BACK — Fueled by a desire to reunite with his wife Dana (Jennifer Ferrin) and son Trip (Ryan Wynott), former police officer Vince Faraday (David Lyons) becomes "The Cape" — his son's favorite comic book superhero — and takes the law into his own hands and to battle criminal forces that have overtaken Palm City. Faraday is joined by Max Malini (Keith David), the ringleader of a circus gang of bank robbers, who mentors Faraday and trains him to become "The Cape," as well as investigative blogger Orwell (Summer Glau) who wages war on crime and corruption in Palm City. Together, they must battle Ark corporation billionaire Peter Fleming (James Frain) — The Cape's nemesis — who moonlights as the twisted killer "Chess." Also starring are Vinnie Jones (as Scales), Martin Klebba (Rollo), Dorian Missick (Marty), Izabella Mike (Raia) and Anil Kumar (Ruvi).

WHEN ARK CORPORATION THREATENS TO PRIVATIZE PALM CITY'S PRISONS, THE CAPE MUST FIND A WAY TO STOP THEM BEFORE THINGS TURN DEADLY — The Cape (David Lyons) must battle Chess (James Frain) and his latest accomplice Cain — a/k/a Chef (guest star Raza Jaffrey) — as they try to take down the Patrick Portman (guest star Richard Schiff), the Secretary for the Bureau of Prisons, in an attempt to take over Palm City's jails. After narrowly escaping death, The Cape must rely on Orwell (Summer Glau), Max Malini (Keith David) and the circus gang to nurse him back to health and then help him save Patrick before it is too late.
V
Here's some more sneak peeks at the season premiere: [The V-Files]
And a full synopsis and cast list is out for episode 2, "Serpent's Tooth":
ANNA AND DIANA ARE FACE TO FACE FOR THE FIRST TIME IN 15 YEARS, WHILE ERICA SEEKS TO FIND IF THE V'S DID SOMETHING TO HER WHEN PREGNANT WITH TYLER, ON ABC'S "V"

"Serpent's Tooth" - Anna and Diana square off in the dark bowels of the Mothership - Diana has been down there for 15 years and not had a single glimpse of Anna. Meanwhile, Erica has Tyler's blood analyzed, and learns the V's did something sinister to her when she was pregnant with him, on "V," TUESDAY, JANUARY 11 (9:00-10:00 p.m., ET) on ABC.

"V" stars Elizabeth Mitchell as Erica Evans, Morris Chestnut as Ryan Nichols, Joel Gretsch as Father Jack, Charles Mesure as Kyle Hobbes, Logan Huffman as Tyler Evans, Laura Vandervoort as Lisa, with Morena Baccarin as Anna and Scott Wolf as Chad Decker.

Guest stars include Jane Badler as Diana, Bret Harrison as Dr. Sidney Miller, Roark Critchlow as A.D. Paul Kendrick, Rekha Sharma as Agent Malik, Mark Hildreth as Joshua, Christopher Shyer as Marcus.
Additional reporting by Katharine Trendacosta and Charlie Jane Anders.