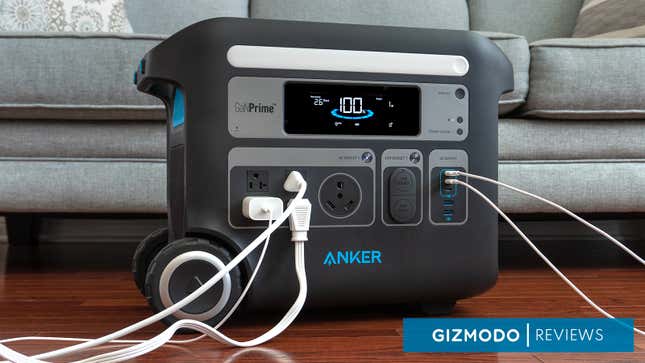 If you rely on one of Anker's portable chargers to ensure your smartphone survives a day of heavy use, the company now offers a product that offers the same peace of mind super-sized for your home appliances. The Anker PowerHouse 767 is the largest battery the company makes, and it can make a power outage much less stressful or a camping trip much more comfortable. How long it will keep you powered up depends on what creature comforts you prioritize.
Is USB-C Finally Coming To iPhone?
Although my home is in a neighborhood where power lines are safely buried underground, it didn't take long for me to discover that the surrounding infrastructure isn't quite as robust. Over the past few years, several storms have knocked down nearby power lines, leaving us without electricity for days. In one instance, it was out long enough for us to lose three fridges full of food.
We were lucky in one sense, as having to replace food after a storm was much cheaper than having to replace fences or an entire roof, but the experience still had me on the hunt for an emergency power solution that doesn't involve dealing with a gasoline generator, or one powered by natural gas, which, based on my heating bills, would cost a small fortune to keep running. The Anker PowerHouse 767 is about as close as I've come to my ideal solution, but its efficacy is dependent on how you plan to use it, and the severity of the power outages you have to deal with. How long the cooler-size battery will keep you powered up depends on what creature comforts you prioritize in a pinch. It's equipped with every kind of port you could need, from AC wall outlets to USB and USB-C to car sockets to one for solar panels and another for an expansion battery.
Portable Power, but Bring Some Muscles
For my needs, the biggest appeal of a portable power solution like the PowerHouse 767 is simply how easy it is to use. Although some models of gas generators are equally portable, they require a certain amount of regular upkeep and maintenance, including the need for a safe space to store gasoline, and they can only be in use outdoors due to the noise and pollution they generate, requiring long extension cords to bring power into a home. The logistical challenges turned me off of that option.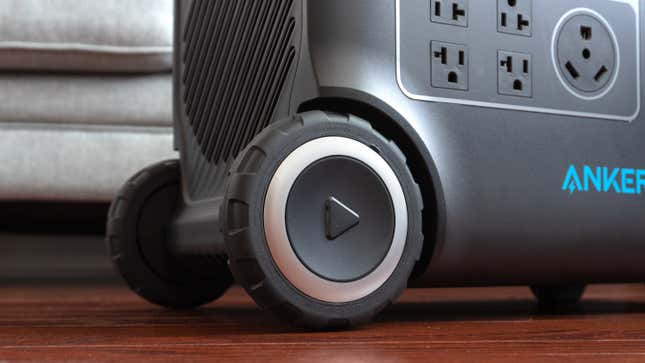 By comparison, a battery can be used almost anywhere, even indoors, and the PowerHouse 767 operates in almost complete silence, aside from the sound of cooling fans that occasionally turn on when it's connected to devices that draw a lot of power. As to how easy it is to move around, that depends on who's moving it. The power station weighs in at a hefty 67 pounds, so Anker has integrated some welcome portability aids into its design.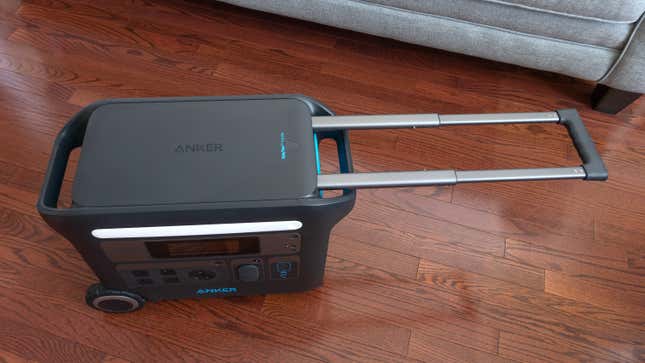 Like a suitcase, the PowerHouse 767 has a telescoping handle that pops out from the side, and a pair of 4.72-inch wheels that make it relatively easy to roll the power station around, even over small obstacles or abrupt transitions between flooring. Where things get a little more challenging is when you have to carry the 67-pound PowerHouse 767 up or down a flight of stairs. An oversized pair of sturdy handles on each side provide a secure way to hoist it, however, I would recommend always having a second person to help you carry it. The PowerHouse 767 might be designed to be durable enough to survive a drop, but a fall onto someone's foot would be catastrophic.
Plug and Play
Operating the PowerHouse 767 is, thankfully, a lot easier than moving it around.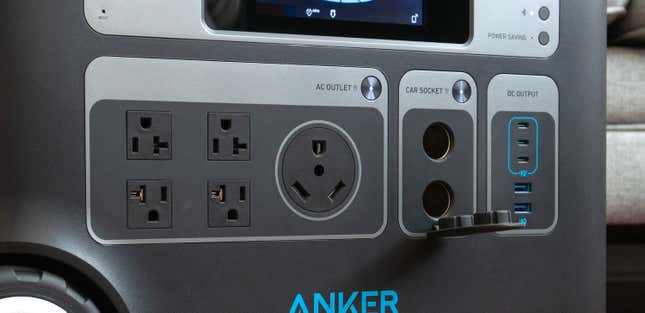 On the front you'll find four grounded AC outlets, a larger TT-30R outlet used to connect the PowerHouse 767 to a recreational vehicle (the "TT" stands for travel trailer), a pair of 12V car socket outlets, two USB-A ports, and three USB-C ports each offering 100W max output so they can be used to charge larger electronics like laptops. The various USB ports will automatically start delivering power when a device is plugged in, and while the other outlets need to be activated with a button press, they will automatically turn off after 15 minutes of a connected device not drawing any power to help extend the power station's battery life as much as possible.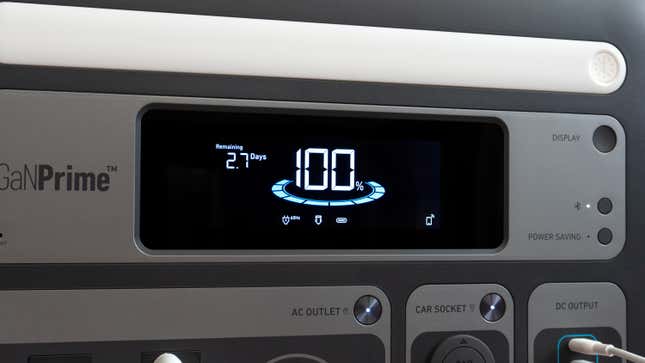 Above the various outlets is a large LCD screen that prominently shows the PowerHouse 767's remaining charge level as a percentage floating above a semi-circle of power bars that gradually disappear one by one. The screen also displays various icons that indicate which outlets are currently powering a connected device, as well as an estimate of how long the PowerHouse 767's batteries will last based on the current power draw. Given the way different devices draw power, you'll want to take those estimates with a grain of salt.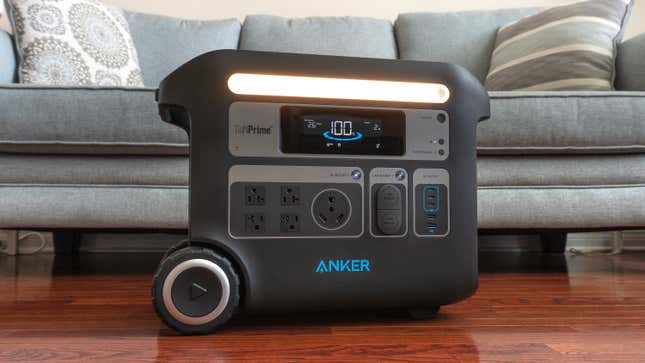 The front side of the PowerHouse 767 also has a long LED light strip that can be manually activated with a button press, or through the Anker mobile app which the battery connects to over Bluetooth. The light strip offers three levels of illumination and can be set to flash S.O.S. in an emergency. After using the power station for a while, one feature I'd like to see is the option to have it turn on automatically when a power outage is detected (such as when the outlet it's charging from no longer delivers power) to make it easier to locate in the middle of the night if all the lights go out.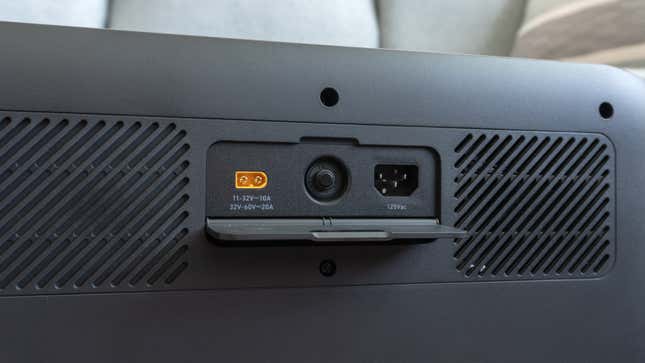 On the back of the PowerHouse 767, hidden behind a hinged panel, is a reset button, a port for connecting optional solar panels, and a port for a NEMA-style power cable (included) similar to what powers most desktop PCs. When plugged into a wall outlet, the 767 only takes about two hours to fully charge its batteries, while Anker boasts it can hit 80% capacity with just a single hour of access to AC.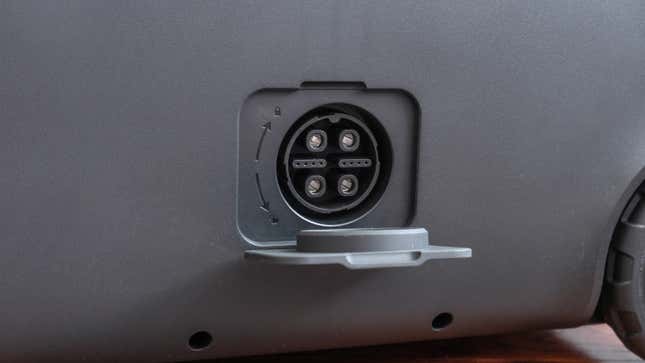 On the back of the power station you'll also find one additional port that's used to connect the PowerHouse 767 to the Anker 760 Expansion Battery which is designed to sit atop the 767 and effectively double its power capacity.
How Long Will the Anker Powerhouse 767 Run?
There's no definitive answer as to how long the PowerHouse 767's 2048Wh capacity will last—it's all dependent on the type of device you're charging or powering. After a particularly nasty storm last year, one of my biggest stress points during a power outage is whether or not the power will return before all the food in my fridges has become unsafe to eat. So my first test was to plug the standing fridge in my basement into one of the AC outlets and see how long the PowerHouse 767 could keep it running on battery power alone.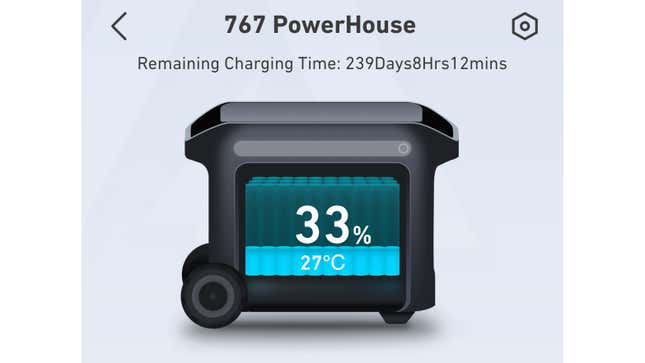 An optional feature on the 767 is Bluetooth connectivity (it can be completely turned off to fully maximize battery life) to Anker's mobile app which can be used to remotely operate and monitor the battery and configure settings such as how long the 767's screen stays on. The app also allows the power station's firmware to be upgraded, which helped resolve a weird bug one morning when I discovered the 767, which was left plugged in all night to charge, had just 33% capacity with an estimated recharging time of over 293 days.

With the fridge I was testing located in our basement, the Anker app was also a great way to keep tabs on how the power station was doing without constantly having to run up and down the stairs. Easy access to the PowerHouse 767's status also revealed how varied the estimates for the "Remaining Use Time" were while the battery still showed 100% capacity for the first 45 minutes. The PowerHouse 767 does its best to guess how long it can power connected devices for but everything works differently, and fridges only need to occasionally cycle on and off to maintain a set temperature. So while initially the "Remaining Use Time" estimates were way off, over time the accuracy did improve, but I wouldn't entirely rely on them.
The PowerHouse 767 managed to keep my full-sized fridge powered for around 34 hours before hitting a 5% charge capacity, which definitely impressed me, but it could potentially last much longer if all you're charging is a smartphone or a tablet—well past a week, instead of just days. You can also easily drain the PowerHouse 767 in a matter of just hours.
I also tested the power station with our countertop air fryer and some frozen egg rolls. Drawing over 1,620W, the air fryer used up 20% of the power station's charge capacity in just 20 minutes. I followed up with a batch of frozen wings, which saw the 767's capacity further drop to just 50% after an additional 25 minutes of air frying. If you're considering something like the PowerHouse 767 to satisfy an air fried food addiction during a power outage, you'll be regretting the choice about an hour-and-a-half in when it's completely drained.
Will a Battery or a Gas Generator Meet Your Emergency Power Needs?
Should everyone who deals with occasional power outages—be it from storms or an over-stressed power grid during the hot summer months—opt for a big battery like the Anker PowerHouse 767 instead of a gas-powered generator? Everyone's situation and needs are different. One big advantage of a gas generator is that gasoline can be stockpiled ahead of an outage, and the generator can be repeatedly refilled until power returns. A battery needs a source of electricity to recharge, and for the PowerHouse 767, during a prolonged outage that would need to come from solar panels.
The cost of using a battery as emergency power source can also add up quickly. The PowerHouse 767 currently sells for $2,000, with an extra $1,000 for the optional expansion battery to double its capacity, and an additional $2,500+ for enough solar panels to charge the 767 fast enough stay ahead of your power usage. That's a heavy upfront investment when smaller gas generators can be bought from your local hardware store for less than $1,000, plus the price of gas.
If devastating hurricanes or other severe storms that knock out power for a week are a regular part of life for you, I don't think the Anker PowerHouse 767 is the ideal backup solution. However, where I live, power outages rarely last longer than 24 hours, and they usually only affect a small portion of the city at a time. So for my needs, which primarily include keeping a fridge powered to prevent food spoilage and charging smartphones and tablets to keep my family entertained, distracted, and communicative, the PowerHouse 767 fits the bill. I can leave it plugged in somewhere and know that it will be immediately ready to get our essential devices back up and running.