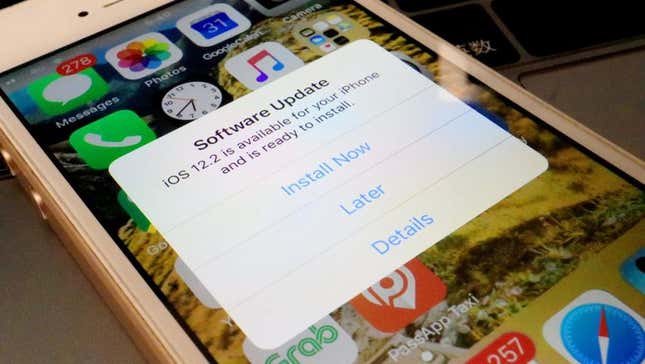 Apple users are finally receiving their $65 payout following a 2018 class action lawsuit claiming Apple intentionally slowed down iPhones in an effort to push consumers to upgrade to a newer phone. The company agreed to pay up to $500 million to resolve the lawsuit in March 2020, but two iPhone owners filed an appeal objecting to some terms of the settlement. The appeal went to the 9th Circuit Court of Appeals but was denied, according to a court filing.
Is USB-C Finally Coming To iPhone?
The decision was the final obstacle in the five-year case where roughly three million claims were made since the class action lawsuit was filed in 2018. Apple admitted to slowing down the iOS software on older iPhones in 2017, claiming the software was updated to prevent older batteries from shutting off devices at random intervals, but claimed it was not designed to force consumers to buy new batteries or upgrade to a newer iPhone.
Cotchett, Pitre & McCarthy, LLP, the firm that represented iPhone claimants, said in a press release that the 9th circuit had ruled against Apple's motion to dismiss the case, allowing the litigation to move forward. The claims included violations of the federal Computer Fraud and Abuse Act, California's Computer Data Access and Fraud Act, California's Unfair Competition Law, and Trespass to Chattels.
Apple argued in a 2019 court filing that lithium-ion batteries deteriorate over time, becoming less effective. But the company did not notify users about the updates to iOS that allegedly slowed down phones and it only came to the attention of the public after consumers claimed their iPhones would shut down despite showing their iPhones had 30% of battery left.
"The settlement is the result of years of investigation and hotly contested litigation," Mark C. Molumphy, a partner at Cotchett, Pitre & McCarthy, LLP, said in the press release. "We are extremely proud that this deal has been approved, and following the Ninth Circuit's order, we can finally provide immediate cash payments to impacted Apple customers," he added.
Apple has denied any wrongdoing in the case but agreed to pay the claimants between $310 million and $500 million. The amount each person involved in the class action lawsuit paid was determined by the number of claim approvals. Some claims are still under consideration.
The affected iPhones included the iPhone 6, 6Plus, 6s Plus, and SE running on iOS 10 2.1 systems before Dec. 21, 2017. Other devices include the iPhone 7 and 7 Plus running on iOS 11.2 or later prior to that date.
Tyson C. Redenbarger, a fellow partner at Cotchett, Pitre & McCarthy commented on the case in the press release, saying: "This was an important case, lying at the intersection of privacy, consumer product, and computer intrusion laws. The settlement provides substantial relief to Apple consumers and, going forward, will help ensure that customers are fully informed when asked to update their products."
The so-called batterygate scandal prompted an investigation in more than 30 states including Arizona, Arkansas, and Indiana in 2020. "Big Tech companies must stop manipulating consumers and tell them the whole truth about their practices and products," Arizona Attorney General Mark Brnovich said in a press release at the time. "I'm committed to holding these goliath technology companies accountable when they conceal important information from users." Apple denied the allegations but ultimately settled the case filed by the State of California for $113 million.
Sadly, the deadline has passed to get in on the payouts but if you're one of the many people who already made a claim, you can find all the info you need at this website.
Apple did not immediately respond to Gizmodo's request for comment.