The Apple's Magic Mouse doesn't have anything on its surface. It's an aluminum base topped off with a smooth multitouch panel. It felt weird to use, but leagues ahead of the Mighty Mouse. I may go back to mice. UPDATED
The strange thing about the Magic Mouse is not how it works. It is that you have different gestures than on a standard Macbook Pro trackpad.
One obvious example: Since you move the cursor by moving the whole mouse with your hand, there's no point in also using one finger to move the cursor, like on the trackpad. Moving your finger on the surface of the Magic Mouse allows you to scroll in all directions, 360 degrees around.
You can also scroll with two or three fingers, if you move them up and down. But if you swipe them from side to side while using a web browser, your browsing history moves forward or back.
G/O Media may get a commission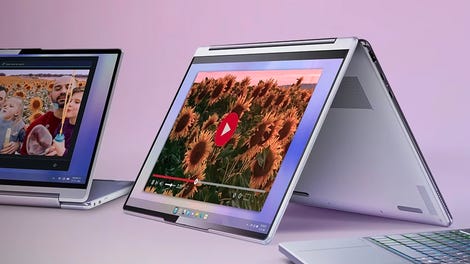 up to 70% off
Lenovo Spring Clearance
Physically, the mouse is beautiful, and feels nice. The top is made of white polycarbonate that matches the keys on Apple's keyboards. It is one seamless touch surface, and, logically, there is no Mighty Mouse scroll nipple.
The surface can also simulate the left and right buttons. Unlike in previous Apple's mice, the two buttons work perfectly. This time they also added physical feedback, so when you click the buttons, you actually get the entire surface to click—like the original clear Apple mouse.
The mouse runs on AA batteries, and Apple claims 4 months of use per set. You can get it with the new iMac or pay $69 separately.
There was a small thing I noticed, though: the mouse would sometimes move when I tried to scroll — I can maybe get used to this, but it was a thing that happened to me and my presenter who definitely had more time with the mouse. The other reason why Apple went with fewer fingers for swipe and scroll gestures, besides the issue of pointing already being taken care of by the mouse's table action, was because you need your ring finger to hold the mouse properly or the thing slides on your desk.
Also, the mouse will be software configurable for lefties.
Apple Introduces Magic Mouse — The World's First Multi-Touch Mouse

CUPERTINO, Calif., Oct. 20 /PRNewswire-FirstCall/ — Apple® today introduced the new wireless Magic Mouse, the first mouse to use Apple's revolutionary Multi-Touch™ technology. Pioneered on iPhone®, iPod touch® and Mac® notebook trackpads, Multi-Touch allows customers to navigate using intuitive finger gestures. Instead of mechanical buttons, scroll wheels or scroll balls, the entire top of the Magic Mouse is a seamless Multi-Touch surface. Magic Mouse comes standard with the new iMac® and will be available as a Mac accessory at just $69.

"Apple is the Multi-Touch leader, pioneering the use of this innovative technology in iPhone, iPod touch and Mac notebook trackpads," said Philip Schiller, Apple's senior vice president of Worldwide Product Marketing. "Apple's Multi-Touch technology allows us to offer an easy to use mouse in a simple and elegant design."

Magic Mouse features a seamless touch-sensitive enclosure that allows it to be a single or multi-button mouse with advanced gesture support. Using intuitive gestures, users can easily scroll through long documents, pan across large images or swipe to move forward or backward through a collection of web pages or photos. Magic Mouse works for left or right handed users and multi-button or gesture commands can be easily configured from within System Preferences.

The Magic Mouse laser tracking engine provides a smooth, consistent experience across more surfaces than a traditional optical tracking system. Magic Mouse uses Bluetooth wireless capabilities to create a clean, cable-free desk top and its secure wireless connection works from up to 10 meters away. To extend battery performance, Magic Mouse includes an advanced power management system that works with Mac OS® X to automatically switch to low power modes during periods of inactivity. The wireless Magic Mouse is powered by two AA batteries which are included.

Pricing & Availability
Magic Mouse comes standard with the new iMac and is available at the end of October through the Apple Store® (www.apple.com), at Apple's retail stores and Apple Authorized Resellers for a suggested retail price of $69 (US). Magic Mouse requires Mac OS X Leopard® version 10.5.8 or later.