Apple CEO Tim Cook surprised everyone at this year's Worldwide Developers Conference (WWDC) when he invited a tiny robotics startup onto the stage. Out came Boris Sofman, the chief executive of the fast-growing artificially intelligent robotics company Anki. What followed was a glitchy demo of Anki Drive, a seemingly mundane toy car game and the young company's first product. But these are no ordinary cars. These cars drive themselves. They make hundreds if not thousands of decisions a second. They adapt over time. In other words, these cars are smart.
Well that's all well and good. Smart little race cars—how cool. But the question one keeps coming back to is simply, "So what?" There are more questions. Why does the world need artificially intelligent toys? Were these even toys? Why was that one little red car screwing up so much during the demo? And most of all, why was Apple so excited about this technology that it shared the stage with a basically obscure startup with a silly name?
So I talked to Anki's founders, Mark Palatucci and Hanns Tappeiner. (Sofman is also a founder but wasn't able to make the interview.) They're obviously smart guys, having met about five years ago while earning their Ph.D.'s from Carnegie Mellon. Palatucci explained that Anki started out as a nights and weekends project with a lofty underlying principle. "We realized that most of everything we worked on in robotics and AI was just being used in government projects," he said. Indeed, DARPA is one of the biggest funders of robotics and AI research. "Very little was being used in consumer products, and we saw the opportunity to take a lot of what we were learning in school and bring it to people and their daily lives."
That sounds nice. Robotics for the people. The philosophy is reminiscent of how Pixar embraced CGI animation back in the 1980s, back when it was largely being used by other industries. The analogy makes even more sense given that the founders picked the entertainment sector for their first product. As such, Anki Drive is part video game and part real-life experience that depends on the very familiar world of cars. Who doesn't like cars?
G/O Media may get a commission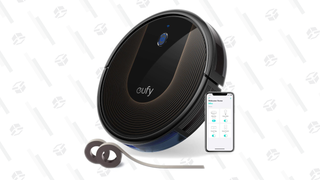 48% Off
Eufy BoostIQ RoboVac
"Cars have a cross-generational appeal," Palatucci told me. What makes them even more appealing, though, is the fact that they learn and evolve. "When you buy the cars they're going to be very different," he said. "They have personalities."
That sounds a little creepy; Teddy Ruxpin was disturbing enough without being sentient.
However creepy, though, this makes perfect sense as the future of entertainment. At least, Anki's founders believe that it does. They view the smartphone not as a remote control for a product like Anki Drive but rather as a brain that powers the entire experience. They don't just want users to interact with the product; they want them to form emotional connections. Tappeiner told me that they "were creating a completely new kind of entertainment." Sponsored by Apple.
Apple's not an official sponsor or anything, but they are intrigued with how Anki's using the iOS platform to facilitate robotics and AI. Beyond the company's prominent presence at WWDC, Anki Drive will formally launch this fall in Apple Stores, and you can already download a preview app for iPhone and iPod touch. The company is well-funded by well-known venture capital firms, namely Andreessen Horowitz. Investors believe that the company's technology is peerless. "It's extraordinarily sophisticated software and closer to the Google Self-Driving car than anything else," Marc Andreessen told TechCrunch on Monday, " And really fast. We think it points to the direction of the future, bringing AI into the living room."
So that's why Apple is so interested. Indeed, the iPhone maker has been working on conquering the living room at least as long as iTunes has supported TV shows. In the past few years, we've seen several devices that enable you to fill all of your living room entertainment needs using Apple products. And even though Apple failed to update Apple TV in this latest round of new releases, there's no sign that it's slowing down in its quest to fill all of your entertainment needs. That it would be interested in a company that uses Apple APIs to create a new kind of entertainment is no surprise. Plus, it never hurts to step on Google's toes a little in the process.
Anki's future beyond the Apple-assisted launch of Anki Drive is entirely unclear. The founders wouldn't talk about any other projects they were working on, insisting that they were devoting all of their energy to the self-driving car project. They were also very sensitive about my calling Anki Drive a toy because, they said, "it's something much more than that." The brainiacs wouldn't even name any competitors because they insisted that Anki's technology was an entirely new thing unlike anything the world has seen. (That's a little bit hard to believe but whatever.)
One thing's for sure: Anki is sitting pretty. Despite the stumble at WWDC, the company is backed by one of the most prominent VC firms in the world and supported by the most valuable technology company in the world. In the past 16 months, they've grown from four employees to 35 and continue to grow at breakneck speed. And they do have bigger plans.
"For now we're focused on Anki Drive, but it's really about the underlying technology, the building blocks," said Palatucci, explaining the basics of the AI behind its product. "Once you have that, you can really start doing amazing things in the real world. You can do things you can only see in video games."