Last night, Apple premiered its first attempt at an original TV show, Planet of the Apps, a Shark Tank meets American Idol unscripted series where app developers appeal to a panel of celebrity judges for outside funding. The first episode is currently available for free on Apple Music. It is also very bad.
In fact, so much can be said of the show's inanity that the most challenging aspect of watching it is arguably knowing which part to hate the most.

There's the name, which is a clear play on Planet of the Apes, a franchise which has nothing to do with this series.
There's the showrunners' decision to put candidates on an escalator while explaining their businesses. Because a literal representation of an "elevator pitch" is too on-the-nose, I guess, but having four judges swipe left or right on an app's viability isn't.
There's the inclusion among those judges of will.i.am, best known for slapping his name on a legendary string of tech failures, and Gwyneth Paltrow, whose company, Goop, is intent on making the public sicker and stupider through the proliferation of unproven health advice. No one on the panel of the judges (which is rounded out by Jessica Alba and angel investor Gary Vaynerchuk) is primarily an app creator.
There's the fact that Mr. i.am's first full sentence on the show is a meandering rant on how hot his own sister is, as justification for turning down a badly-designed dating app.
G/O Media may get a commission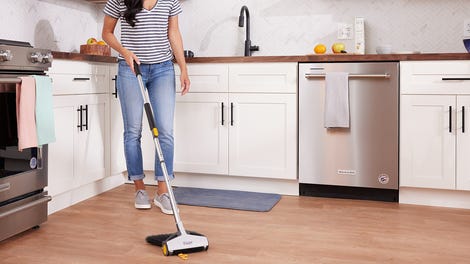 BOGO 50% Off
Flippr - BOGO 50% Off
There's the show's cloying need to remind the audience, constantly, through cinematographic fourth wall breaks that this is a show and this is taking place on a set, to unknown effect. There's the director counting down! There's the camera crew! Do you get it? Me neither.
There's the onscreen captions explaining tech jargon, like IP (intellectual property) and SDK (software developer kit). And there's how insufferable it gets once the show's rich people start combining those terms with business jargon ("we think of it as a B2B2c.") 10 people watching this show are conversant in all these terms. Three of them give a shit.
More than anything, Planet of the Apps lacks the emotional core that made shows like American Idol successful. That a reality show about app development was even considered says a lot about changing economic realities: The monolithic music industry is long dead and Silicon Valley has remained dominant for long enough to become an unscripted reality show. But culture moves slower than money, and being a good singer is still far cooler and more compelling than say, the act of coding, or pitching a room full of VCs.
Surrounding the show is a feeling of economic suffocation. Of the two companies greenlit in the episode, the first, Companion, is two months from being broke and has to overhaul their business model because their concept got snagged by Google, a company Vaynerchuk repeatedly tells the founders they should not and cannot compete with. Companion initially asks for $3 million in funding. A cabal of unnamed (seriously, there are no lower thirds or introductions) VCs grants them $1 million. They're over the moon.
The CEO of the second company—Pair—mentions how he draws his income from his company and sometimes he and his kids have to eat rice and beans. The cabal decides not to invest in his idea.
In the end, Planet of the Apps is a soul-crushing reminder of a tech sphere bloated with rich fucks who seek only to extract value and labor from rubes, swathed in the incompatible trappings of a TV genre that felt novel close to 20 years ago.
And a big, dumb escalator.