Did you see Return of the Jedi as a kid and wish you could live in the trees in the middle of the forest, but your family and friends would all be connected in a community? Guess what: now that exists.
Five years ago I was lucky enough to go visit Finca Bellavista in southern Costa Rica. At the time, it was a big chunk of rain forest with the skeletons of a couple bare-bones structures built. Today, it is a network of the most ornate and beautiful treehouses one could possibly imagine in the middle of of the most beautiful places in the world. It was started by Matt and Erica Hogan, and we've got Erica on the line from 1pm to 3pm EST today, ready to answer all of your burning questions about this amazing place.
Here are a few questions just to get us started:
What is Finca Bellavista?
Finca Bellavista is a treehouse community in Costa Rica. This is the world's first truly arboreal neighborhood, which is also off the grid. Our community also happens to be located in one of the most epic settings imaginable—the semi-tropical rainforest. It's a real life 'Ewok Village'…
How did Finca Bellavista start?
Matt went on a surf trip to Costa Rica in 2006 and really felt drawn to the Southern Zone. He called and asked me to come down from Colorado to explore with him, as we were interested in finding a little getaway in the tropics. Mind you, the idea was to buy something small and simple! Matt looked through dozens of listings, and settled on a short list to explore on my 29th birthday. At the end of a steep 4x4 road in the middle of seemingly nowhere, we macheted a path through a tangle of weeds to the edge of a river and explored about 100 yards into the property. It was so surreal to be there – like being in a private national park. Looking back, there was something magical that spoke to us and drew us in.
G/O Media may get a commission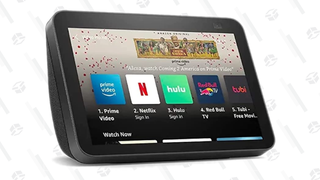 That night, we brainstormed ways we could afford the initial land purchase of 62 acres. We both knew it was bigger than what we wanted or could afford, yet we felt compelled to find a way to save it from deforestation, as it was being marketed as a timber harvest site. It seemed a shame to destroy such a sacred space and it gave a sense of urgency to our decision on purchasing it. I pondered out loud about building a treehouse because the trees were so big, I then wondered if friends or other people might be interested in going in on the land purchase to make it financially feasible. I then envisioned other people building treehouses and connecting them with bridges and ziplines, and mentioned how cool it would be to
build an Ewok village like the one in Return of the Jedi…
What kind of technology do you guys use to make this happen?


For better or worse, we rely entirely on our IPhones and the regional 3G signal to connect to the internet, run our businesses, and stay in touch with our global community. We telecommute from the treetops, which is a pretty novel thing to experience. The possibility of a monkey swinging from a vine when you are on a Skype conference call with someone in Tokyo or New York City can certainly make things interesting!
We are also 100% off-grid, which always needs a variety of technological innovations. We create our electricity on-site (currently solar, but a hydro installation is in the planning stages), but to be honest, its difficult to stay on top of the global trends and improvements from here.
All right, gang, have at it in the Q&A below!
Image credit: Allison Shelley