Want a thin gaming laptop? We have a whole guide for that—but the ASUS G501 wasn't the best laptop on our list. In fact, I kind of dismissed it with just three sentences. It deserves more. Let's take a slightly deeper look.
What Is It?
Emblematic of what manufacturers seem to think a thin gaming laptop should be. Don't get me wrong, it's a good machine, but you can use the ASUS ROG G501 as a checklist for the category. Thin metal chassis? You betcha. Subtle colored accents? Yup. Enough graphics power to get away with being called a gaming laptop? Yes. A sturdy, strong frame that looks just a little too much like an Apple MacBook? Of course!
It's a laptop that's everything it's supposed to be and not much else. And that's fine.
Who's It For?
Anybody who finds the above list of traits appealing that doesn't see anything they like better in Gizmodo's Best Thin Gaming Laptop guide. You know, ASUS fans.

It might also work for folks looking for a thin laptop with a super high resolution screen who don't want a MacBook Pro with Retina display.
G/O Media may get a commission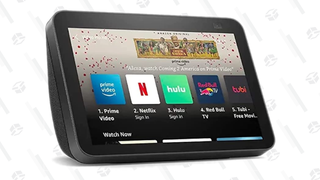 Design
This machine is about as simple as they come: a thin, 0.8-inch, four-pound aluminum computer draped in matte black with red highlights. The standard cavalcade of PC ports run around the machine's edge, including two USB ports, an audio jack, and an SD card reader on its right side, plus a mini DisplayPort (Thunderbolt 2.0, actually), full-sized HDMI and a third USB plug on the left. Visually it looks almost exactly like the MacBook Pro would if it had a full sized keyboard and a black facade. So basically, a paint-by-numbers thin gaming laptop.
That doesn't mean it's not nice, though. The G501 has a solid, full-sized keyboard and a large mousepad that handles Windows 8 gestures with aplomb. Its screen isn't touch-capable, but it is a 15.6-inch super high resolution 3840 x 2160 display with wonderfully wide viewing angles. The speakers aren't anything to write home about, so let's move on.
Using It
Performance is the difference between a good gaming laptop and a great gaming laptop. The ASUS Republic of Gamers G501 is just a good gaming laptop—and this is what kept it out of the winner's circle in our big Bests round-up. The GeForce GTX 960M graphics chip at the heart of the machine is a good GPU, but it's definitely a middle-range performer. This means it can play everything on the market right now, but just not at their maximum settings or the laptop's native 4K resolution.
Want to play Far Cry 4? Go for it—as long as you keep the graphics settings at medium or lower with a 1080p resolution. Older games like Tomb Raider and Witcher 2 can flirt with higher graphics, but neither are completely playable on maximum settings. GTA V ran pretty well with a mixture of high and very high graphics settings, but it didn't get buttery smooth until it dropped down to "normal." Not bad at all—but it feels a little last year in terms of performance.
The Best Part
Most gaming laptops fail to last more than two hours under a heavy workload. This one can last me five.
The Tragic Flaw
That big, beautiful 4K display is way, way more than the laptop's mid-range graphics chip can handle. Sometimes it makes weird stuff happen: games configured to run full screen sometimes launch at 1080p in a tiny window on the desktop, and almost any game that tries to run at the screen's native resolution is completely unplayable.
We're just not ready for 4K gaming laptops, guys. Maybe next time.
This Is Weird…
Remember that full-sized keyboard I mentioned earlier? That was a minor fib: all the buttons are here, but the num-pad on the right hand side looks a little deformed. All of its buttons are about half as wide as every other key on the laptop. It's fine, but a mite odd.
Review Notes
The entire touchpad clicks down for a left click, but pressing down on only the right-hand-corner of the pad activates a right-click. That takes some getting used to.

The power button looks just like a regular keyboard key, and is located above the num-pad. I forgot where it was multiple times.

ASUS has put a fair amount of pre-installed software on here. All of it is unnecessary, but most of it is at least complementary: an update utility, a ISP speed test tool and a hotkey tool for changing the color temperature of the monitor.

There's also a Windows 8 ASUS deals app. I uninstalled it on principle.
These keyboard buttons definitely take a little more force to depress than I expected. It's not bad per se, but it's different enough that I noticed it.
ASUS says the G501 is one of the coolest, quietest laptops on the market. It definitely gets warm, but I never got it so hot I was worried I was going to burn myself. I never thought it was too loud. This claim checks out.
Remember how I shrugged off the laptop's built-in speakers? It's not really that big of a deal: the G501 comes with a lightweight headset. It's pretty nice: it can stretch wide enough to fit on my enormous head (seriously, I can't find a single hat in my size) but doesn't squeeze my melon at all. The ear cups are big and comfortable too.
It comes with a variable DPI mouse, too—essential for almost any gaming laptop.
Should You Buy It?
Are ASUS Republic of Gamers machines your absolute favorite brand of laptops in the whole world? Then sure—but if your fandom isn't as strong as your reason, hold off. The ROG G501 is a good machine that hits all the right notes to stand out as a quality thin gaming laptop—but it's priced like a great machine. It's good. Really good, even. It isn't great.
For the same $2,000 the G501 would set you back, you could have a 14-inch Razer Blade with a more powerful graphics chip, a smaller frame and a slightly better mouse and keyboard—for a little more (though I don't recommend this) you could even get the Blade with a super high resolution display. For less than the cost of the ASUS laptop, you could have a 15-inch MSI GS60 Ghost Pro with better internals and better speakers. Hell, you could even buy the Ghost's 17-inch brother, the GS70 Stealth, and still come away with a more powerful, less expensive computer.
Okay, but what if you don't really want a gaming machine: you want a 15-inch Windows laptop with a screen and chassis to rival the MacBook Pro with Retina that can still play games sometimes. Okay—you have something to think about. The ROG G501 won't get the same battery life as a Retina MacBook Pro, but it's just as thin and portable, has a higher resolution display and way more internal power. The ROG's 512GB SSD is twice as large as the similarly priced MacBook Pro with Retina, too. That's pretty fierce competition.
Bottom line: the ASUS ROG G501 is a good gaming PC, but its mid-range GPU keeps it from being the best value in thin gaming PCs today. As a general 4k Windows laptop with decent battery life the ability to moonlight as a gaming rig? It's definitely worth your consideration.

Correction: We originally misstated that the ROG G501 had a two separate storage discs and a mini DisplayPort. That was incorrect: the laptop actually features a single 512GB PCIe SSD, a Thunderbolt 2.0 port and two accessories (a headset and mouse) we neglected to mention in the original review. The text of this review (and the conclusion) have been modified to reflect the correct information.

ASUS ROG G501J Specs
Display 15.6-inch 3840 x 2160 IPS UHD
Processor: 2.6GHz Intel Core i7-4720HQ

Graphics: NVIDIA GTX 960M
Operating System: Windows 8.1
Storage: 512GB PCIe x4 SSD
Memory: 16GB DDR3L 1600 MHz SDRAM
Connectivity: 3x USB 3.0, 1x Mini Displayport, 1x HDMI, 1x SD card slot, 3.5mm audio jack, Integrated 802.11ac or 802.11 b/g/n, Bluetooth 4.0
Dimensions: 15.07" x 10.03" x 0.83"
Weight: 4.5lbs