Can you put a price on efficient goblin-killing and a blue-glowing alarm system that turns on whenever orcs are near? Yes, you can, and that price is $9,900. Because that's how much WETA's terrifyingly gorgeous replica of The Hobbit's Orchrist sword costs. From the product description:
Orcrist is made with the same attention to detail that the swordsmiths of the lost realm of Gondolin would have required. Peter Lyon took Paul Tobin's design and created a piece of art and a usable weapon wrapped in one. The blade is made from tempered spring steel and the dragon's tooth grip is cast from CC60 urethane, painted and sealed under resin.

On the cross is the name "Orcrist" etched in runes and the gently curvaceous blade, ground from spring steel, features etched elven runes stating "The Serpent's Tooth". On the pommel are four cubic zirconia gemstones inlaid.

The scabbard is made from a combination of white oak and steel and connects to the leather belt with leather straps and buckles. The inscription translates as "Born from the Maws of Dragons I am Always Hungry and Thirsty".

The belt is made from embossed leather with steel buckle, loop and tip. It features straps for attaching the scabbard.
The price is probably a bit steep for anyone who hasn't recently killed a dragon and siezed their hoard, but you can't deny the sword isn't beautiful. There are more pictures over at the pre-order page, but you might want to bring a handkerchief to wipe the drool off your keyboard.
[Via Obvious Winner]
G/O Media may get a commission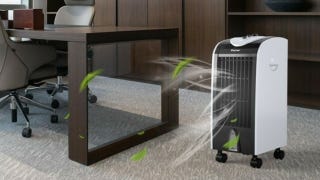 Save $10
Evaporative Portable Air Conditioner Cooler with Filter Knob